The Legacy Tree team loves animals, and recently some of them shared stories of ancestors who had pets, or worked with animals, and even had close encounters with dangerous beasts!
A cousin's pet calf
Many of our ancestors lived on farms, or in rural areas, and grew up around livestock. This photograph from Washington state in the 1930s clearly demonstrates a family member's attachment to one of the calves. Unfortunately, this friendship had to end when times became tough (or perhaps simply when it was "time"). This ancestor sadly wrote, "They ended up butchering her and eating her."
Deer friends
One researcher shared this tender photograph of her relatives and their pet deer in the late 1940s. "This was in Oklahoma. I believe [the deer] did have a name although nobody remembers it now. They kept it on their property, but after a few years they moved. They were allowed to keep it in a nearby state park after that."
Loyal animals, dangerous jobs
In the Ozarks in 1938, "Grandpa Bob" worked on a hog farm. His faithful canine, Rex, helped with a dangerous job there. Some of the hogs could grow to five or six hundred pounds. Bob had to climb inside the pens from time to time to remove dead piglets:
"This chore of removing dead pigs was a perilous one, because the sows would attack and eat anyone who entered their pen. Luckily Bob had the aid of a faithful and intelligent dog; a big gray mutt (mostly a mix of German shepherd and Husky) named Rex, who saved his bacon several times in this particular chore. Bob and Rex would work as a team. When Bob climbed into the pen, the sow would start to go after him. Then Rex would grab the sow by her legs and knock her on her rear. The sow would go around in circles on her behind trying to get Rex. Rex would hold the sow off while Bob quickly threw the dead pigs out. He would then jump the fence and Rex would jump out after him."
Ancestors and wild animals making the news
An ancestral encounter with a wildcat was reported in the newspaper in Utah in 1862 –
"A few days since a young lad, son of Mr. Charles Lambert, of this city, while riding over the prairie west of Jordan, came in contact with a large wild cat, or California tiger, as they are frequently called in this country, which immediately showed 'fight,' and attacked a large dog which was with the boy, and was in a fair way to use him up, when the lad, who is an adept with a lariat, and had one with him, but was not armed with gun, pistol, or knife, succeeded in taking a 'hitch' on the ferocious beast, but not around his neck, the top at the same time passing through a sage brush, so that in drawing it up in the usual way the animal, which still held fast to the dog, became fastened somewhat to the bush. The boy then got down from his horse, and applied the heel of one of his heavy boots to the wild cat's head, until it released its hold upon the dog, but subsequently got disentangled from the bush and made fight with the lad, who sprang into the saddle and started off under whip and spur, the wild beast making efforts to seize him, jumping higher than the horse several times, just missing him, as they were moving swiftly over the prairie, the horse gradually gaining ground, and the wild cat falling behind, till the lariat brought him up and he was dragged by it for about a quarter of a mile, when the boy, supposing him dead, held up his horse. On dismounting, however, he found that the animal was yet alive, and having no other means of dispatching him took off one of the stirrups from his saddle, and beat him therewith till life became extinct.[1]
 Mourning a pet
My own great-grandfather followed a popular Victorian tradition of memorializing a pet. He wrote an entire eulogy for the beloved family dog. I found it one day, tucked between two pages of his journals. His emotions were evident as he described watching the faithful wee dog, Peter, slip away:
"Our wee dog Peter died on the morning of Thursday, 2nd of June 1921. He had not been well for a day or two before, but we thought it was just a touch of sickness. On the Thursday morning however we saw he was worse, and before breakfast Margaret carried him to W. Storey a veterinary surgeon who said he was suffering from acute gastritis. His only hope for him was that being a young dog he might be able to pull through."
Things took a turn for the worse, and while my great-grandfather had to go off to work, he said he did not stop thinking about the wee chap, who died the next morning.
"Rest in peace, dear Peter! I think you were conscious in life that we all loved you, and if there be an after-life for animals, you must know that you are mourned as a true companion and a faithful servant, and that your death is felt deeply as a great loss by all the members of this sorrowful family."[2]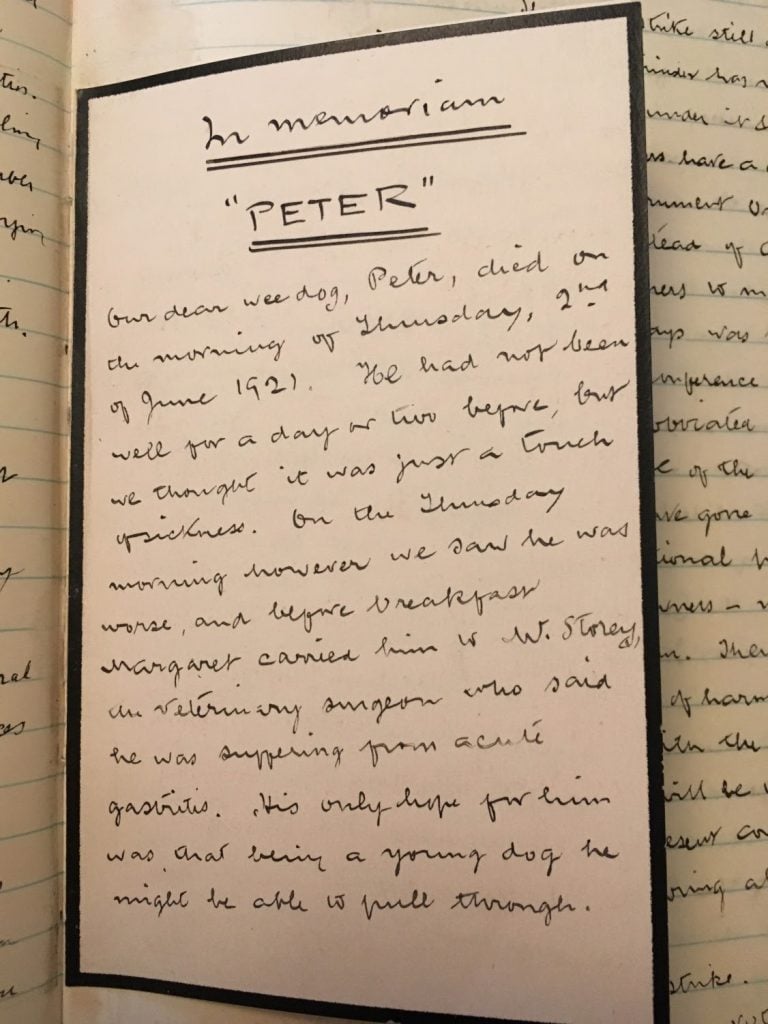 Thanks to all our team members who agreed to share these stories and photographs!
[1] "A Combat With and Capture of a Wild Cat," Deseret News (Salt Lake, Utah), 30 April 1862, https://newspapers.lib.utah.edu/, accessed November 2020.
[2] David Stephen, "Diaries", privately held by author.