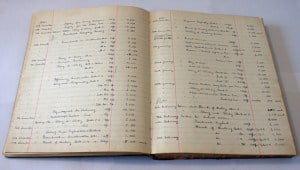 If you've plugged your family names into the search databases of the major genealogical websites and didn't find the answer you needed, consider that your search is not done! Did you know that there are millions of pages of records digitized online at places like FamilySearch.org that don't show up when you conduct a general search?
FamilySearch runs a massive crowdsourced indexing program, where volunteers like you or I can spend time transcribing records. These transcriptions can then be queried by the website's search engines, and that process is how you are able locate an image by searching for a name. These indexing projects are organized by record type, time period, and language.
Some of these collections are larger than others, and some are more difficult to index and/or use. The easiest sorts for volunteers to index are censuses, draft cards, death certificates, and the like – records that were made on pre-printed forms. But what about wills, estate files, court minutes, or deeds? These were often written in narrative, paragraph form, and this sort of format can take much longer to read through, understand, and then extract the necessary information.
The thing is though–answers to brick wall problems often lie in records that are not indexed. Probate, land, and tax records are invaluable for the answers they can provide in pre-1850 American research. Can't seem to prove a relationship between daughter and father? A will could name her as an heir to his estate, AND give an estimated death date for him in an era when there were not yet death certificates. Trying to identify parents or potential siblings of your landowning ancestor? Check the deeds! People often conducted transactions with family members, in-laws, and close friends. Some even state the relationships between the parties directly.
No thorough genealogical search is complete without referencing these record types. In fact, the solution to your brick wall problem may be hiding in plain sight, just waiting for you to discover the right record.
There are still many records sets that have been digitized but not indexed yet. However, just because the records are not indexed – that is, that they aren't searchable by name – does not mean they are not available, and from the comfort of your own home! You just have to know how to find them. In the past, most of these more complex records were only available at the Family History Library in Salt Lake City. While some still are, a very large number of states – particularly in the South – now have them digitized and online, ready for you to browse through.
Here is how!
Go to FamilySearch.org, and click on "Search" in the top toolbar.
Select "Records" from the dropdown menu that appears.
Hover over the map of the United States on the right-hand side and select your state of interest. For the sake of the example, we chose the state of Georgia.
You will now be taken to a page headed "Georgia Indexed Historical Records." But don't put in any information! Keep scrolling down – you'll soon see another heading that says "Georgia Image Only Historical Records." These are all the collections that are not indexed, but which you can still search through manually.
Select the records of your choice! They are organized by type: censuses, immigration and naturalization, military, probate/court, and others.
Going through these image-only collections can admittedly be quite time consuming, as it requires going page-by-page through large books. It can also often require already having a general idea of when an event occurred, or where a person was living. But keep an eye out for time-saving helps. Some records have an alphabetical or chronological index within the first few pages of the collection, created by the clerk who put the book together. Though not yet searchable by computer, you can quickly scan it yourself for the name of the ancestor in question.
As with most things in life, the greatest rewards come as a result of hard work and persistence. Give records like this a try – you just might solve a decades-long family mystery!
We at Legacy Tree Genealogists are pros (literally) at tearing walls down, brick by brick. We also understand that many of our friends and clients don't have the time or resources to devote to these most difficult of problems. That's why we're here! If you're stuck behind a seemingly insurmountable stone wall, let us give it a try. Contact us today to speak with a project manager in a free consultation and tell us about your goals.

Subscribe for weekly posts