As employers and employees around the globe scramble to implement and adjust to remote work options in the face of COVID-19, for Legacy Tree employees, it's just another day "in the office". Legacy Tree Genealogists has been a remote-based company since its inception in 2004–allowing us to attract top talent regardless of geographical location, access records around the globe for our clients, and grow our company to allow us to serve even more individuals and families worldwide.
As work from home veterans, our team shares some of our best tips for overcoming common remote work challenges while staying organized and productive:
#1: Have a dedicated work space
Not everyone has a designated home office, but it's crucial to have a private, quiet space for your work, free of distractions. Create a workspace you can walk away from (even if that's just shutting a laptop), and stick to a regular work schedule as much as possible. This helps you mentally separate work from personal life.
#2: Establish expectations and accountability
Make sure expectations are clearly communicated. Are work hours set or flexible? How are team members accountable for their time, and how is success measured? At Legacy Tree Genealogists, we utilize time keeping software and KPIs so everyone knows what's expected and can report on it.
#3: Collaborate with shared schedules and files
We love our project management software, and if you want free, Google also does wonders for helping with team organization through their shared spreadsheets and calendars.
For file organization, it's tough to beat Dropbox. It's fast, it's intuitive, and up to a limit, it's free. Another great cloud-based option for teams is OneDrive.
#4: Implement weekly to do lists
Once a week, our team members review a list of items they planned to complete in the previous seven days, mark off what's done, and create a new to do list for the next seven days. This list is sent to a manager and becomes the employee's roadmap for the next seven days.
Daily planning time or aimlessness is minimal because next tasks are already all mapped out. This also encourages more completion of "deep work."
#5: Keep the team together digitally
Working remotely, it can be easy to feel isolated. One way our team overcomes this is through regular virtual meetings using software, such as Zoom. You can screenshare, whiteboard, and record meetings for later use. Tip: before you start a call, turn around and look behind you. This is what people will see on your Zoom calls. Make sure you want to share those things with others!
There are also great chat options, such as Slack, that help remote teams feel united and get "water cooler" time.
#6: Agendas and recaps
Every team meeting follows an agenda and includes an emailed post-meeting recap with assignments. This keeps us on-task and ensures that stuff gets done as a result of the meeting. One way to track pre-meeting topics is through Trello.
As items come up during the week, it's easy to drop a note in Trello and then quickly create a meeting agenda based on those notes.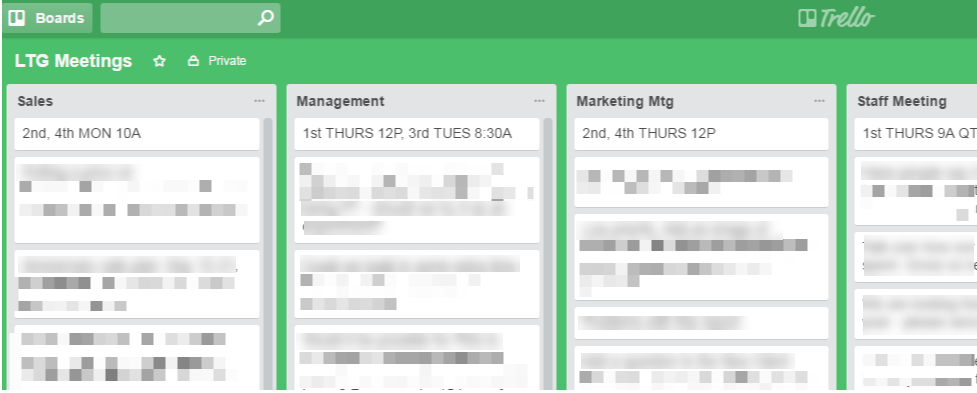 #7: Consolidated tasks
Most of us have rather boring, repetitive items to take care of – you know, checking the spam folder, going over audio notes, reviewing stats, etc. We've found it helpful to consolidate these little items into one big tasklist that's taken care of once a week, all at once. That way, the rest of the week can focus on other more complicated things.
A Google sheet, Trello list, or to do list app works fine.
#8: Increase efficiency with routines 
The more you hold yourself and your team to a routine, the less time needs to be spent thinking about when to do something. Holding team meetings on the same day and time each week or month makes it something no one has to think about. Scheduling the way we use our time each day, and holding ourselves as individuals to a routine, can also be helpful. One approach is to schedule the most complicated projects first thing in the morning, before hitting the inbox or answering the phone. That way those important things that take more brain power don't get pushed out of the way by "fires," and get attention before any late-afternoon drowsiness can set in.
As you embrace a work from home situation, or, look to refine your current processes, we hope these tips will be useful in ensuring your remote work situation is productive. Are there any tips you would add to our list?
By offering flexible work options, Legacy Tree Genealogists has established a team of leading experts with the knowledge and expertise necessary to help you connect with your ancestors and preserve your legacy for generations to come. There's no genealogy "brick wall" too difficult for our team! If you're ready to make serious progress on your family history research, get started today by requesting your free quote.