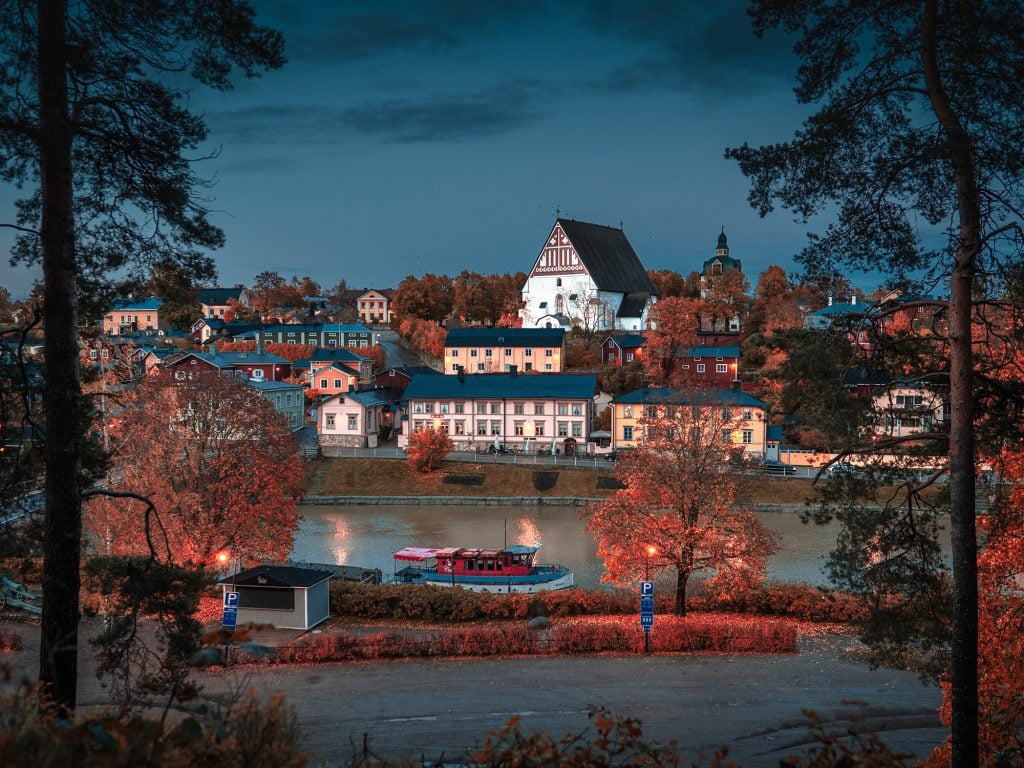 Looking for ways to learn more about your Finnish ancestry? You're in for a wonderful journey! Finland has some of the most welcoming and genuine folks you'll ever encounter. It has a fascinating cultural heritage and history, with deep ties to Sweden and the Russian Empire. Delving into your Finnish heritage could uncover a rich tapestry of inspiring stories and enduring characteristics passed down through generations.
Besides having basic genealogy skills and a bit of knowledge about Finland's history, it can be helpful to know some terms in Finnish (F) and Swedish (S) and have a basic understanding of Finnish naming patterns. From there, you will find success in Finland's well-preserved records.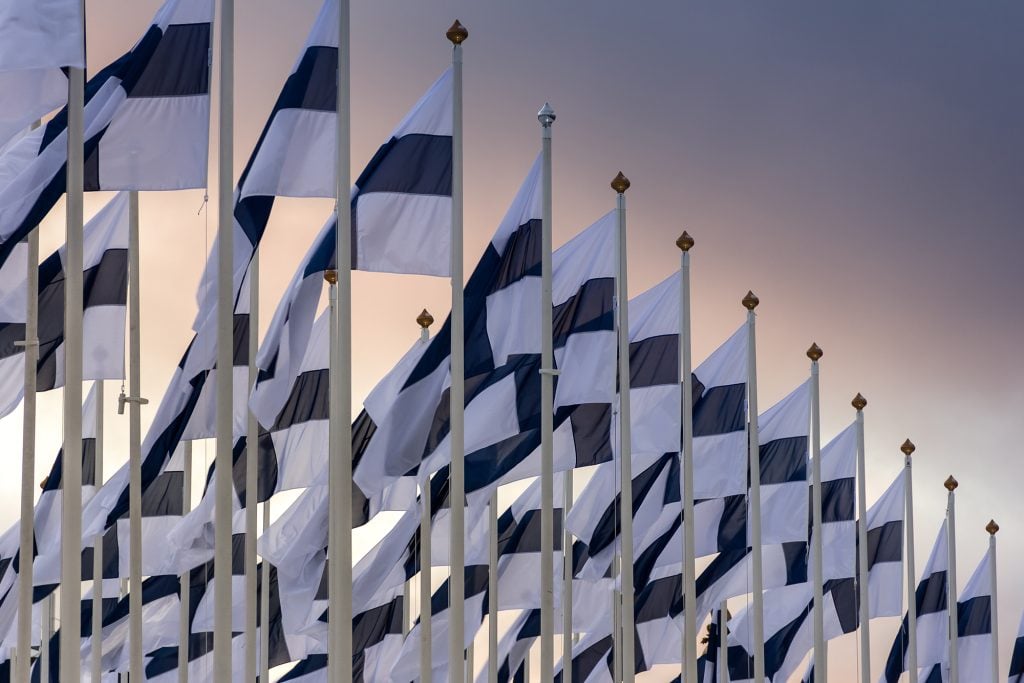 Finnish Language Tools
Here are a few sources to get you started with Finnish and Swedish genealogical terms:
 Historismi — Pieces for Your Story

FamilySearch's Finnish & Swedish genealogical word lists: 
About Finnish Names
Knowing how the Finnish names were used and developed is essential when doing Finnish research. Immigrants' names were transformed in a particular manner in North America. This knowledge can help genealogists understand how the Finnish names were changed and reconstructed. 
Finland is divided into two cultural areas: the eastern and the western. In the east—influenced by Imperial Russia, with the Eastern Orthodox faith, and in the west—influenced by Sweden, with the Roman Catholic faith, and later the Lutheran faith, names are evidence of these cultural differences. Some examples are Eastern Finnish names, with endings such as -nen or -inen, as in Kekkonen, Laukkanen, and Koponen.  
Likely, you will find that Western Finnish names where people were identified by a combination of a given name and a father's name, a patronymic. A patronymic is formed by attaching an ending to a given name [-poika/-tytär (F)] and [-son/-dotter (S)]. For example:
(F) "Karl Taavetinpoika" is "Karl, the son of Taavetti" 

(S) "Olof Johansson" is "Olof, the son of Johan" 

(F) "Anna Karlintytär" is "Anna, the daughter of Karl"

(S) "Maria Persdotter" is "Maria, the daughter of Per"
During the latter half of the 1800s and the start of the 1900s, most people in western Finland accepted family names and started using the farm name as a family name. It can be challenging to distinguish a family name from a farm name. The difference between the two is younger generations inherit that family names, while farm names change when individuals move from one farm to another. Farm names generally have an ending -la or -lä, as in Anttila or Siirilä.
Other examples are soldier names. To separate all the men with similar names (given name + patronymic), a law stated that soldiers should have distinct additional names. Some examples are Harnesk (armour) and Trumpet (trumpet). 
Family names were reminders of the old names of the eastern type, commonly constructed with the first part of the names usually from nature: Virtanen (virta=stream), Nieminen (niemi=point), and Suominen (Suomi=Finland).
In 1920, Finland passed the Family Names Act three years after its independence. This act standardized Finnish surnames, requiring everyone to use family surnames.
Where to Begin Your Finnish Ancestry Research
Begin your research with what is known. Search for as much information as you can find from your family and living relatives, which may include family traditions and oral histories. Compile names, dates of birth and death, marriages, places of residence, and occupations. Especially look for records that contain information that may list places of residence in Finland, such as:
Birth, marriage & death certificates

Family Bible information

Cemetery/sexton's records 

Obituaries & newspaper clippings

Letters & documents from the "Old Country" / diaries

IDs/passports

Parish Membership Transfer Certificates

Old photographs & postcards

Land records

Military records

Membership records of associations & organizations
Look for your ancestor's naturalization record if there was one. It may list the place of origin in Finland. Many Finns who came to the United States wanted to become citizens. While citizenship was not required, many Finns chose to become naturalized to vote, hold elective or appointed office, or qualify for land under the Homestead Laws of 1862. The vast majority were naturalized through the county court system. 
If you still can't find your ancestor's birth date, start with a more recent generation. Eventually, you will need a birthdate and the hometown, village, or church parish from which your immigrant ancestor came. Finding your ancestor in a parish is important as it establishes your ancestor in a time and place. Here are a few databases that may help you find a place (farm, village, parish) in Finland: 
Finnish Church Records
Jurisdictions
Places are usually written from smallest to largest. For example:
 Pahkamäki, Alajärvi, Vaasa, Finland
  (Village) (Parish) (County) (Country)
Pahkamäki is a village in Alajärvi Parish in Vaasa County in Finland. 
Basic Church Records (Kirkonkirjat (Finnish), Kyrkoböcker (Swedish)
Once the home parish has been located, you will find that the Lutheran Church records are some of the best in the world. For the parish where your ancestor lived, you will search these records: birth (födda/e (S), syntyneet (F)), marriage (gifte (S), vihityt (F)), and death (döda/e, (S), kuolleet, kuoli (F)) and Communion Books (Kommunionböker (S), Rippikirjat (F)). 
These records are organized by village (by (S), kylä (F)), and therein by farm. Over time, some parishes have been divided, and borders have been changed. The earlier records of a particular parish may be found in its "mother" (previous) parish. The farm owner appears first, with all other residents of the farm listed after him. These books will include relationships, dates, and additional vital information. 
Soini kyrka
Other parish records include baptisms, confirmations, banns, membership transfer certificates, parish minutes, burials, moving in and out records, etc. Military and court records also exist.
Finnish Ancestry Research Process
The basic research process involves moving back and forth between birth, marriage, and death records and the Communion Books. Listed below are a couple of main sites for the Finnish records. Each site has helpful instructions on how to search their database.
The following is an outline of the research process: 
Step 1: Find the birth date and the names of your ancestor's parents
Record the name of the father, mother, and the farm and village where the family lived at the time of the birth. Also, record any abbreviations before the father or mother's names and list all witnesses. Be sure to record any other identifying information. Use maps and gazetteers to identify all places. An example of a birth record is listed below.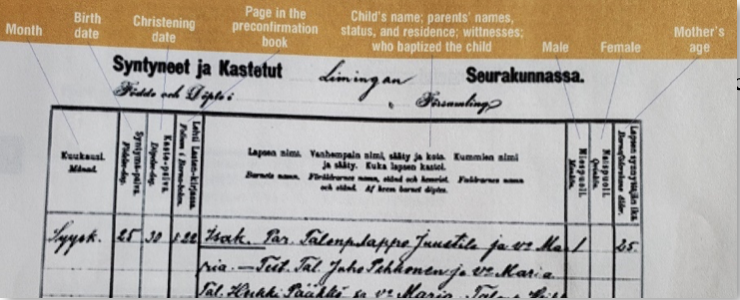 Step 2: Find the family in the Communion Book
Using the village name and farm name from the birth record, find the farm in the Communion Book that covers the year of birth of the child you just found in the birth records. Take note of all details, siblings, parents, and grandparents, along with dates and places, and then continue to search for the family in subsequent Communion Books. Do not skip any time frames or records.
Step 3: Find the names and birth dates of siblings
Use the birth records to confirm the information in the Communion Books. Also, use the parents' names and the names of the farm and village where the family lived to find the birth dates of other family members. 
Step 4: Find the marriage date of the parents
Look for the parents' marriage before the birth of the first child. Below is a marriage entry example.

Step 5: Find death dates
Follow the Communion Book records forward in time to determine the death dates of family members. Confirm with actual death records.
Step 6: Repeat the process for the next generation
Use the same research approach for the parents of the individual with whom you started in Step 1. Using the birth dates from the Communion Book, find the parents (as children) in the birth records. This will give you the grandparents' names and the villages and farms where the grandparents lived when the parents were born ("Step 1" again). Find the grandparents' farms in the Communion Books ("Step 2"), etc.
Why Looking for Your Finnish Ancestry Matters
Discovering your Finnish ancestry can bring great happiness and satisfaction. Remember, the more research you do, the more you will better understand the Finnish documents. The connection between those living and those who have gone before us is such a strong bond and a lovely gift to both.
If you'd like help from our team of professional genealogists to help you get through any brick walls or do any onsite research, you can fill out the form here on our homepage, and someone will reach out to you to get the process going!