3 Essential Websites for Exploring German Parish Records
How and where do you find German parish records online? We'll walk you through how to use the top 3 websites to help you find your German ancestors without needing to hop on a plane.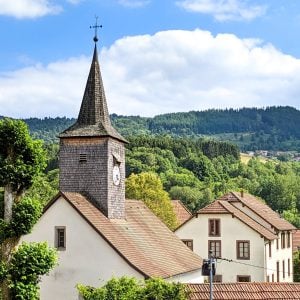 You have just discovered where your ancestor was from in Germany and know where they attended church. Congratulations! This is an exciting discovery worth celebrating! The most common question after making such a discovery is: what do I do now? Tens of thousands of churches dot the landscape in Germany, and many can trace their histories back several hundred years. However, finding the church records for your ancestor can seem like a daunting task. 
Luckily, many of these churches have digitized their records and placed them online for the public to view. The three main websites for access to digitized church records are Matricula Online, Family Search, and Archion. If you still need to determine where your ancestors may have attended church, this previous blog article should assist you. 
Matricula Online focuses solely on Roman Catholic parishes in Germany, Austria, Poland, Serbia, Luxembourg, Bosnia and Herzegovina, Slovenia, and Italy. Using Matricula Online is free and does not require creating an account. To search for specific parishes, click on the magnifying glass on the main page; this will bring you to Matricula Online's catalog. 
Type in the name of the parish your ancestors attended, and click Search. We searched for Xanten (Xanten, Mörs, Düsseldorf, Rheinland, Preußen) for this case study. Xanten contained both a Protestant and a Catholic parish. 
Searching for Xanten reveals several results. The first name in each listing is the parish's location, making the first result the church records for the Xanten Catholic parish. This listing also specifies that Xanten's parish was called St. Viktor. 
Each parish's listing on Matricula Online contains historical information about the parish – written in German – before listing the historical records. These records are organized by type, baptisms, marriages, and deaths/funerals (Taufen, Heiraten, and Sterbefälle) and then by year. To access the digitized images, click on the camera icon. Unfortunately, Matricula Online does not have a download icon. You must use either the print screen key on your keyboard or the snipping tool (exclusive to Windows computers) to capture images. Images are available under a CC BY-NC-ND 2.0 license.
FamilySearch contains historical records for over 100 countries, including Germany. Unlike Matricula Online, FamilySearch includes records for both Protestant and Catholic parishes. Additionally, to use FamilySearch, it is necessary to create a free account.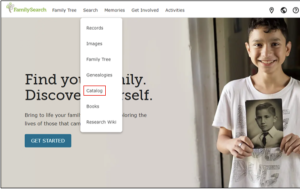 To search FamilySearch's vast catalog of records, click on the search tab, then catalog after signing into your account. The default search parameter for FamilySearch's catalog is by place. We searched for Xanten, Rheinland, Preußen, Germany, which revealed church records, civil registration, and court records are available for Xanten.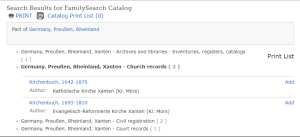 The FamilySearch catalog listed both Catholic and Protestant church records for Xanten, and each entry indicated the period coverage for the microfilmed/digitized records. Protestant church records for Xanten are available digitally from 1693 to 1810. It is important to note that some German church records can only be accessed at a FamilySearch Center or the FamilySearch Library in Salt Lake City due to licensing agreements. Still, if there is a camera icon without a key next to the church records, you can access them from your home. 

Early record availability for Xanten is excellent, but what if your ancestor was born in 1811? The need to seek other resources becomes necessary. Because Matricula Online is of no help in this situation, as it only caters to Catholic records, it's necessary to turn to a third website: Archion.  
Archion is a German-based website that caters solely to Protestant church records. Not only does Archion require individuals to create an account, but it is also a subscription-based website. However, before purchasing a subscription, you must ensure the church records you need are on the website. Fortunately, catalog searches on Archion are free. The default language for Archion is German, which can easily be changed by clicking on the globe icon on the top right of the page. To search Archion's catalog, click on Search. 
We searched for Xanten in Rheinland, which revealed six digital collections for the parish.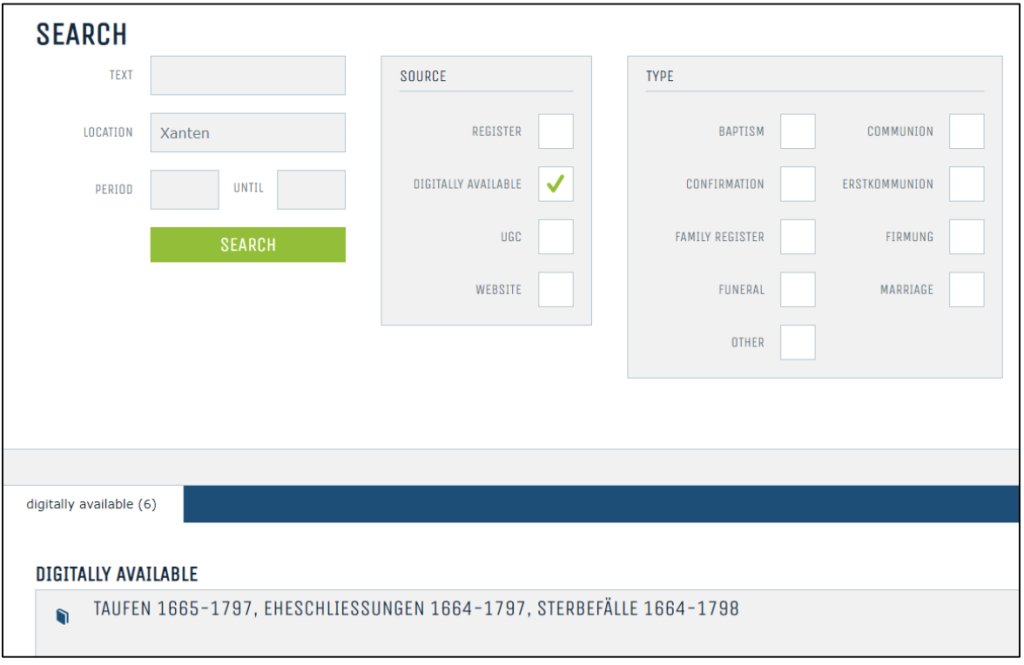 Clicking on one of the results will lead you to the digital church images. Church record availability for Xanten on Archion is slightly better than on FamilySearch. Baptisms/christening record availability is the same, marriages are available until 1812, and burials are available until 1827. To determine what other church records might be public for the Xanten parish, click on the place name on the digital record page. 
Records in green are digitized and available, while white ones have yet to be digitized. Records until 1957 are extant, but they have yet to be digitized. Digitizing efforts are moving slowly; some are digitized within months, while others may take years.  
While German genealogy can pose challenges, with these online resources your search has a greater chance for success. But you never have to go it alone, and can reach out to the professionals at Legacy Tree.
If you'd like more help finding German parish records online , or to help you find specific ancestors, you can schedule a consultation here with one of our professional genealogists.