Many family historians have a collection of unidentified old family photos they're not sure what to do with–but can't bear to throw out. In this article, we'll share tips for helping you accurately date old family photos.
Photographs are one of the treasures of genealogy. There is something about being able to look an ancestor in the eye—we make a connection to the people we can identify by both name and face. We search for traces of ourselves in their faces. We wonder what they were thinking or doing, or why that photograph was taken on that particular day.
But photographs can be perilous. Sometimes the people in the photograph are not who we think they are.
A few years ago, a photograph circulated around the internet and on a variety of online family trees, purporting to be an image of a young William Cheek, a Revolutionary War soldier who died in 1845. It turned up on dozens of websites and family trees. But there were two problems with that photograph. First, a quick search reveals the first photographic image of any person was made in 1830, making it impossible for the photograph to be of a young man who was born in 1752.  The second problem with the photograph was that it was taken in 2012 and was stolen from the photographer's website and inaccurately identified as William Cheek.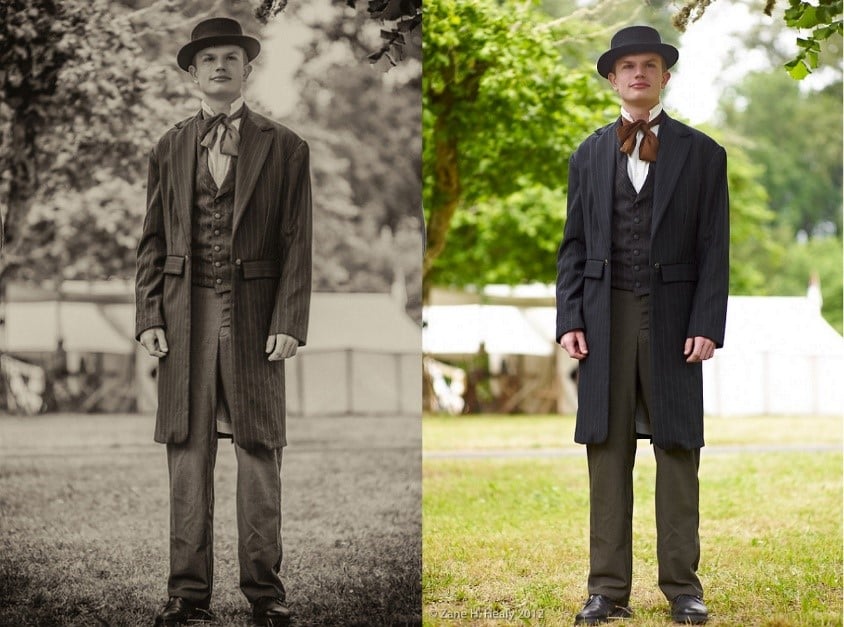 Another peril of photographs which genealogists face are those images with no name attached to the face, or those with only a cryptic "Mother" or "George" inscribed on the back. Do we throw out the photograph in frustration because we don't know who it is? Do we keep it in the hope that some day we will miraculously discover the name of the subject?
Understanding a little bit of the history of photography will help us to avoid the first pitfall and aid us in uncovering more information about those "unknown" family portraits. Clues in and on the photographs themselves can provide additional assistance in identifying the second class of images. And, of course, the hairstyle and clothing of the photographic subjects provide even more evidence to assist us in identifying that previously-unknown ancestor.
The History of Photographs – a Quick Primer
As noted above, the first photographic image of a person was taken in 1830. By the 1840s daguerreotype photography was becoming popular and the 1850s saw an absolute boom in photography. Everyone was having their photograph made, it seems, and there were three general classes of photographs:
Ambrotypes – images on glass which were underexposed or negatives of the original which had to be placed on a dark backing so the image could be seen.
Tintypes – a cheaper version of the ambrotype, printed on thin black-enameled sheets of a variety of metals.
Carte-de-visite – a 2 3/8" by 4" photographic calling card with the image printed on paper and attached to a thicker, cardstock back.
In general, glass and metal plate photographs began to be replaced by photographs printed on paper by the 1870s. Although all three versions still exist today, paper was simply cheaper and easier to use and became the dominant form for printed photographs.
Early photographs would have been black-and-white, especially those on glass or metal. Images printed on paper were often sepia-toned, a process designed to make the image more stable and longer-lasting. Sometimes the photographs were hand-colored, with pink cheeks and gold buttons being the most common coloration added. Most color images, what we think of as "colored pictures" date from 1935 onward.
Clues In and On Old Family Photos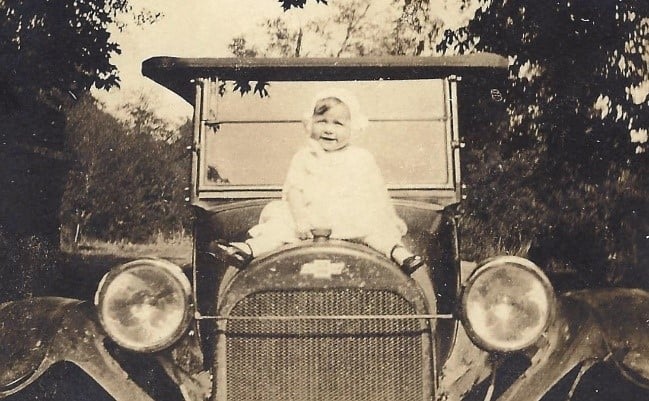 What a cute photograph! But who is the baby? Could it be Grandpa, who was born in 1903? Or Grandma, who was born in 1919? It's a baby. On an old car. How can we tell who it is?
Let's take an inventory of this photograph—what do we see? There is an emblem on the radiator. The hood of the car is rounded. There are round headlamps with a bar connecting them. The fenders appear to be round. The windscreen is square and appears to be divided in half.
If you aren't a car buff, you may not recognize that radiator emblem, but an online search tells you this car is a Chevrolet. Some additional research (try Googling "early Chevrolet cars" for instance) leads you to a lot of pictures of a lot of cars. But you can quickly narrow the years Chevrolet made cars with round hoods to about 1916-1921.
This particular car, a 1918 Chevrolet Model 490 Touring car, is a good match. It tells us the baby on the car is unlikely to be Grandpa, who would have been at least 14 years old when this photograph was taken. It could be Grandma, born in 1919. Not a complete positive match, but at least we can eliminate anyone born before 1916 from consideration.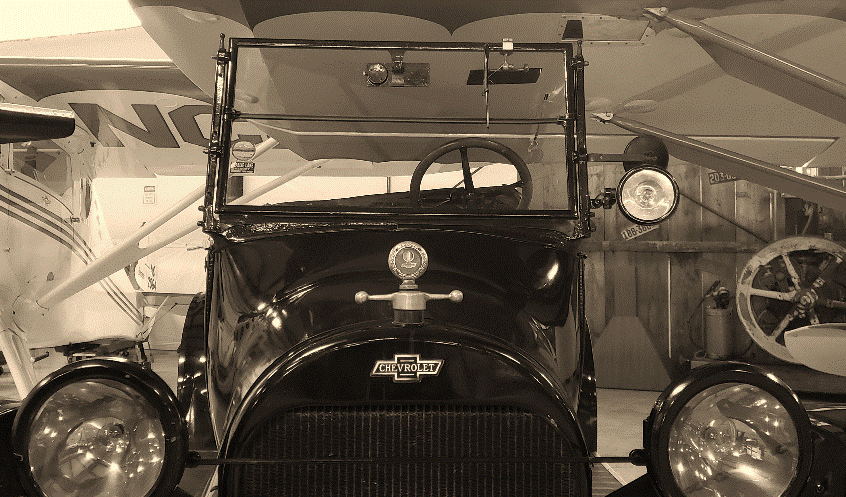 As you are working to identify the people in the photographs, look closely at the items in the background. A sign might identify the location of the photograph. A license plate on an automobile might provide a year of registration – 1934 in this case.
An advertisement might help you to narrow down the date or location after some historical research about R.C. Cola, or Piggly Wiggly, or the Pittsburgh Gazette Times, which was published between 1906 and 1925, providing a range of years and a general location for this photograph.
"Who is in this picture?" Clues for Identifying Unknown People in Photos
Sometimes, the clues are not in the photograph itself, but on the bottom or back of the image. This beautiful wedding photograph offers us no clues to the identity of the bride and groom beyond what we can see here: a bride and groom, and the imprimatur of the photographer on the bottom of the cardboard backer.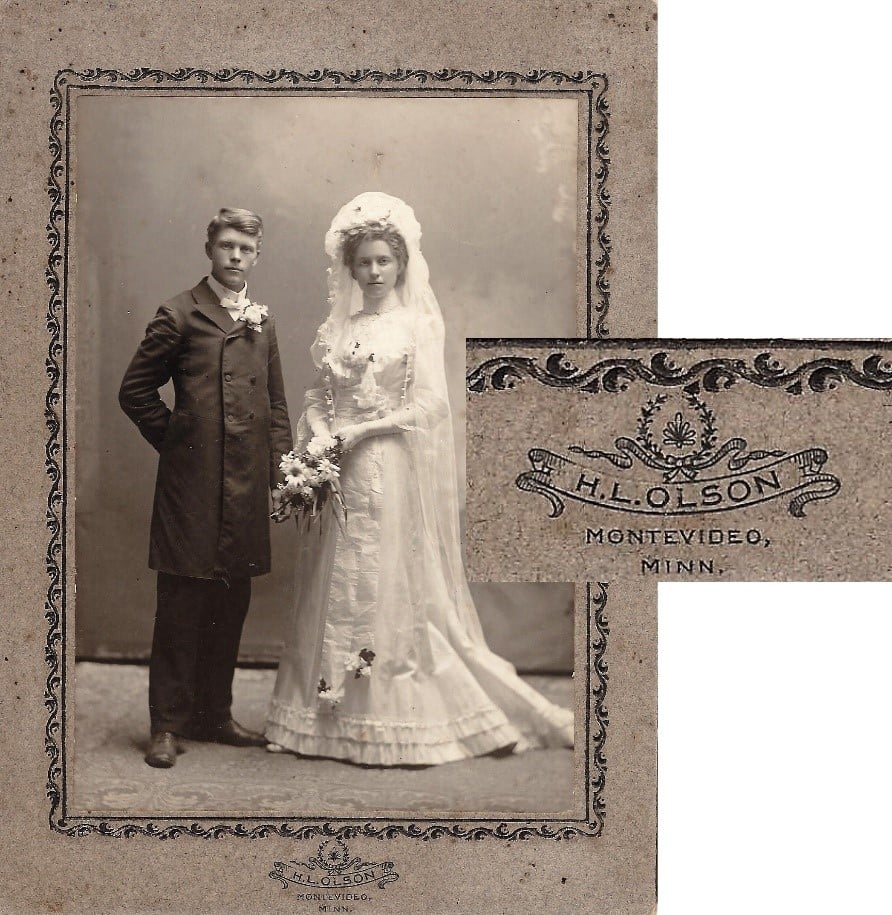 Without knowing anything about the couple, or even considering what clues their clothing can provide, a search for H.L. Olson reveals he was a Norwegian-American photographer who had a studio in Montevideo, Minnesota between 1890 and 1900. Try Langdon's List of 19th and 20th Century Photographers for information about when other American photographers had their studios in various locations. Search the city directories to narrow down the range of years a particular photographer was working in that location. Googling the photographer's name and the city can sometimes provide surprising results.
Knowing this couple was married in or near Montevideo, Minnesota between 1890 and 1900 helps us in our identification of this couple. If we only have one set of grandparents who were married between 1890 and 1900, this photograph is likely of that couple.
In situations where there are no internal or external clues, we need to rely on an understanding of fashion to accurately determine when that particular photograph was taken. Because men's fashion didn't change as dramatically as women's fashion, we will focus primarily on women's fashion in part two of this blog. At least one of the three key aspects of women's fashion—hair, the bodice of the dress, and the skirt of the dress—is depicted in every photograph. Knowing what to look for and what is suggested by hair and clothing styles can assist us in identifying the person or people in our unidentified family photographs.
If you need assistance putting a story to the photographs in your collection, Legacy Tree Genealogists can provide a well-researched narrative history of an individual, a couple, or an entire family. Contact us today to get started!