Tips from one of our professional genealogists for getting responses from your DNA cousin matches.
It happens to all of us.
You see you have new DNA cousin matches, and you get excited. Maybe they have a brick-wall surname you recognize, or maybe they're a really close match, or maybe they're in an area where you think your ancestors may have lived. You do a genealogy happy dance, and you send them a message.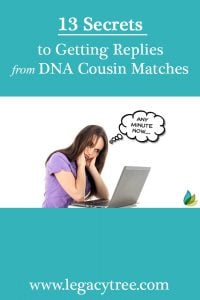 And then you wait. And wait. And wait. And nothing happens.
It's frustrating, isn't it? You need these cousins, and you just can't reach them. You don't know what went wrong, or whether they even received the messages. Genealogy is generally fun, but this part is no party.
Fortunately, there are steps you can take to improve the odds of getting a response from DNA cousins. We have a whole team of professional genealogists who specialize in adoptee/unknown parentage cases, so getting cousins to reply is critical. Today, we're sharing our best secrets for getting DNA cousins to reply to messages.
Use email whenever you can. If you see a cousin who has a real email address in her profile, use it. The internal messaging systems of DNA sites aren't always reliable, and not everyone logs in often enough to see the message. On subscription sites, users can't always access the message if their subscription has lapsed. If you must use the site's own message system, it's a good idea to put your own email address in both the subject line and your profile. The user may not see the whole message, but they'll likely see the subject line.
Use a Gmail account. When you're sending that email, you'll want the best possible chance of making it through the spam filter. Email from sites like Comcast and AOL can sometimes be flagged as junk. Gmail tends to be the email provider that triggers the fewest filters, and it's nice to have a dedicated email address for your genealogical research.
Make your subject line sing. Newly-tested cousins are likely to receive lots of messages from others eager to figure out how they're related. If you want to make sure your email is opened first, use a subject line that grabs their attention. "Erik Jansen Hagenaes is my great-grandpa, and I think he's yours too!" is way more fun than "DNA cousin" or "hello."
Be very specific. You can't always tell by looking, but many DNA kits are managed by someone who is also managing dozens of other kits across multiple DNA testing companies. It can be frustrating to receive a message that says, "It looks like we're third cousins. Do you have a tree?" Well, maybe, but whose third cousin are you? A better approach is, "I match the kit for Joseph J. Blow on Family Tree DNA. We are listed as 2nd to 4th cousins, with a total of 96 cM of shared DNA." That gives the recipient exactly what he needs to figure out who you are, so you both can begin to explore how you're connected.
Share who you are and what you know. One of the fun things about working with DNA cousins is that there's such a huge spectrum of experience levels. One cousin might have been given a test kit as a gift, with no clue that there's a whole world of genealogical research out there to go along with that gift. Another might be a professional genealogist with decades of experience. To break the ice and speed things up, it's a good idea to give a sense of your experience level up front. If you have a sense of what the connection to this new cousin might be, say so. If you're completely in the dark, it's fine to admit it. Setting expectations up front starts your relationship off on the right foot.
Come bearing gifts. If you're lucky enough to have a pretty good idea as to how you connect to this new cousin, you can lure them in with goodies. Few genealogists can resist the three words we all want to hear: "I have photos." If you don't have photos, you might have other stuff this new cousin would enjoy. I have one ancestor whose U.S. Civil War pension file is filled with some pretty juicy stuff, and I've yet to find a cousin on that line who didn't want to know just what that juicy stuff entails.
Don't fixate on trees. Many genealogists email a new cousin asking for a family tree, and are disappointed when they don't get a response. Keep in mind, though, that family trees are only one useful tool. Maybe they don't have one, but they have names, or documents, or photos, or a family Bible, or a story you've never heard, or an immigrant trunk, or any number of other things you'd appreciate. We sometimes scare newbies off when we demand trees and they don't have them. Most new DNA testers today are not genealogists, so they don't have trees yet. Be open to what they do have, and build from there.
Remember that this is a job application. When you're contacting a new cousin, you're applying for the opportunity to work with her. If it goes well, you'll collaborate for weeks, months, even years. The odds that you'll get the opportunity to do that are much greater if you show that you're a great colleague. The tone of your message can go a long way to establishing that this is going to be fun. Consider adding a photo of yourself to your DNA website profiles as well. Most of us enjoy looking at new relatives to look for a family resemblance, and this can also show that you're a friendly, open person.
Be open to multiple ways of working together. My oldest DNA match is 99 years old. The youngest just turned 10. In between, I have people from four continents and all walks of life. They're not all the same, and it shows. I've learned to adjust my approach based on the needs of the people I need to reach, and it's helped tremendously. Some people are fans of Facebook, so I put documents in a Facebook album to share. Others love to text, and I'm fine with talking that way. There's video conferencing, old-fashioned snail mail, and even Snapchat. If your goal is to work with your cousins, meet them on the platform where they're most comfortable. Comfortable people share more, and that's good for the growth of your family tree.
Consider your digital footprint. When I started doing genealogical research, we had to get to know cousins by actually getting to know them. Those days are over. Now, people look you up online before they contact you. Is your online persona helping or hurting your efforts to attract cousins? We live in interesting times, and that can lead to an interesting internet presence. If your entire Twitter feed is dedicated to how much you dislike members of a particular group or political party, and your cousin is a member of that group or political party, you're not likely to get a reply. That's not to say you shouldn't express yourself, but it's important to understand that people will google you. Make informed choices about what you publish for the world to see. Make sure you're comfortable with what they'll find.
Try another path. If you didn't reach that new match on the first try, you don't have to give up. After all, you probably didn't find each of your ancestors on the first try. If your email or message went unanswered, look for that cousin on other platforms. Is she on Facebook? LinkedIn? Find A Grave? If you search the internet for her username, is it the same one she uses on Instagram or Twitter? It's not a good idea to contact the same person a bunch of times, but one extra message via a different delivery method can often result in a response. Be sure to give them time, though; waiting at least a month between messages is nice, and you should add more time to that during the holiday season or summertime, when people might be especially focused on other things.
Don't take it personally. Sometimes you've done absolutely everything right, and you just don't get a reply. Maybe that cousin started a new job, or got pregnant with twins, or started chemotherapy. Maybe he took that DNA test to see if he needed to trade his lederhosen for a kilt, and he's now happily dressed up and moving on to something else. Maybe his DNA test revealed some shocking family secret, and he needs some time to process what he's learned. You can't know what's going on in someone else's life, but it's usually not about you.
Be patient. Genealogy is a long game. I recently got a response to an email I sent in what my kids refer to as the 1900s (for the record, it was 1999, so they're technically correct). That cousin wasn't ready to talk then, but she is now. Reader, it was worth the wait. Do your best to get what you need, move on when you don't, and be ready when they turn up years later.
If you've taken a DNA test and need help analyzing the results, or if you have a genealogy question you think DNA might be able to help answer, our team of genetic genealogists would love to help! Contact us to get started today!