When Your Family Isn't Where They Ought to Be
Have you ever had trouble tracing elusive ancestors? Particularly finding one specific record for that family member? You have all of the key documents like birth, marriage, and death certificates. Maybe you have added census pages, military records, and newspaper clippings; but, try as you might, there is one particular document which eludes you, no matter how hard you try to find it? If so, then you can appreciate this question we recently addressed:
"I am having a problem finding my mother and grandparents in the 1940 census. My grandfather, William Charles Opfer, was born on 15 October 1900. I can find him in the 1930 Census living in Gloucester Township, (Unincorporated Grenloch) Camden County, New Jersey. He is living with his wife Kathryn (Katharine) Opfer and three children: William C., Jr., Robert, and Nancy (my mother).
When I search the 1940 census on Ancestry nothing shows up. So I went to the Government website and converted the 1930 Enumeration District to the 1940 Enumeration District. The 1940 Enumeration Districts were 4-57, 4-58, and 4-61. I then went through all of the pages for each of the districts looking for William C. Opfer. I did this on Ancestry, Family Search, and NARA. No William C. Opfer.
I then went back to the 1930 Census and looked at his neighbors. I searched for each of the 13 heads of household neighbors from the 1930 census. Two had moved in 1940 and I found them. I could not find the other neighbors in the 1940 census.
I am 99.9% sure that my grandparents were living in Grenloch in 1940. My father, in his autobiography, talks about walking to Grenloch to visit my mother after they met in high school. My Mother was in her Freshman year of high school at that point (1944). My great- grandfather was living in Grenloch in 1940, as were some other 'cousins'. I can find all of them.
I am wondering if a page from the 1940 census did not get scanned? Is there somewhere else I could look?"
First, let us say how impressed we are with this woman's research and her dedication to finding this census report. She has made some very thorough searches and performed a number of advanced genealogical techniques in her quest for this 1940 U.S. Census page. It hardly seems fair that all of that work didn't yield the success she surely earned.
The government website she referenced is the National Archives 1940 Census page. The use of the page "1930 Records Search" allowed her to simply locate her grandfather in the 1930 U.S. Census and then, by clicking a few buttons, discover the corresponding enumeration districts for the 1930 ED in which he and his family lived: 4-57, 4-58, and 4-61. We, too, have scrolled through page after page searching for that one elusive name and we know how tedious that task can be. Using three different sites was a good strategy and one that we employ ourselves. Different images might be easier or more difficult to read, although in the case of these three EDs the copies seemed to be uniformly easy to read.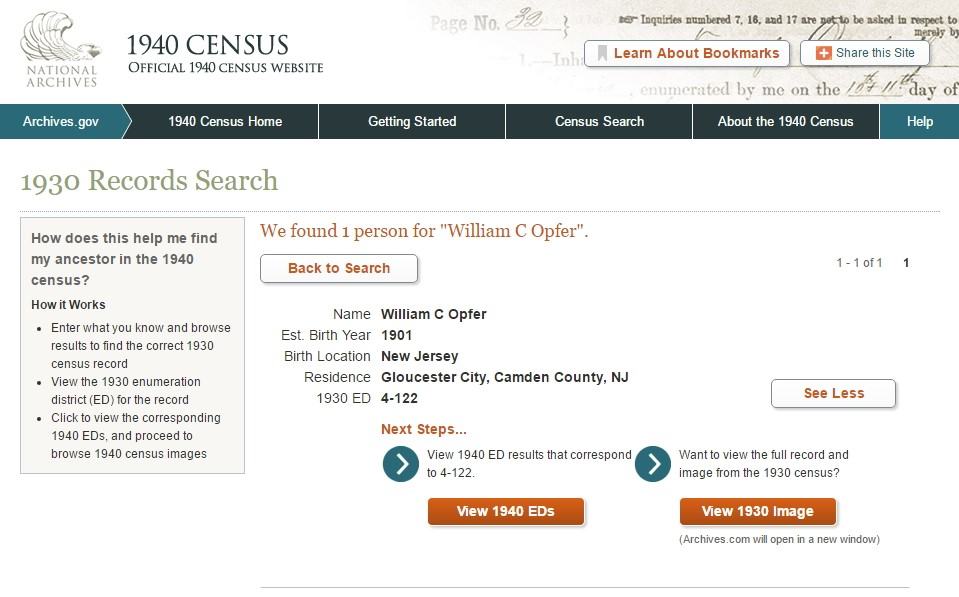 The first two EDs were for Blackwood, an unincorporated part of Camden County, New Jersey. The third one was for the Lakeland Tuberculosis Hospital, unlikely to have housed the entire family, but certainly worth looking through in case one Opfer was a patient there.
ED 4-58 had an interesting variation at the end of the report. The last two pages were not 15A and 15B, as would be expected, but were 61A and 61B. This indicates that these households were enumerated at a later date than were their neighbors. Because federal law requires every household to be counted, and because not everyone was at home when the enumerator arrived, the enumerator had to return on a different day and attempt to gather the necessary information for those families. They were recorded separately, beginning with page 61A.
People living in hotels, trailer camps, and other places normally designed for single-night stays were enumerated a week after the initial enumeration and those pages are numbered beginning with 81A. Not every ED has a 61 or an 81 page, but if you see one, now you know why the page numbers suddenly changed so dramatically.
The writer's use of Elizabeth Shown Mills' FAN Club was an excellent idea, too. FAN, an acronym for Friends, Associates, and Neighbors, takes advantage of the fact that people, in general, tend to remain geographically close to the people they know. If a portion of a community moves they tend to move together and relocate in the same general area of their new location. Her instincts to use this tool were excellent, even if they did not produce the desired results. This falls under the heading of "reasonably exhaustive research" and should always be included when someone, or in this case something, can't be found but should be there.
The fact that the researcher was able to locate only two of those neighbors could be explained, in part, by the fact that so many were in their 60s, 70s, and even 90s in 1930. They may have simply passed away in the intervening ten years. Another explanation, particularly for the working families, is that the Great Depression caused many families to move in order to find employment.
This may have been true for the Opfers. We noticed that in 1930 William was employed as a supervisor for Reading Transportation. While supervisors were important to the operation of any transportation company, it is possible that William found himself unemployed, as was true for millions of other Americans. If that happened, he and his family could have moved anywhere in the United States in an effort to find work. Alternatively, William may have left to find work while Kathryn and the children lived by themselves in reduced circumstances, or with family or friends.
To this end, we searched for William and Kathryn, and then each of the three children individually, in the hope of locating one or more family members. Using the "less is more" strategy which is often an important part of genealogical research, we searched with and without the family members' ages, places of birth, and other family member's names. Because the surname "Opfer" might have been misheard by the enumerator or grossly misspelled we even searched for the various members of the family with no surname. Since we did not know where the family may have lived between 1930 and 1944 we included all of New Jersey, Delaware (the home state of Kathryn), as well as neighboring Pennsylvania and New York in our searches. The lack of positive results meant that we expanded our search to the Eastern seaboard, and then the entire United States.
We also identified the names of William's and Kathryn's parents, William and Sallie Opfer and Raymond and Corrine Mason, and searched their households and neighborhoods for William and Kathryn, but they were not there. Walter, William's younger brother, was not hosting the family, either.
The writer had asked if it was possible that a page from the 1940 U.S. Census did not get scanned. Since the 1940 census has only been available for four years, it is still possible, although not probable, that there are one or more pages missing unbeknownst to anyone. Our research revealed that only a few pages from a couple EDs in Ohio and South Dakota were missing from the Family Search collection, and there is no indication anywhere that there are missing pages from New Jersey. In addition, the pages in the three possible EDs for the Opfers were all included and in the correct numerical order with no indication of any missing pages at the end. Therefore, we think we must conclude that missing pages do not explain the Opfer family's disappearance.
There are two other databases which might provide some insight into the location of the Opfer family. The first is the set of 1942 World War II draft registration cards. All men between the ages of 18 and 65 were required to register for this draft. The draft registration cards would have included the address at which William lived in 1942; however, there was no card for a man named William Opfer (or anyone with only the surname "Opfer" born between 1895 and 1905).
Our final search was the database of city directories. A poorly-indexed city directory reported that the Opfers lived in Haddonfield, New Jersey in 1943, but there are two directories contained in the same book, and the listing was actually for 1947. It reported that William and Katherine lived at 209 Washington Avenue with their children William and his wife, Robert, and Nancy. William's brother, Walter, and his wife Edith lived nearby. Unfortunately, our search for them in 1940 revealed that 79-year-old widower William Pape lived at that address with his household servants who were not the Opfers.

Although the turmoil and upheaval of the Great Depression meant that families were scattered and it would have been easy to miss enumerating many households in the mid-1930s, by 1940 the United States was recovering from the effects of the Depression. Some agencies such as the Works Progress Administration (WPA) and the CCC (Civilian Conservation Corps) were in place to provide work for men, and many war-related industries on both coasts were revived by the Allies' efforts to stop Hitler.
In other words, there should have been work and stability for the Opfer family by 1940 and they ought to have appeared in a census report. The evidence of the 1930 census and the 1947 city directory strongly suggests that they remained in or close to New Jersey, but all of our efforts to locate them have failed to yield positive results.
One possible scenario which would explain the Opfers apparent absence from the 1940 census is a simple one: perhaps the family was in the process of moving from one location to another in the month of April when the census was enumerated. Although the census was supposed to be enumerated on 1 April, the reality is that it was simply impossible to knock on every door and obtain the necessary information in one day. Some enumeration districts were fully counted by the 4th of the month. Other places were not completed until the 30th. This was true even in the same town.
If the Opfers had moved across the street from 206 Washington Avenue to 209 Washington Avenue in Haddonfield, for instance, between the 5th and the 14th of April, they would have moved from one enumeration district to another. Because the 209 Washington Avenue address had been enumerated on 4 April, they would not have been counted in that new location. And because the 206 Washington Avenue address was not enumerated until the 15th of the month, they would not have been included in that EDs census report. We have seen this happen in the reverse and a family was enumerated twice because they moved during the enumeration, so it certainly could have happened the other way around, too. This is the only explanation we can find to explain the absence of the Opfers from the 1940 U.S. Census.
Even though the Opfer family may never be found in the 1940 U.S. Census, this researcher can be confident that she has done all she can to try to find them there. It is always important to conduct a reasonably exhaustive search for all available records that might have been created for your family because you never know what clues those records might provide. It also gives your research a lot more credibility if you can show that you've checked a wide range of different sources to obtain the information that you have, rather than relying on just the basics.
Do you need help tracing elusive ancestors or tracking down specific records? Have you hit a genealogy "brick wall" and don't know where else to look? The experts at Legacy Tree Genealogists can help. Contact us today for a free consultation!