Ancestry's Cyber Attack and a Look at Perseverance
Ancestry's Cyber Attack, putting an outage to online records for a few days, really put things into perspective for how far genealogy records have come over the years. 
Last week, a new genealogy research project came across my desk and it was thrilling to delve into a 19th Century Mid-Atlantic States project and have instant access to a vast amount of records online through various online genealogy record websites. Within a few short hours of working on a census survey, I felt a great kinship to this heretofore unknown family, seeing the family structure and where they lived out their lives. From a death certificate, I was saddened by the death of the matriarch who died in her fifties from cancer, and from a newspaper clipping, I was awed when a son left his hometown to work on the Panama Canal.
Elbow deep in death certificates and censuses and newspaper clippings and city directories, I was feverishly citing each document on my research calendar, the documents pouring in, when all of a sudden the research came to a screeching halt. Ancestry.com was hit by a cyber attack, causing "major site outages" at Ancestry, Find a Grave, RootsWeb, JewishGen and Fold3 (read more about that HERE). Feeling extremely inconvenienced by this unexpected First World Problem, my thoughts turned to the file of yellowing, typed pages created and kept by my grandmother, a genealogist during the 1940s and 1950s. Opening my desk drawer, I pulled out the file and thumbed through papers generated over half a century ago. On thin, crinkly, tissue-paper, she had typed a request for a copy of a will from the Prerogative Court of Canterbury, England, in October 1945. Two months later, she received this response: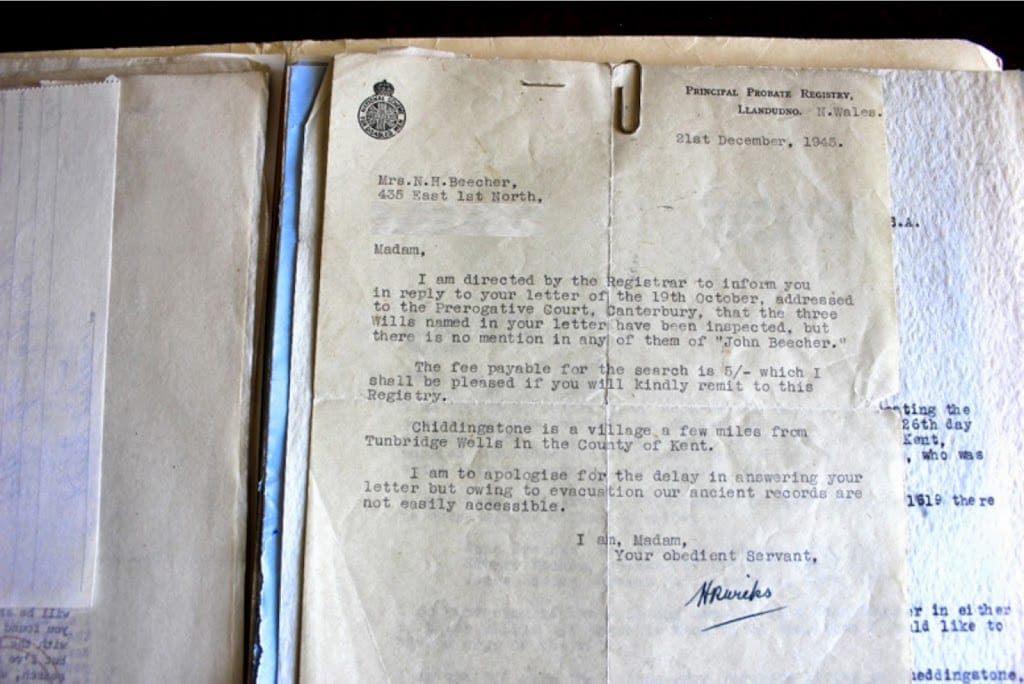 The sentence that fascinated me was "but owing to evacuation our ancient records are not easily accessible." So my grandmother was not dealing with a cyber attack delay, she was dealing with a World War II delay.
Delays are aggravating and impede progress, but within a few short days, Ancestry's computer technicians will have built "fences" around their website, providing years of trouble-free genealogical research with almost instant access to unlimited records, providing modern genealogists the opportunity to quickly build a good foundation from which to work. My work on this Mid-Atlantic States family will continue. I just hope I can have the perseverance of my genealogist grandmother, undeterred by war, waiting for months and even years to build her ancestry.
__________
Are you interested in extending your family tree? Our team of professional genealogists are experts at genetic and traditional genealogy and can help you break down your genealogy brick walls. Contact us today for a free estimate!