Tying the Knot: Ancestral Marriage Records and Where You Might Find Them
Marriage records are a major source of genealogical information since they mark the merging of two families and provide what may be the only source of a married woman's maiden surname. Searching for maiden names in marriage records is one of the first priorities of all genealogy research. One maiden name brings a whole new set of ancestors and their stories into play.
Marriage has always been a very public covenant, since two people were vowing to care for each other and their children, ideally preventing single parents and orphans from relying on public charity. In the United States, counties have been recording marriages for much longer than they have been recording births and deaths. Even if the county records are otherwise very sparse, you can usually expect to find a collection of early marriage records. Whether a civil or church authority performed the ceremony, local laws usually required that the marriage be recorded in civil records. Traditionally, marriages were performed in the bride's hometown.
What information can I find in a marriage record?
Depending on the locality, the era, the institution, the clerk, and the informant, you may find the following information in a marriage record:
Full names of bride and groom
Date and/or place of birth for bride and groom
Age at time of marriage
Church of marriage ceremony
County where the marriage took place
Date of the marriage
Name of minister or priest
Names and birthplaces of the bride's and groom's parents
Names of the witnesses to the marriage, often relatives
Occupations
Residences of the parties
Whether single, widowed, or divorced
Types of marriage records in genealogy research
Civil marriage records can take several different forms, most often a register, a license, or a certificate. In addition to a church record of a marriage, you might find a recording of the banns. Banns were public announcements made by the church of the impending marriage, giving members of the community an opportunity to make known any impediments to the union, such as a close cousin relationship or an existing spouse. Keep in mind that a license, engagement announcement, or banns prove that the couple planned to marry, but they do not necessarily prove the actual date of the marriage, or even that it took place at all.
Where can I find marriage records?
In addition to civil and church records, you may find a record of a marriage in newspapers (including obituaries), family Bibles and personal histories, or compiled genealogies, either online or in print (be careful to check their sources!). Google Books, MyHeritage, Ancestry, FamilySearch, and FindMyPast are all online sources for marriage records.
Still can't find that marriage record? Maybe a "Gretna Green" marriage is the reason!
If you have tried all these places and still cannot find the marriage of your ancestors, consider the possibility that they went to a "Gretna Green" to get married. A Gretna Green marriage is when a couple elopes or otherwise chooses to marry away from their hometown(s) and families. They might do this to take advantage of laxer marriage laws that allow them to marry without the consent of their parents, at younger ages, for less money, or without a prescribed waiting period. These marriages were less likely to be publicly announced, and sometimes the only record created was a line in the officiant's account book.
Where did the term "Gretna Green" originate?
Gretna Green is a town in Scotland, just over the border from England, where couples fled to take advantage of Scotland's less restrictive marriage laws as early as the mid-1700s. You may recall that in Jane Austen's novel Pride and Prejudice, it was feared that 16-year-old Lydia Bennett and George Wickham had run off to Gretna Green to marry against the wishes of Lydia's family. In Scotland, anyone, even the local blacksmith, could perform a marriage ceremony, as long as there were at least two witnesses and the couple declared there were no impediments. Grooms had to be at least 14 years old and brides at least 12. Over time, any place that became known as a "runaway wedding" haven came to be categorized as a "Gretna Green."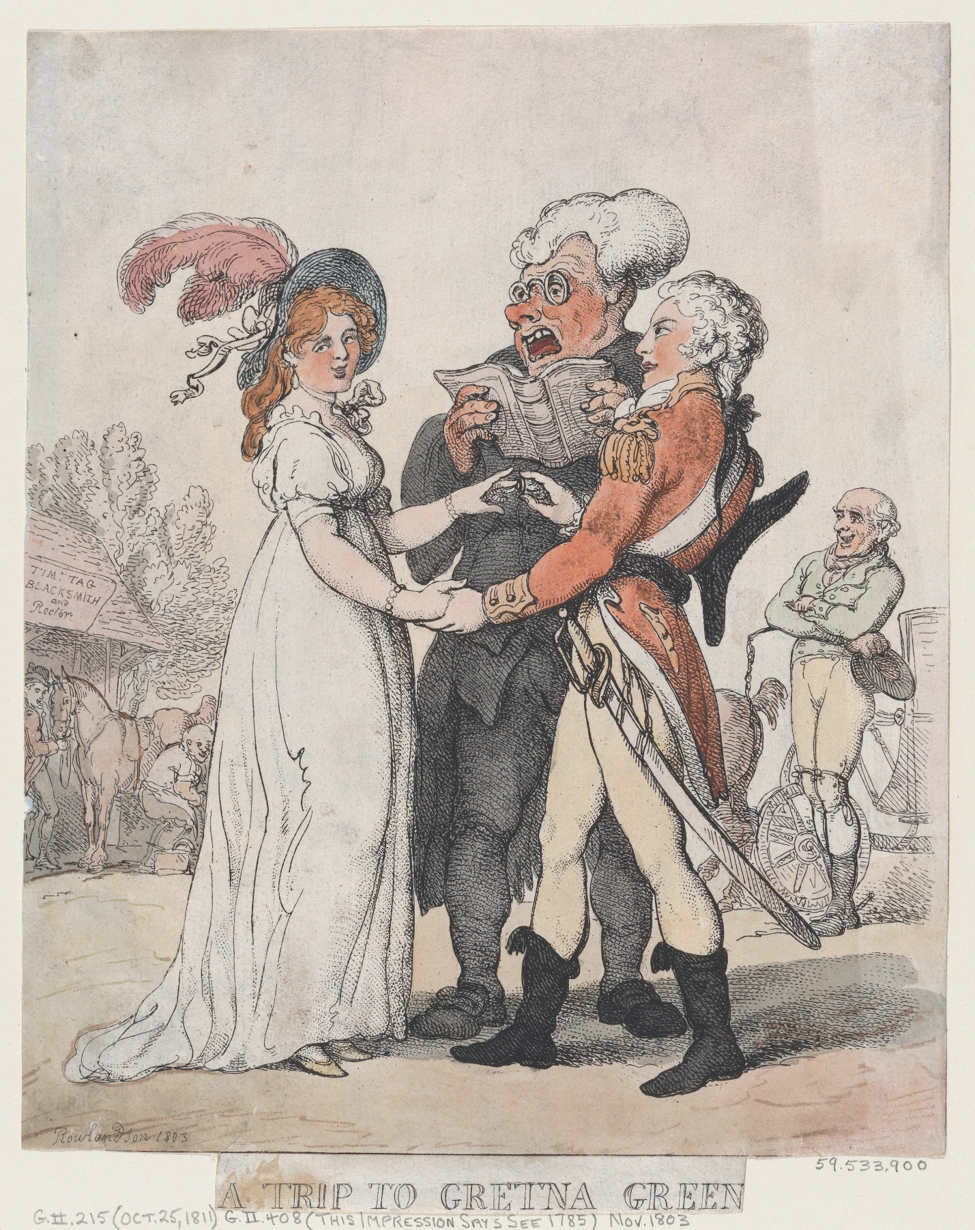 In the United States, Gretna Greens can be found in the border towns of states with relatively lax marriage laws. Military posts along the frontier, towns along the Canadian and Mexican borders, and river towns along the Ohio, Mississippi, Missouri, and Hudson Rivers are other likely Gretna Greens.
If you are searching for your ancestors' marriage, consider the following well-known Gretna Greens in the United States:
Port Orchard, Washington
Clark County, Washington
Skamania County, Washington
Coeur d'Alene, Idaho
Payette, Idaho
Weiser, Idaho
Bear Lake, Idaho
Evanston, Wyoming
Omaha, Nebraska
Farmington, Utah
Las Vegas, Nevada
Winnemucca, Nevada
West Wendover, Nevada
Elko, Nevada
Reno, Nevada
Yuma, Arizona
Raton, New Mexico
Richmond and Rosenburg, Texas
Liberty, Texas
Orange County, Texas
Norton County, Kansas
Texarkana, Arkansas
Tishomingo County, Mississippi
Keokuk, Iowa
Crown Point, Indiana
South Bend, Indiana
Angola, Indiana
Clark County, Indiana
Evansville, Indiana
Chicago, Illinois
Cincinnati, Ohio
Aberdeen, Ohio
Port Huron, Michigan
Joseph, Michigan
Pike County, Kentucky
Maysville, Kentucky
South Point, Tennessee
Rome, Georgia
Airy, North Carolina
West Alexander, West Virginia
Point Pleasant, West Virginia
Manassas, Virginia
Fredericksburg, Virginia
Philadelphia, Pennsylvania
West Alexander, Pennsylvania
Pittsburgh, Pennsylvania
Reading, Pennsylvania
Westminster, Maryland
Howard County, Maryland
Elkton, Maryland
Niagara Falls, New York (and Niagara Falls, Ontario)
Ogdensburg, New York
Crown Point, New York
New York City, New York
Kings County, New York
Buffalo, New York
Groton, Connecticut
Thompson, Connecticut
Lowell, Massachusetts
At Legacy Tree Genealogists, we leave no stone unturned when searching for the marriage of an elusive ancestor or clues to any other unsolved mystery. Leave the sleuthing to us and let us discover and preserve your family stories! Contact us today to request a free quote.
Sources:
https://www.familysearch.org/wiki/en/Gretna_Greens_in_the_United_States
Arline Eakle, "Have you searched and searched for the marriage without finding it?"
http://www.arleneeakle.com/wordpress/2007/02/19/have-you-searched-and-searched-for-the-marriage-without-finding-it/
https://www.familysearch.org/wiki/en/United_States_Marriage_Records