Solutions for a Weed-Free Yard, Genealogy-Style: Genealogy Podcasts
I don't know about you, but there are just some chores that I loathe to do, like weeding. Right now, with spring in full swing, my yard is growing a healthy crop of weeds. My solution to making it more enjoyable? Listening to genealogy podcasts! Here are five of my favorite genealogy podcasts that make the time fly when doing any mundane task:
Genealogy Gems is hosted by Lisa Louise Cooke, and her podcast "helps you make the most of your family history research time by providing quick and easy-to-use research techniques." Along with sharing research tips and techniques, she offers helpful websites and resources, invites other well-known speakers in the genealogy community to share their knowledge and expertise, and features listener email, book reviews, and interesting genealogy stories, as well as the latest in genealogy news. Lisa is a popular speaker and presenter at genealogy conferences and for societies. You can find out more here.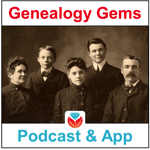 Extreme Genes is a weekly podcast hosted by Scott Fisher and is a fun, upbeat show that is entertaining as well as educational. Scott not only seeks to educate listeners on various resources and techniques to help in their genealogy research, but finds the most interesting stories and people to interview. His podcast features a segment called "Ask Us Anything" where listener questions are answered. You'll want to check out the Extreme Genes website for additional stories, show notes, and images that can't be included in an audio format.

 

Research Like A Pro is another weekly show hosted by mother/daughter team Diana Elder and Nicole Dyer. Their podcast is geared towards helping newer researchers learn the steps and skills that will help them avoid many of the pitfalls beginning genealogists make so that they can "research like a pro" from the start. Diana and Nicole typically focus on one research concept or record group per show, but they also share case studies incorporating the skills they've already taught so you can see how to do a research project from start to finish. Even skilled family historians will learn new ideas and strategies from listening to these two professional genealogists. You can learn more about their podcast, blog, and courses they teach at Family Locket.
 

The Genealogy Guys Podcast has been around since 2005. George Morgan and Drew Smith are the hosts, and they host a second podcast called Genealogy Connection. Like Extreme Genes and Genealogy Gems, Genealogy Guys features the latest news from genealogy companies and organizations, and also includes interviews with players in the genealogy world who share their knowledge and expertise covering a variety of family history topics. Genealogy Connection presents interviews from "researchers, writers, speakers, educators, entrepreneurs, technologists, librarians, and archivists" throughout the genealogy community. A unique feature they include in each interview is the interviewee's recommendation of a book, technology tool, and methodology tip that improves their productivity or one that they want others to know about. You can learn more here.
The Genealogy Professional Podcast is for those who may be thinking of making genealogy a career or genealogy professionals who are looking for ideas on how to run their business better. Hosted by Marian Pierre-Louis, professional genealogists from around the world share how they became interested in genealogy and in becoming a genealogy professional. I think it's interesting to learn how they transitioned into the world of genealogy and what words of advice they'd like to share with others who want to join this growing industry. Click here for more info.

So the next time you need something to take your mind somewhere while you tackle that pile of laundry or that weedy flowerbed, download one of these podcasts, and be prepared to be genealogically educated, enlightened, and even entertained. 
Genealogy Podcasts Featuring Legacy Tree Genealogists
You can hear interviews from Legacy Tree Genealogist professionals on many of these podcasts. Here are some of my favorite episodes:
Paul Woodbury, "Ask Us Anything on DNA," Extreme Genes Episode 281
Carolyn Tolman, "A DNA Story 65 Years in the Making," Extreme Genes Episode 272
Kate Eakman, "1940 census Reader Q&A," Genealogy Gems Episode 201
The experts at Legacy Tree Genealogists are here to help you connect with your ancestors and preserve your legacy for generations to come. Get started today by requesting your free quote.