Five Tips for Deciphering Old Handwriting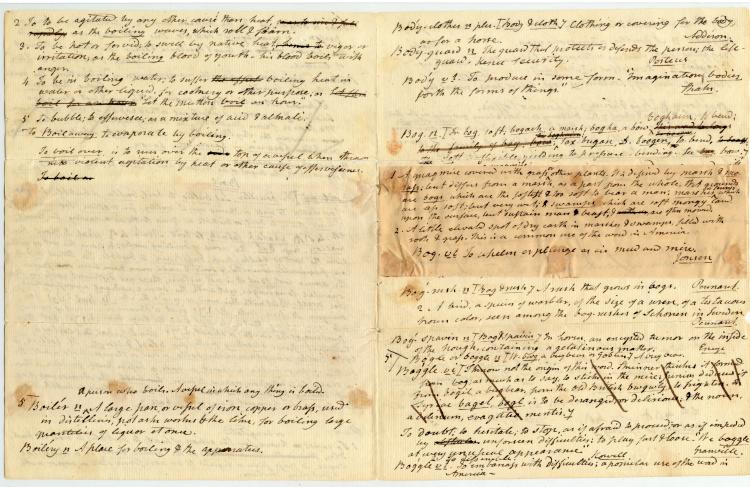 One of the hot topics of debate among parents and educators these days is whether it is necessary for today's computer-age students to learn cursive handwriting. Given the time investment required, is it important enough to continue to be taught in our public schools? If professional genealogists and historians were to weigh in on the subject, we would vote with a resounding Yes! 
Historical documents that are fundamental to our nation's history and laws, including the Declaration of Independence and the Constitution, were written in cursive. And what about handwritten letters from grandpa sent home from the war, or great-grandma's gingersnap cookie recipe, to say nothing of actual genealogical research in original documents? Some would argue that soon optical character recognition (OCR) technology will be able to take care of reading and deciphering these records for us, but in the meantime, we've got to do it the old-fashioned way.
Even if you were taught growing up to write with cursive handwriting, it can still be tricky to read!
Here are five tips to help you tackle those difficult to read handwritten documents that will inevitably cross your path on your discovery of your own family history:
1. Read the entire document quickly to get the context. Even if you feel like you don't understand anything on the page, your eyes will start to get familiar with the handwriting, and you will begin to recognize some words.
2. Write out the alphabet using the scribe's handwriting. Make a cheat sheet of sorts, creating each letter the way the scribe does. One way to do this is to trace the strokes of each letter with your finger to get the feel of the way the scribe writes. The lines where the scribe begins a letter are often thicker than where he stops, helping you follow the direction the scribe took to make the letter. If you're really dedicated to getting the full experience, you can even purchase a historic style dip pen, nib, and inkwell for only a few dollars online or through a local art shop.
3. Leave blanks for words or letters that you don't know. As you start to transcribe the document, write down each word, but don't spend a lot of time on a word or letter that is giving you trouble. Use placeholders for the letters you can't figure out ("st_e") and move on. Continue to the end of the document and come back to those spots later when you have seen more of the forms and context of the document.
4. Look for common words or phrases. There are many options. Look for the word "the." Months of the year are also usually easy to read and contain many letters of the alphabet to compare to. Learn about common phrases used in the type of document you are looking at, such as wills and land deeds. Becoming familiar with these boilerplate terms and clauses can give you several words or phrases with which to compare other words and letters. For example:
Wills:
Often, the very first line in a will is "In the name of God"
"I give and bequeath to my beloved wife…"
"my last will and testament"

Deeds:
"This indenture made this …[date]" often begins a land deed.
The words "grantor," "grantee," and "appurtenances"
"Know all men by these presents…"

"In witness whereof I have hereunto set my hand and seal this [date]"
"Signed sealed and delivered"
5. Remember that spelling, punctuation, and capitalization were not standardized until the 19th century. Something that is helpful to keep in mind when dealing with early American documents is that spelling, punctuation, and capitalization were not as important to early Americans as they are to us today. It wasn't until 1806, when Noah Webster published A Compendious Dictionary of the English Language –  the first American lexicon to define spelling – that spelling began to become more uniform, and even then, it took years to catch on. This was largely because basic education was not totally compulsory everywhere in the United States until all the way in the 1920s. As a result, the following are important considerations:
Words were often spelled phonetically, the way they sounded. Local accents could also affect the way a word was spelled; for example, the surname Harrington could become Arrington. This is even more common when an ancestor in a record was an immigrant from a non-English-speaking country. The German surname Schneider may have become Snyder, Snider, Schnieder, or any number of other variations.
A person's name could be spelled several different ways within the same document.
Punctuation was seldom used, and when it was, it was used haphazardly. Dashes or equal signs were often used at the end of a line, after an abbreviation, or to show the word extended to the next line.
The first word in a sentence may or may not start with a capital letter; sometimes words in the middle of the sentence are capitalized. Names were not always capitalized.
Clerks often used abbreviations, substitutions, and contractions, even with proper names. For example:

Wm for William, Danl for Daniel, Geo for George
Superscripts were used in the abbreviations such as Junr or Esqr and Danl
substituting "y" for "i"

dyed = died
eyther = either
Catherine = Catheryn

adding e to ends of words

sole = soul
doe = do
sume = sum
Being able to read old handwriting and transcribe the contents of wills, deeds, vital records, and other period writings are skills that are important to a genealogist but also to historians and anyone desiring to make connections with the past. With practice and patience, the process will become easier, and you too will be able to unlock the mysteries captured inside these precious pieces of the past.
The experts at Legacy Tree Genealogists can help you read, transcribe, and even translate the documents necessary for learning more about your ancestors. Contact us today for a free consultation.