If you're not including university special collections in your genealogy research arsenal, you may be missing out on finds that add valuable context to your ancestors' lives. 
The Civil War diary of my first cousin, five times removed, detailing his experience at the battle of Vicksburg.
The original botanical sketches for my great-great-grandfather's work on South African flowers, including his handwritten notes.
Advertisements for the barbering business of another great-great-grandfather, found in the quarterly magazine of the private academy attended by his son, my great-grandfather.
Insurance maps and plat books detailing my neighborhood's development over more than one hundred years, from a rural township to an established city neighborhood.
Without college and university libraries and archives, I might never have known these treasures existed.
College and university libraries and archives often have special collections related to their institution's history and its people—the faculty, staff, and students who have passed through its doors over the years. What is less well known, however, is that many libraries and archives also have valuable collections of local material, preserving resources about the city, county, or region in which they are located. These materials can include maps, photographs, architectural drawings, personal papers and diaries, letters, oral histories, organizational and business records, religious records, government records, directories, and newspapers, among others. Thus, these institutions should not be overlooked in our quest for details about our family histories.
Ball State University in Muncie, Delaware County, Indiana, is an excellent example of an institution with a robust collection of local materials, some of which have already been digitized and are freely available through the University Libraries' Digital Media Repository. Collections of the Stoeckel Archives of Local History include the following gems:
Tract books covering land in central and east central Indiana, 1811-1876
Delaware County poor relief records, detailing claims and including correspondence related to community assistance for the poor between 1851 and 1888
Delaware County fraternal organization records, beginning in 1846 and documenting Freemasons, Odd Fellows, Knights of Pythias, and others
Delaware County farm bureau records, containing minutes, membership rolls, and other material related to the formation of county agricultural organizations following World War I
First Baptist Church of Muncie records, beginning in 1870 and including pastors' records, church newsletters, and drawings and construction records for church buildings
Muncie city council records, recording petitions, meeting minutes, finances, and other proposals related to city business between 1870 and 1935.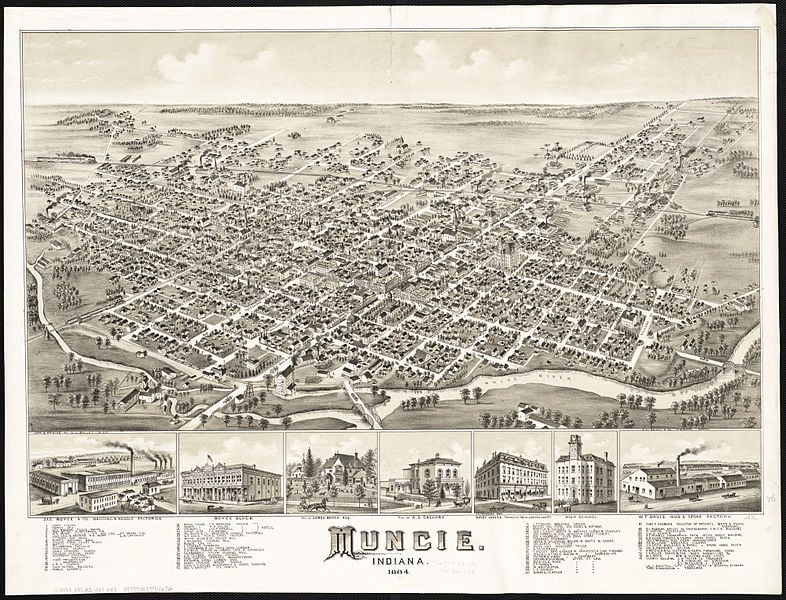 In addition, because two of Ball State's program strengths are architecture and education, the library has a large collection of architectural drawings and photographs as well as historic records related to schools.
Where Can I Find University Special Collections?
Not sure where you might find relevant materials? Think first about where your ancestors lived and worked and search there for local institutions, but keep in mind that sometimes material ends up far from where that family originally resided. (Many of us have stories about the family Bible that ended up in the hands of a cousin thousands of miles away from the family homestead.)
An excellent general search tool is ArchiveGrid, which allows the researcher to search the collections of participating institutions around the world. ArchiveGrid includes collections of museums and historical societies in addition to libraries and archives.
And don't overlook the resources of a smaller college. Earlham College, a Quaker institution in Richmond, Indiana, with an undergraduate student population of 1,000, has a large collection of Quaker records as well as the Josiah Parker Papers, which contains letters from this prominent North Carolina Quakers describing migration from North Carolina to Ohio and Indiana—a common pathway for settlers. Another example is the 1,300-student Knox College in Galesburg, Illinois, whose local history collections date back to the founding of the town in 1837.
Tips for Searching University Special Collections
Not all material will be available online. Keep in mind that digitized collections may be highlighted in a different area of a web site, so review pages and links carefully. Be sure to search the library catalog and to look for finding aids that might explain what a particular collection contains. More detailed finding aids may break down a collection to list the contents of an individual box or folder, helping the researcher know exactly where to go and making the research process quicker and more efficient.
Not sure if the library has something you be might interested in, or want to find out more about a collection listed in the catalog? Contact the institution directly. Some will list only contact information for research inquiries via phone or email, but others may ask that you submit a specific research request form through their web site. Be patient and considerate of the staff's time, as many of these archives have limited hours and few employees.
Sometimes materials are best examined in person, and library staff often do not have the time to do detailed research for patrons. If a research road trip isn't feasible for you, consider hiring a researcher in the local area. Some libraries and archives keep a list of local researchers for hire that they will provide to patrons. Legacy Tree Genealogists also has skilled researchers available across the world for such onsite work.
Branching out to local sources, many of which aren't yet digitized, can reveal new stories and important evidence for our family history research. In my case, the University of Iowa, Stellenbosch University, Northwestern College, and Indiana University-Purdue University Indianapolis have preserved the diaries, drawings, directories, and maps that have shed new light on some of my family's experience. The resources of college and university special collections may do the same for you.
Would you like your family story told? Love to know what gems may be included in university special collections and other archives? The experts at Legacy Tree Genealogists can help. Contact us today for a free consultation.