Property records are full of genealogy information! Here's how understanding the baseline and meridian in land records can help in your genealogy research.
Back in 1855 when the state of Utah was getting organized, the Salt Lake Meridian was established and it was from this very point that the entire state of Utah was surveyed. The stone post in this photo is essentially the center of Utah, and the baseline (or latitude) and meridian (longitude) is still surveyed from here. This was an accurate way to survey land, as opposed to the system used by the original thirteen colonies, that of metes and bounds. With metes and bounds, the description of your property would read, "…goes until this big rock, then west to the large maple tree, then north to the bend in the creek." This system of property description met challenges when someone removed the rock or the tree died, or the creek changed its course.
Today's modern way of surveying began in Ohio just after the Revolutionary War, with the establishment of the Public Land Survey System, where set points were established, or rather, one major north-south line, the meridian, and one major east-west line, the base. From this came the borders and descriptions of property.
What does this have to do with genealogy?
Discovering Precious Documentation
In doing research for a family who lived in Jefferson County, Nebraska for over sixty years, we found the following 1886 land patent:

The family's property in Jefferson County was described like this:
The North half of the South East Quarter of Section Eleven and the West half of the South West Quarter of Section Twelve in Township One South of Range Two East
How do you interpret this description?
Decoding Property Records
Nebraska, and all states using the Public Land Survey System, was divided, or surveyed, into squares, with the Baseline and Meridian intersecting as the center point. Each square on the grid was described by where it was in relation to the baseline and meridian. Each square on the grid is called a township and is 36 square miles. Each township is divided into 36 squares, each one square mile. Each square is numbered and called a section. Each section is divided into quarters.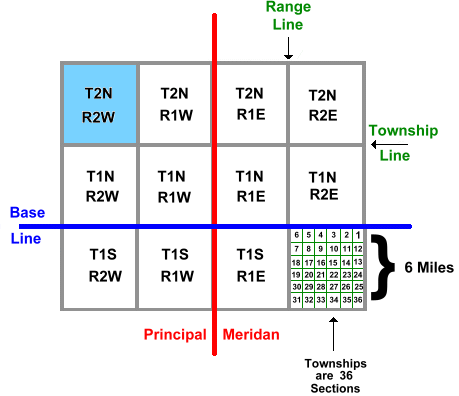 From http://www.rootsweb.ancestry.com/~ilmaga/landmaps/range_map.html
This land patent was describing two pieces of property, both in Township One South (T1S) of Range Two East (R2E). When the land patent says this property was in Township One South, we know that the property is located on the first line south of the baseline. When the land patent says Range Two East, we know that the property is also two blocks east of the meridian.
Finding the location of a property can help when you need to learn more about an ancestor's neighbors and trace what may have been a joint migration into or out of town. It can also be helpful in tracking the succession of that property into your ancestor's hands and then into the hands of another in case one of those people was related to or connected to your ancestor. Plus, finding an ancestor's location is just plain fascinating, especially if you can visit that spot!
Legacy Tree Genealogists' team of experts leave no stone unturned in pursuit of your ancestors. Whether scouring record page by page or utilizing our network of onsite agents to access records in an archive or repository, we have the knowledge and experience to extend your family history as far back as records will allow. Contact us to discuss which of our project options would best fit your needs.