In our Exploring Ethnicity with DNA, Part I blog post a few weeks ago, we reported on how to explore ethnic origins with Y-DNA and mitochondrial DNA. Whereas Y-DNA and mitochondrial DNA are limited to direct lines, autosomal DNA is inherited from many ancestors across several lines. On the other hand, while Y-DNA and mitochondrial DNA represent very deep ancestral lines, autosomal DNA sometimes does not reflect the contributions of more distant ancestors and autosomal testing is most useful for solving mysteries which occurred within the last six or so generations.
Each person inherits 50% of their autosomal DNA from their mother and 50% from their father. A process called recombination randomly shuffles DNA before it is passed on to children. Therefore, the amount of DNA shared in common with more distant generations is only approximate. Most individuals will share about 25% of their DNA with each grandparent, about 12.5% with each great-grandparent, and approximately half again for each previous generation.
Eventually there will be some ancestors from whom an individual does not inherit any genetic material at all. For example, everyone inherits at least some DNA from each of their grandparents, great-grandparents and 2nd-great-grandparents. Additionally, most individuals inherit a small portion of DNA from their 3rd– and 4th-great-grandparents as well. Beyond this point, however, some ancestors begin to "fall off" the genetic tree. Though they are among the individual's genealogical predecessors, they did not contribute significantly to their genetic makeup. As a result, their contributions to a descendant's ethnicity admixture may not be detectable.
Because of the random process of recombination, ethnic admixture percentages will not necessarily represent expected ethnic percentages. For example, an individual with one Danish grandmother, two British grandfathers, and a Jewish grandmother might have 30% Scandinavian DNA, 45% British and 25% Ashkenazi Jewish ancestry. The ethnic contributions of more distant ancestors may not appear. Therefore, ethnic admixture results only warrant additional investigation when there are extreme anomalies from expected results. Having a Danish grandmother and no Scandinavian admixture would warrant additional investigation.
Each of the four major DNA testing companies (MyHeritage DNA, AncestryDNA, 23andMe, and Family Tree DNA) offers an autosomal DNA test and ethnic admixture tools for their interpretation. Though each can be useful for genealogical investigation, 23andMe is typically considered the best for their analysis tools and for the presentation of ethnic admixture results. They allow test subjects to view their ethnic origins by chromosome in a personalized painting. These chromosome views of ethnic admixture can be helpful in exploring the ethnic origins of recent ancestors and can provide specific clues for genealogical investigation. Gedmatch.com, a third party tool which accepts submissions of raw data from each of the testing companies, also provides additional analysis tools for ethnicity.
In one recent project at Legacy Tree, we were able to determine that an adoptee's grandfather was likely a Russian refugee from the Bolshevik revolution who settled in an immigrant community near Paris. This was determined through investigation of the client's ethnic admixture and corroboration against what was already known regarding his family. In another case, using ethnic admixture test results, we were able to show that one client's elusive British great-grandfather who immigrated to South Africa had significant European Jewish ancestry and was possibly a descendant of Sephardic Jews who settled in London.
Although ethnic admixture results can provide important clues for genealogical investigation, they are only part of the results available from autosomal DNA tests. Through comparison of DNA segments shared in common between test subjects, each of the companies also provides a list of genetic cousins whose relationships are estimated based on the length, size, and position of the DNA segments that two test subjects share in common. Collaboration and comparison of test results with these individuals can help identify previously unknown ancestors and can refute, confirm, or identify their ethnic origins.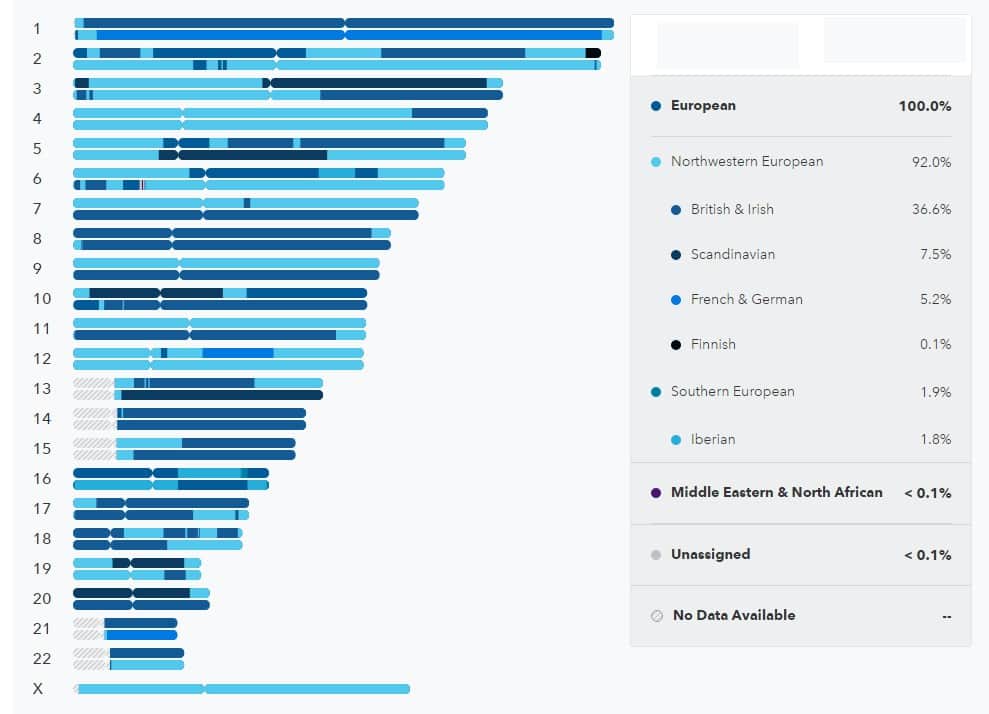 If you have a mysterious ancestor, or if you have family stories of unique ethnicities, our researchers at Legacy Tree Genealogists would love to assist you in preparing a testing plan and interpreting your DNA test results. Contact us today for a free consultation.