In this article we share the steps you need to take to help determine the genetic relationships of your DNA matches.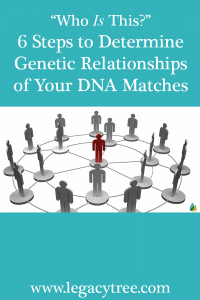 You've taken a DNA test. The day finally arrives when you get a notification in your email: your results are ready! You eagerly log into your account and begin navigating your genetic heritage. Eventually, perhaps after viewing your ethnicity admixture results, or looking at different genetic traits, you make your way over to your match list. There are hundreds of people who share DNA with you—your genetic cousins. Some of the close ones might be familiar. There is your cousin, and another match has a surname that sounds familiar from family conversations. And yet, most of the others are complete strangers. Who are these people? Why don't they have surnames you recognize? How closely related are they? To find out, work through the following six steps to determine how you are related to a genetic cousin.
1. Build Your Family Tree
In order to determine how you might be related to a genetic cousin in your match list, it's important to first build your own family tree. This tree provides a reference for comparison against your genetic cousin's family tree. Start with yourself, your parents, your grandparents and other known relatives. Explore the research of others as a clue for your own research efforts. Finally, seek document evidence to identify likely ancestors, support proposed generational connections, and document important events in your family tree. Since autosomal DNA evidence is most effective for revealing relationships within the last six to eight generations of ancestry, we recommend building out your family tree at least five to six generations wherever possible. If this is not possible due to brick walls in your family tree, don't worry. The DNA analysis tips we offer here can help you overcome those challenges.
After tracing your family back, consider also tracing the descendants of your ancestors for a few generations. Determining who the siblings, nieces, nephews and other collateral relatives of your ancestors married can help you recognize other surnames associated with your family. Maybe your genetic cousin will carry one of those surnames. Maybe they carry the surname of your great-grandfather's brother-in-law or son-in-law. Descendancy research might help you tie into the published trees of other genetic cousins.
Once you have constructed a family tree based on document evidence and family information, attach it to your DNA test results. This can generate hints regarding your potential relationships to genetic cousins giving clues regarding your shared ancestors, locations and surnames.
2. Explore the Family Trees of Your Genetic Cousins
After familiarizing yourself with your own family tree, it's time to compare against your genetic cousin's family tree. Some genetic cousins attach family trees to their DNA test results. These trees can generate hints if you both report descent from the same ancestors. If you have taken the step to include some of your collateral relatives in your family tree, new technologies like ThruLines and The Theory of Family Relativity can help to identify likely common ancestors even if you do not both report your common ancestors in your respective family trees. Sometimes, trees attached to DNA test results are very small, including only a few generations. Other times, the attached family trees are private, or a genetic cousin may not have attached a family tree to their test results. Consider reaching out to your genetic cousin and requesting information on their family tree. If your genetic cousin does not respond, try to build a family tree for them using the clues they provide in their username or profile in conjunction with public record indexes or traditional genealogical research. By building out the family tree of your match, you can often find shared surnames, locations or even ancestors in your respective family trees. But don't stop there! Right now, you only have a hypothesis. It's important to confirm that your proposed genealogical relationship aligns with the genetic evidence! Even if you can't identify proposed common ancestors, the next steps can help you interpret likely levels of relationship.
3. Determine How Many CentiMorgans You Share
The closeness of a genetic relationship is estimated based on the number of centiMorgans (cM) you share with a match. CentiMorgans are a measurement of the likelihood of recombination in autosomal DNA over the course of a generation.
Autosomal DNA is composed of 22 pairs of chromosomes that you inherit from your father and mother. You get one set from mom and one corresponding set from dad. Before DNA gets passed on to the next generation, your maternal chromosomes and paternal chromosomes line up and exchange genetic material in a process called recombination. This process results in chunks or segments of DNA getting passed on to you from your more distant ancestors. On any given chromosome, you might inherit chunks of DNA from one grandparent, the other grandparent, or a combination of segments from both grandparents. Copies of these segments of DNA get passed down from generation to generation resulting in the distribution and dispersion of your ancestor's genetic legacy. When you share a segment of DNA with a genetic cousin, it means that a copy of the DNA from a common ancestor got passed down over multiple generations, through multiple recombination events. That segment survived the genetic lottery to get to you and your genetic cousin—a pretty amazing feat! As a general rule, closer genealogical relatives share more segments of DNA and share segments with larger centimorgan values because there have been fewer opportunities for the segments to get broken up through the process of recombination. Therefore, closer relatives typically share more centimorgans than more distant relatives.
In the following list, we describe how to find the number of centimorgans at each of the major DNA testing companies:
MyHeritage DNA reports the total number of shared centimorgans on their match cards in the match list.
23andMe reports the number of shared centimorgans in a match's profile, but only for certain matches. Navigate to "DNA Relatives" section and click on a genetic match. If they are participating in open sharing or if they have shared genomes with you then their total cM shared will appear in a section entitled "Your genetic relationship." If this section does not appear, then you may need to send a sharing invitation.
 AncestryDNA reports the total number of shared centimorgans as part of their match list. Each match profile has a small section entitled "Shared DNA" with the number of cM and segments.
FamilyTreeDNA reports the total number of shared centiimorgans in a designated column in their match list. However, this total includes very small segments. To recalculate the total, download the segment data for that match or all matches from the chromosome browser view, remove all segments under a threshold and recalculate the total.
GEDmatch reports the total number of shared centimorgans with a match in the match list. One-to-one comparisons may result in slightly different totals based on the different thresholds for the one-to-many and one-to-one functions.
4. Explore Probable Relationship Levels Based on Total Shared Centimorgans
Some amounts of shared centimorgans are only observed at specific relationship levels. In other cases, an amount of shared centimorgans may be possible for several relationship levels but is still more likely for a certain relationship level than for others.
There are several resources to help you determine the most likely level of relationship based on the number of shared centimorgans between you and your genetic cousin. If you have tested at AncestryDNA, you can click on the small "i" circle right next to the report of your shared DNA with each genetic cousin in your match list. This will give you a table describing the likely probability levels for each level of relationship. These probabilities appear to come from Ancestry's own database analysis. If you have tested elsewhere, or if you want a second reference point, visit DNA Painter's "The Shared cM Project 3.0 tool v4,". Here you type in the total number of shared centimorgans (to the nearest whole number), and it will generate a table of probabilities for different relationship levels. If you are working with 23andMe data and only have the percentage of shared DNA, DNA Painter will also accept a percentage input. These probabilities are from the AncestryDNA Matching Whitepaper based on simulated data. The DNA Painter Calculator also cross references the Shared cM Project—a project compiling real data from user-provided submissions of amounts of shared DNA for known levels of relationship. The Shared cM Project gives a good idea of the ranges of observed shared DNA for specific relationship levels.
5. Consider Genetically Equivalent Relationships
The amount of DNA you share with a genetic cousin is dependent on the number of generations (or recombination opportunities) between you and your cousin. It is also dependent on the number of ancestors you share in common. Because of these variables, some relationships are genetically equivalent. For example, a second cousin is someone with whom you share common great-grandparents. A first cousin twice removed is the grandchild of your first cousin (or the cousin of your grandmother). Second cousins and first cousins twice removed are both expected to share similar amounts of DNA because both levels of relationship include six generational steps. In most cases, two genetic cousins will be related through two common ancestors: an ancestral couple. When two individuals only share one ancestor, the amount of DNA they are expected to share in common is cut in half. When they share more than two ancestors, the amount of DNA shared can increase. Either situation can lead to additional genetically equivalent relationships. Half siblings (two generational steps with one common ancestor) share about 25 percent of their DNA. An aunt and her nephew (three generational steps with two common ancestors) also share approximately 25 percent of their DNA. A grandparent and a grandchild (two generational steps with one common ancestor—the grandparent) also share approximately 25 percent of their DNA. If one of your parents has an identical twin, then your first cousin who is the child of your parent's twin might also share about 25 percent of their DNA with you. Finally, double first cousins (four generational steps with two pairs of common ancestors) also share approximately 25 percent of their DNA.
When you are evaluating the DNA you share with a relative, don't be alarmed when your great-aunt shows up as a proposed first cousin. Those relationships are genetically equivalent (four generational steps with two common ancestors). It is up to you to consider the additional information at your fingertips such as the ages and family trees of each individual to navigate equivalent relationship levels. A good guideline is to consider approximately 25 years of age difference as a generation.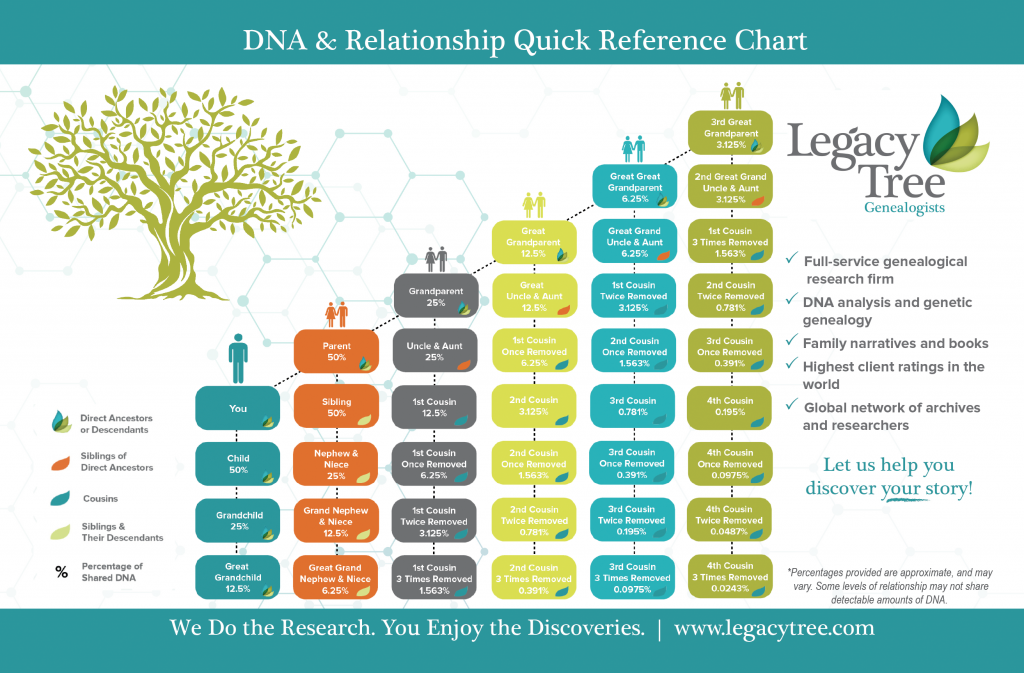 6. Compare Your Hypothesis to the Genetic Evidence
Good job so far! You've navigated your family tree and your genetic cousin's family tree and identified a relationship hypothesis. You've explored the shared DNA, identified likely relationship levels and navigated equivalent relationships. Now it's time to pull it all together for your conclusion. Does the proposed genealogical relationship fit with the estimated genetic relationship? If you have identified your genetic cousin as a likely second cousin, is a second cousin level of relationship the most likely level of relationship given your amount of shared DNA? If not, is a second cousin level of relationship still reasonably likely (does it have a percent probability higher than 10-15%), is it possible at all? Even if your proposed relationship is the most likely, are there other relationship levels which are also reasonably likely? Be sure to avoid any confirmation bias. You might be tempted to see what you want to see and just ignore conflicting evidence. Just because a second cousin relationship is possible does not mean that it is proven, particularly if a second cousin once removed (genetically equivalent to a half second cousin relationship) is also possible or significantly more likely.
If your proposed genealogical relationship (as identified in the first two steps) is not the most likely level of relationship given the genetic evidence (as identified in steps three through five), put your investigation on hold and repeat this process for some of your more distant genetic cousins. Are there others who descend from the same ancestors and share more appropriate amounts of shared DNA given their proposed relationships? Do you have genetic connections to collateral relatives of each member of the proposed ancestral couple? Does your genetic cousin share matches who are collateral relatives to each member of the proposed ancestral couple? Exploring these questions can help you determine if you and your genetic cousin are in fact half-relatives, if there is a case of misattributed parentage along one of your ancestral lines, or it may help you confirm that you are actually related at the proposed relationship level, but just happen to share low amounts of shared DNA.
Build your family tree. Explore family trees for your matches and if possible, propose hypothesized relationships. Determine the amount of DNA you share with your cousin. Evaluate the probabilities of different relationship levels given your proposed DNA. Explore genetically equivalent relationships. Finally, correlate the traditional and genetic evidence and determine if they align. If necessary, repeat the process for other genetic cousins to ensure the accuracy of your research. By following these steps, you can identify relationships to unknown genetic cousins, confirm your relationships to known ones, and guard against the possibility of misattributed parentage in your family tree.
Are you struggling to make sense of an unexpected result in your DNA test? Legacy Tree Genealogists has experienced researchers who would love to help you consider both the genetic and documentary evidence to resolve your research questions. Contact us today for a free quote!
[1] Jonny Perl, "Shared cM tool v4," DNA Painter, (https://dnapainter.com/tools/sharedcmv4, accessed April 2019).
[2] Catherine Ball, et al., AncestryDNA Matching White Paper Discovering genetic matches across a massive, expanding genetic database, published online 31 March 2016, (https://www.ancestry.com/dna/resource/whitePaper/AncestryDNA-Matching-White-Paper.pdf: accessed April 2019), figure 5.2, p. 32
[3] Blaine Bettinger, "August 2017 Update to the Shared cM Project," The Genetic Genealogist, 26 August 2017, (https://thegeneticgenealogist.com/2017/08/26/august-2017-update-to-the-shared-cm-project//: accessed April 2019).