Legacy Tree Genealogists' Adrienne Abiodun provides information about the Daughters of the Union Veterans of the Civil War, 1861-1865, and offers some tips on how to become a member. She uses her own personal experience to explain how joining a lineage society can be a rewarding way to honor one's ancestors.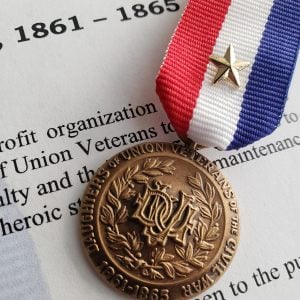 Between 1861–1865, the War Between the States, more commonly known as the Civil War, was the longest, bloodiest, and costliest conflict that divided the United States of America. An estimated two million-plus men served in the Union, and another one million-plus men fought on behalf of the Confederate States.[1] The number of casualties experienced by both sides was devastating to those who fought so passionately for their cause on the battlefield and their loved ones awaiting their return home. Since then, families of the men who lost their lives in battle or to disease were prisoners of war or were never heard from again have passed down stories of these individuals for future generations to reconcile and remember.
What is the DUVCW?
Beginning in 1885, a small group of women who were descendants of Union veterans organized the first meeting of what would later become known as the lineage society, Daughters of the Union Veterans of the Civil War, 1861–1865 (DUVCW). 
The society's mission is as follows:
"The Daughters of Union Veterans of the Civil War, 1861–1865 is a not-for-profit organization formed to unite the daughters, granddaughters, great-granddaughters, and all female direct lineal descendants of honorable discharged Union veterans of the Civil War in promoting our principle mission which is to perpetuate the memories of our ancestral fathers who served in the Civil War, to honor their loyalty and their unselfish sacrifices to preserve the Union, and to keep alive the history of those who participated in that heroic struggle for the maintenance of our free government."[2] 
Joining the Lineage Society
I began the application process for DUVCW membership in early 2017 as a way to personally honor the memory of my own Civil War ancestor, my third great-grandfather, Alexander Branch. He served as a Private in Company B of the 4th Regiment, United States Colored Cavalry. 
Alexander Branch was born 14 December 1838 in Port Hudson, Louisiana, and was the son of Phillip and Emily Branch. He and his entire family were enslaved by John Whitaker in Wilkinson County, Mississippi. When the opportunity arose for enslaved males to join the military through the U.S.C.T. and to fight in the Civil War, my ancestor did his part. Understanding not all men in the community opted to serve in the military, I felt a sense of honor and respect toward my third great-grandfather. Becoming a member of the DUVCW appeared to be the perfect opportunity for me to personally cement my sentiment towards my ancestor's Civil War service. I was successfully approved as a member of the society in April 2017 after only a couple of months of gathering the appropriate documents.
The application process was straightforward and simple from a genealogical research standpoint. First, one must determine whether she is eligible for membership within the society. Considering the Civil War ended just over 150 years ago (not too long ago) you may have heard stories in your family about an ancestor who fought. Or maybe you've not gotten that far back in your family research but suspect you may have an ancestor who participated in the war. Complete eligibility and application notes are described in detail on the application instructions found here.
To summarize:
An applicant must be the descendant of a soldier or sailor of the U.S. Army, Navy, or Marine Corps, and Revenue Cutter Service who served between 12 April 1861 and 9 April 1865.  

The applicant must be a direct lineal descendant of the ancestor they are seeking membership under.

If the prospective applicant has been dishonorably discharged from any branch of the United States Armed Forces, they will not be eligible for membership in Daughters of Union Veterans of the Civil War, 1861–1865.

An applicant must be at least eight years of age.
Next, prospective members will need to know how the society is organized. Understanding this will help determine which of the two application forms should be submitted to avoid unnecessary delays. Individuals joining as a Member-At-Large will have a different application than applicants applying under a Tent or Detached Tent.
Tents are local groups within the National Organization. When there are less than three Tents in a state, the Tents are called Detached Tents. If an applicant is applying for membership through a Tent or Detached Tent, they will have likely been in touch with the registrar for that Tent or Detached Tent. As with most lineage societies, the registrar will more than likely be happy to help an applicant through the application process. Even with the assistance of a registrar, the applicant is not relieved of doing her part to compile the required proofs for each generation back to the Civil War ancestor.
Examples of acceptable documentation are as follows:
Birth certificates

Baptismal records

Death certificates/records

Certified copies of church or governmental records

Marriage records

Obituaries

Census records,

Wills/pension records

Probate records

Bible records

Muster Rolls

Discharge papers

Adjutant General Reports

States Adjutant Reports

State Militia Records

Court Records
The complete application guidelines detail what information should be found on these record examples for them to be deemed acceptable for submission with the application. Furthermore, the application must be printed on a specific type of paper and if completed by hand, it should be filled out using black ink. All this may sound like a laborious undertaking to visibly and publicly honor the legacy of a Union veteran ancestor, yet it is very little work considering their sacrifice to save the Union.
Membership is What you Make it
As is true of other lineage societies, membership in the DUVCW is whatever the member decides to make it. Some successful applicants will quietly obtain their membership certificate bearing their name and the name of their ancestor, perhaps frame it and participate very little in meetings, volunteer, or remembrance events. Others will enjoy the camaraderie of being with other women who share a common thread in American history.
I am in the latter group. When possible, I opt to attend meetings and visit with members of my Detached Tent to learn about them, their ancestors, and even unique research challenges they may have faced on their journey into the organization whether it was recent or long ago. The opportunities to continue acquiring knowledge and reflect upon the many descendant perspectives are fascinating and highly educational. I certainly like to think it makes me a better family historian and that all my Union veteran ancestors are honored that I've honored them through membership.
Do you have an ancestor who served in the Union States during the Civil War? Do you want to join the Daughters of Union Veterans of the Civil War, 1861–1865 as well? The researchers at Legacy Tree Genealogists are happy to assist you with difficult research areas. Contact us for a free estimate on research. Are you already a member of the organization? Sound off and tell us about your Union veteran ancestor in the comments!
 [1] "Civil War Facts," American Battlefield Trust, https://battlefields.org/learn/articles/civil-war-facts, accessed August 2021.
[2] "Our Mission," Daughters of Union Veterans of the Civil War, 1861-1865, https://duvcw.org/images/pdf/MissionStatement2019.pdf, accessed August 2021.