Legacy Tree Genealogists works with researchers all across the world to access records for our clients. We asked Clotilde, a partnering professional researcher onsite in China, to share insights into Chinese genealogy research.
Unlike Western countries, where church and census records are a reliable and essential source of information, no such records exist in China beyond the twentieth century.
Instead, local Chinese clans (somewhat equivalent to extended families) have been the main drivers for recording family events and figures for centuries. Most notably, clans were responsible for the compilation of a jiapu 家谱 or zupu 族谱 (pronounced 'chia-poo' and 'dzoo-poo'), also known as a Chinese genealogy book or family history book. This is the ultimate prize for any Chinese genealogist.
So what's inside this mysterious document?
A zupu can contain any of the following:
Detailed lineage and names of ancestors going back several hundred to several thousand years
Prominent ancestors' biographies, dates, and family information
Clan histories, tracing the ancient and mythical origins of a clan, and their migration to the current home of the clan
Clan rules, or the regulations that dictate membership to a clan
Generation poems, a series of characters that serve as a guide to naming new family members according to generation
As wonderful as this all sounds, it is important to remember that zupu were written by clans to glorify their ancestors – so its contents must be taken with a pinch of salt, and should be treated as any other compiled family history source. Compilers were often selective about what and who they included in the zupu: individuals who disgraced the family were typically not mentioned, and seeing as the clan was a heavily patrilineal institution, only scant details were kept of wives, sisters and daughters.
What does a jiapu or zupu look like?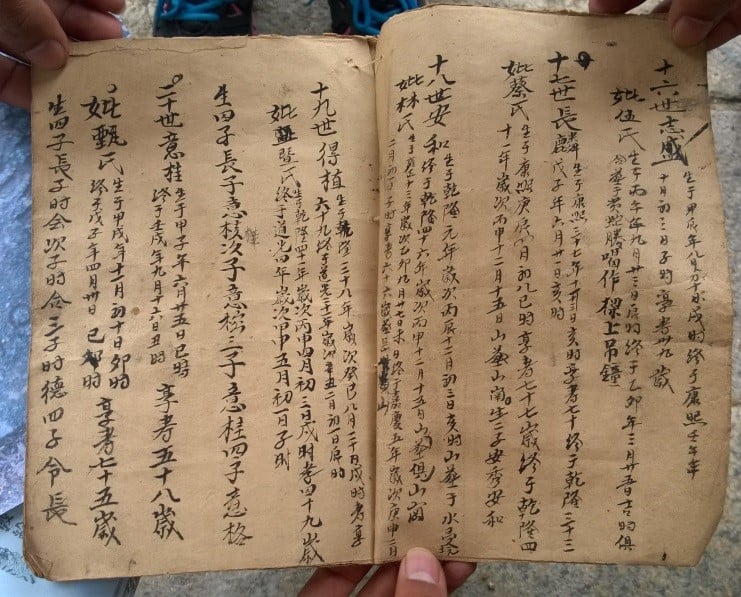 A jiapu can be a few loose pages with squiggles on them, or in more organized families, it can be a multi-volume publication. It usually focuses on a clan (Wong, Lau, Yip, Fung) in a specific locality. For example: the Lees of Longxi, the Wongs of Jinshan, etc.
Where can I find my family zupu?
While the zupu industry has been undergoing a revival in the last 20 years, with many libraries and government institutions receiving considerable funding to digitize and build their zupu collections, it wasn't always easy to lay your hands on one in mainland China. With the Communist victory of 1949, the practice was branded a 'feudalist, backward tradition' by the government, and many books were burned or destroyed during the Cultural Revolution in the 1960s.
Despite this, many were still saved by libraries and families, if not shipped off abroad for safekeeping, and since the 1990s, a large number of clans and sub clans in southern China have also been re-compiling their zupus.
The first, most obvious place to look for a zupu would be your ancestral hometown. This is the village that your emigrating ancestor came from. A word of warning, however: many village names have changed over the last century, so you may need to do some research or contact local Chinese government offices for assistance.
Once you have confirmed the location of the village, your next step will be to reach out to the village leadership with photographs and information about your ancestor: what their Chinese name was, when they left, who they were related to. Then, they will be able to advise if your zupu is still there, and if so, they will also verify that your ancestor's name is inside.
If your zupu is not in the village, then you can try FamilySearch's database of Chinese genealogy, or the online databases of libraries such as the Guangdong, Guangzhou, Fujian, Shanghai or Beijing libraries. Note that these are in Chinese only.
Another possibility is that your zupu travelled out of China with a clan member. In Southeast Asian countries, such as Malaysia or Singapore, local clan associations sometimes collect and preserve family zupus for their members.
Is it possible to translate my zupu once I find it?
Zupus are written in old Chinese language that is very flowery and literary; when translated, they are not very intelligible, and assume a certain knowledge of Chinese history and culture that a novice reader may not have. You may need to have someone who is very familiar with these types of records create a translation for you.
Even though finding your zupu may be a long and tedious process, and then you may need help deciphering it once it is found, it is usually well worth the effort since so much information regarding Chinese genealogy can be found all in one place. They are an amazing resource!
If you have Chinese ancestry, our professional researchers and onsite agents have experience identifying ancestral hometowns and searching for records (such as zupus) to help you learn more about your heritage. Contact us to discuss how to get started!