One of our researchers, Katy Barnes, provides valuable tips on how to research an ancestor who migrated alone. Katy traces the migration of David Trout, an unmarried laborer, who migrated to Dallas County Texas in the mid-1800s. 
Dallas County, Texas
The population of Dallas County, Texas, in 1880 was just over 33,000 (notable, since the 2020 figure is now above 2.5 million). A query of the 1880 census shows (in rough numbers) over 3,000 Dallas County residents that year were reportedly born in Tennessee; 2,100 were born in Kentucky; and 1,900 were born in Missouri, with 1,400 born outside the south in Illinois. In contrast, just 400 New Yorkers had made their way south to Dallas County during the post-Reconstruction period.
Then there was David H. Trout, who was one of just 179 Maryland-born transplants in the area that year. And he came alone.
David was born in 1846 in Woodsboro, a town in Frederick County, Maryland, that would have been considered small even by nineteenth-century standards. He was the great-great-grandson of an immigrant from Germany, and the oldest surviving son of eleven known children, raised in Frederick County where the last four generations of Trouts had made their home.
David's actual experiences and thought processes in young adulthood are unfortunately not available to us in the twenty-first century. We know that by age 23, he had moved in with a maternal uncle nearby (though his parents were still living) and over the next decade watched as several of his younger siblings married and began their families in Frederick County. In his early thirties, David, still single, seems to have reached a turning point in his life. Sometime in or before 1879, he left Maryland, his parents, and his extensive family network of siblings, in-laws, and aunts, and uncles and went to North Texas.
Migrating Alone
Nineteenth-century families in the rural United States were profoundly interconnected and reliant on one another. For a man to break away and go to a place where he had no kin and probably few connections was a significant gamble (and in David's case, one that did not necessarily work out). In the 1880 census in Dallas County, he appeared as unmarried labor in the household of a Jordan family who would later become distant in-laws. His future wife, Mary Elizabeth Upchurch, was three homes down with her parents. Though they, too, were transplants to Texas, their arrival from Tennessee had occurred a few decades earlier, and Texas was all Mary Elizabeth knew.
Confirming that the David in Texas was the same person from the family in Frederick County, Maryland, took some work. David died relatively young before the keeping of death certificates in Texas, and none of the documents he left in his adoptive state referenced his birthplace directly beyond "Maryland." In fact, due to the destruction of the 1890 federal census and David's probable death before 1900, that 1880 census was the only one taken, that placed him in Texas at all. Likewise, he was never a landowner, so the usual strategy of checking deeds for the last place of residence was not applicable.
Circumstantial evidence contributed significantly to making this connection. David Trout of Frederick County, Maryland, disappeared from census records after 1870. The man matching his description appeared on Dallas County tax lists in 1879 and on the census the following year. Another clue was found back in Maryland. David's mother Catherine died in 1882, and she named David as the executor of her will, written in 1880. A marginal note appended to the will explains that David refused the executor role and renounced his rights. The will described David as "late of Frederick County," meaning he had lived there recently but did not at that time.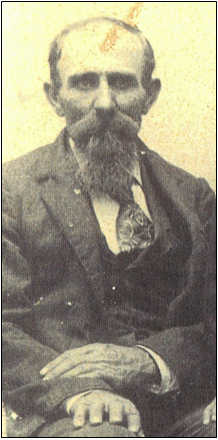 Tips for searching for your lone ancestor's origins
Make sure you have all the available records, including those that aren't online or free. If they died during an era where death certificates or registers were kept, get the original and do not rely on the index. A death record may contain an exact birthplace, the name of a parent, or other clues. Dig into collections available on microfilm. Write to churches in the area where they settled if you suspect they baptized children or married in a religious service (church records sometimes reference family members, witnesses, godparents, or places of origin, and are seldom online).
Look for social connections. This is harder to do when your ancestor seems not to have come with any family, but that doesn't always mean they came alone. Use censuses, deeds, and the names of witnesses on vital records to look for possible friends, cousins, or other connections who might have been from the same place even if they were not closely related. This is especially useful for immigrant populations settled in urban areas. Jewish and Italian immigrants frequently lived in neighborhoods and participated in social organizations that reflected their specific geographic origins.
Look for variant name spellings and anglicization in other languages if they immigrated outside their home country. If Irishman Michael went to Mexico, he might have become Miguel. Eastern European Jewish immigrant Rivka probably used Rebecca while in New York. And a Polish transplant to Chicago, Prakseda, can be seen in American records as Sadie and Priscilla. Using wildcard searches can bring up the best, broadest results. For example, when looking for Rivka, searching censuses with R*ka or R*ca yield results for both Rivka and Rebecca.
Build a timeline. Trace the ancestor in as many records as possible that list residence. This might include federal and state censuses (where available), tax lists, deeds, city directories, newspapers, and military draft registration records. A thorough process might also include records for other family members—say, a marriage record for a sister on which her brother appeared as a bondsman or witness. Learning when the ancestor left an old place and approximately when he or she arrived in a new one is key.
Rule other candidates out. Sometimes determining which ancestor is yours requires differentiating them from other people in an area with the same name. Thorough research might include researching each person by that name. If you know your ancestor immigrated and was already in the U.S. by 1860, you can likely rule out John who married in the home country in 1863.
Consider DNA testing. It's possible descendants of siblings and other family members who stayed behind have taken DNA tests. This is an excellent clue to follow if you see a shared surname in their trees.
Tracing loner migrant ancestors can be complex, but it doesn't have to be impossible. Patience, broad searches, and a thorough, creative approach are often the keys to success.
Researching your ancestors can be difficult, but with the right techniques, you can make it a fun rewarding experience. If you find that you need more than just a tip or two, consider hiring a professional. At Legacy Tree, our genealogists will work with your family to uncover new surprises. Contact us today for a free quote!