What does Scots-Irish mean?
Researchers use the term "Scots-Irish" to identify a people who went back and forth between Scotland and Ulster, Ireland. The North Channel—also known as the Straits of Moyle—connects the west coast of Scotland and the Mull of Galloway at the narrowest part of the strait. There, the strait spans only 13 miles. This short distance between Northern Ireland ports and the western Scotland ports made trade and commuting quite common between Ireland and Scotland. In addition, religious persecution in the 17th Century caused many Scottish individuals to immigrate first to Ireland, and then often to the U.S. backcountry of Virginia, North Carolina, and South Carolina. These migrations caused family connections to span several countries over several centuries, and records of your family could be found in all three places.
To find a Scots-Irish ancestor, start with what you do know. For example, my ancestors immigrated to America from Scotland in the 1880s. I traced my great-great-grandmother here in the US through US records, until I found a record which stated that she had emigrated from New Kilpatrick, Dunbartonshire, Scotland. Then, I began searching Scotland Census records in 1881 to find out more about my ancestors.
Good research methodology includes finding your ancestors in each record possible to get an accurate picture of their life, and collecting data through which you can learn more about the previous generation. As I moved back in time through the censuses in 1871, 1861, 1851, and finally 1841, I found that some of these family members family on a record were born in Scotland and others were born in Ireland—my ancestors were Scots-Irish and moved fluidly back and forth between Ireland and Scotland. Based on this fact, I then knew to conduct research in records for both Scotland and Ireland to find additional family records.
Once you have determined your ancestral hometown, here are a few record collections that you can research to find records of your specific ancestors:
FamilySearch
FamilySearch has a variety of records available, which are cataloged by collection. To learn what collections are available, go to familysearch.org, sign-in (free), click on "Search," and then "Catalog," type in the place you would like to search for record collections.
Records were often kept at a variety of government and church levels, and they might be cataloged differently. To properly research, type in "Scotland" and see what records are available. Then type in "Scotland, Dunbartonshire" and see which of those records might be of interest to you. The next search would be "Scotland, Dunbartonshire, New Kilpatrick". This type of search can be done for any place.
If you type "Ireland" into the FamilySearch catalog request, one of the choices would be "Death records of Ireland, 1864-1870, with index of deaths, 1864-1921". Clicking on this option takes us to the page and there is a note that "Ireland, Civil Registration Indexes are available online." By selecting that option, you can view "Ireland Civil Registration Indexes, 1845-1958" online. These records are available to view, however they are not all indexed. Those with a magnifying glass have been indexed, while those records with a camera have not. You can type in your ancestors name and identifying details. This is an important first step since in Irish records you will want to know their Registration District. When I searched for "Catherine Halloran" Death 1900-1950, I found the birth that matched and it gave me the Registration District as Galway.
Irish Genealogy
Another place to conduct research is irishgenealogy.ie. This website is free and home to the historic records of Births, Marriages, and Deaths of the General Register Office. Civil registration in Ireland began in 1864. Church records are also available on this website. Most on this website are for the Roman Catholic Church, but they do have some Presbyterian records as well.
The Ulster Irish were mostly protestant by faith, since many were originally English. The Scots mostly worshiped as Presbyterians. Knowing your ancestors religion might be a clue to which records to begin research.
Ask About Ireland
Consider askaboutireland.ie/griffith-valuation/. This website can help you research your family pre-census. The Primary Valuation was the first full-scale valuation of property in Ireland, was overseen by Richard Griffith, and published between 1847-1864. To find your family enter their surname in the search box. If you know the county you can put in that as well to limit the amount of records returned. This can also be used to gain an understanding of the distribution of a surname at the time the valuation was taken.
Tithe Applotment Survey
Visit www.titheapplotmentbooks.nationalarchives.ie. This site has the Tithe Applotment Survey of 1823-1938 for the 26 counties of the Republic.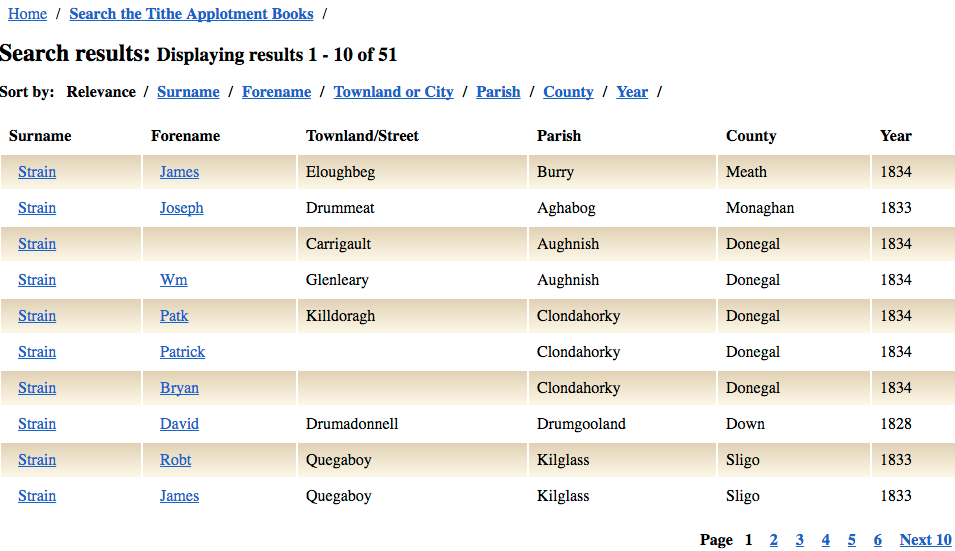 For additional information on how to search Scottish records see our blog post on ScotlandsPeople: Research Tips from a Scot Descendant.
Here are my final tips: as you research your Scots-Irish ancestors be sure to look for a variety of spellings, consider using wildcards in your search terms, and thoroughly search record collections.
If you have Scots-Irish ancestors and have hit a brick wall in your research, the experts at Legacy Tree Genealogists can help! We have genealogists who specialize in this area of research and have extensive experience in locating necessary records to extend your Scots-Irish ancestry as far as possible. Contact us today for a free quote.