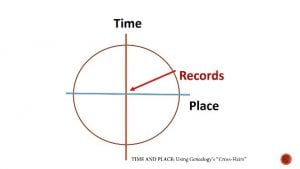 If there's any problem that's bigger than not finding anything about your ancestors, it's finding too many records with people of the same name to make sense of it all. That's when genealogists use the concepts of time and place in genealogy like a set of cross-hairs to hone in on records that relate to their family.
Time and Place in Genealogy Research
What does "time and place" mean to the family historian? It means putting yourself in the time and place of the ancestor for whom you are searching, which will result in enhancing your chances of doing the most thorough search of all available documents.
Navigating Family Tree Hints
If you are building a family tree online – whether it's on MyHeritage, FamilySearch or Ancestry.com – the website is likely to serve up hints about the ancestors whose names you enter as well as suggestions for their ancestors.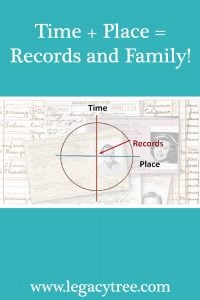 Learning the history of an area you are researching – as well as things such as the naming practices of a particular time period – will help you react accurately to those hints and suggestions. These hints, which are brought to you through computer algorithms may or may not be able to account for the more granular "time and place" which can help you ensure that you are following the correct ancestral trail. Utilizing the concept of time and place as you evaluate family tree hints can help you avoid putting together a "carpenter tree", hammered together by force of will from a series of records that don't really belong to the same family.
Understanding Time and Place Provides Important Context
In addition, putting yourself in the time and place of your ancestors means losing as many of your modern-day assumptions as you can! For example, it's not important to know that many couples today do not get married (or get married at later ages) – but it's vitally important to know that in 18th century Germany, most men married in their early to mid-20s and women in their late teens, if that's the time and place you're researching.
Time and place are an ever-moving set of cross-hairs that you must constantly keep aligned when switching from one ancestor to another… otherwise you might be looking for a record that doesn't exist or has public-use limitations. For example, Tennessee only began keeping birth records statewide in 1908 (some of its cities have earlier records and it also issued "delayed birth certificates" to help people qualify for Social Security), so earlier documentations of birth will likely have to come from church baptismal records. Tennessee also has a 100-year blackout period for public access and family research (though those named in the record can order a copy at any time).
Reading the history of the area and context of the records can help enhance your understanding. For example, there was once a religious congregation in what's now Lebanon County, Pennsylvania, called Bethel Moravian. Since there's a Bethel Township in Lebanon County, once might assume that they'd find this congregation – which actually exists only as a cemetery – in that municipality. But while the title page of the group's record group says it was located in "Bethel Township, Dauphin County," much has changed since then. Lebanon County was created from Dauphin and Swatara Township chopped off from Bethel.
How Do I Learn About the Time and Place I'm Researching?
A neat way to learn about an area you're researching is to use the county pages of the GenWeb project, which is a worldwide consortium of webpages that serve as good primers for the areas they cover. Typical GenWeb pages will have historical maps, abstracts of records, lists of cemeteries and churches, and links to repositories and genealogical societies in the area.
So, dive right in – learn the history of the areas you are searching, especially for the time periods in which your ancestors lived there. The knowledge you gain help you put the right people on the chart … as well as giving you a better feel for context of your ancestors!
The researchers at Legacy Tree Genealogists are full of knowledge about the times and places they are researching, giving you assurance that they're not hammering together carpenter trees! Contact us today for a free consultation and to let us know what our experts can do for you.