Legacy Tree Genealogists works with researchers from across the globe to access records for our clients. We asked Walter, onsite in Brazil, to share his experiences with genealogy research in Brazil.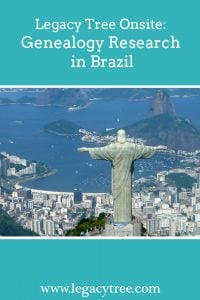 Genealogical research in Brazil can be an exciting undertaking. It generally involves traditional research of records, books, and other historical sources for general information, but then — due to the scarcity of sources or inexistence of documents due to loss over time or lack of them ever being created — it also involves a good dose of "sleuthing" that becomes comparable to a private investigation.
To understand the nature of Brazilian genealogy research, it is necessary to know a little bit about the history of immigration to Brazil.
First, it is interesting to know that Brazil is one of the countries that has received the most immigrants in the world, and today it is very difficult to meet a Brazilian family who does not have an immigrant among their ancestry. For this reason, most of the time Brazilian genealogy joins another continent or neighboring country within a few generations.
There were several migratory flows, leading to the formation of a mixed society with a very diversified ethnic profile in many parts of Brazil.
The first immigrant flow was the Portuguese Colonization, which began systematically around 1530[i]. During this period, the Dutch also dominated the northeast of Brazil, installing communities and planting sugarcane crops. The expulsion of the Dutch by the Portuguese did not take away the cultural influence they left or the family ties found in traditional genealogies of some Brazilian families.
The great geographical extension and the lack of control on the Portuguese Colony that was Brazil, was extremely inviting for the colonizers coming. The records of this period were recorded in Ecclesiastical Archives and some can be found on FamilySearch.org separated by states, dioceses and parishes. However, not all historical material is cataloged or digitized yet, so it is usually necessary to know the parish of origin so that a search can be made specifically for records in that parish. If the records are not online, onsite research will be necessary. Brazilian churches are quite cooperative and often just charge a small fee for the research and issuance of the document.
In the second half of the sixteenth century slavery began in Brazil, promoted by the Portuguese and also by the Dutch to use as a labor force for sugarcane, mineral, precious stones and noble woods extraction. It was the longest period of Afro-descendant slavery that occurred between the sixteenth and nineteenth centuries, with Brazil being the last country to abolish this system of labor in 1888. It is estimated that some 5.8 million Africans were enslaved only in Brazil.
In this period the entry of slaves did not exist and commerce was done informally. There are some ecclesiastical records that can be consulted, but generally these records do not show surnames, and usually not even the first name of the enslaved individual. Most often the baptism of enslaved-born children served as a property term.
Even in the archives of parishes, marriages and deaths referred to the enslaved individuals name and property, ignoring his nationality, African name, or other historical reference that would help identify the person.
When enslaved the person received a Portuguese name and later was denominated with the surname of his/her owner. After the abolition, many slaves adopted religious surnames that were common at the time. The only official census that recorded the African slaves was that of 1872, [ii]and the information does not help to uncover the origin or original name of the enslaved individual.[iii].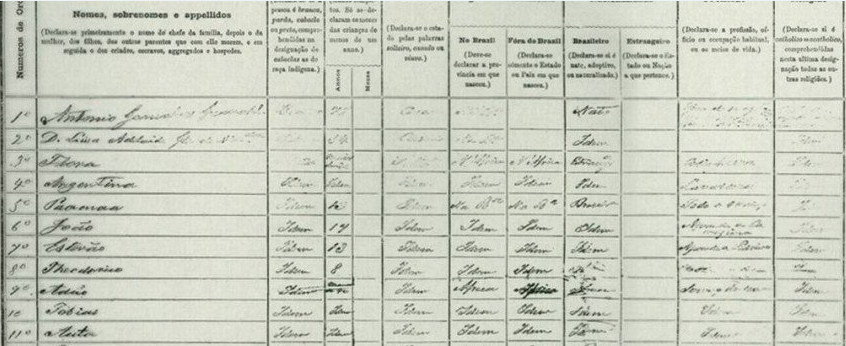 One can see in the figure above that the name of the slaveholder and his wife are well detailed and of the enslaved, the annotation is only of the first name (3rd to 11th lines).
With the abolition of slavery in 1888, European immigration began, with a flow of immigrants coming from Italy, Portugal, Spain, Germany, and all other European countries. The main reason was the lack of labor – people were needed to fill the jobs left open by the liberated slaves, especially on coffee-producing farms. Coffee was one of the products of greatest export at the time, a culture introduced in Brazil around 1720.
Agreements between countries, especially Italy, allowed free immigration of workers, where travel expenses were paid either by the Brazilian State or by employers, major coffee producers[iv].
The greatest wave of European immigration to Brazil took place from 1884 to 1920. Immigrants included nearly 1.5 million Italians, 1.4 million Portuguese, 683 thousand Spaniards, 176 thousand Germans, 190 thousand Japanese, and 1 million more from 60 other countries totaling almost 5 million immigrants. It is estimated today that 25 million descendants of Italians live on Brazilian soil[v].
It was in this period that immigrant hostels were born–places where travelers of any nationality were received and had the opportunity to receive first contact with the language and customs, basic health treatments, and a place for landing and rest until they were transferred to coffee farms or for their future jobs. These hostels are rich in documentation, most of which is now digitized and available for public consultation and is the place where many seek information about their ancestors.
The hostel with the largest influx of immigrants was the Hospedaria dos Imigrantes of São Paulo and the files can be consulted here. Other hostels that served to receive the immigrants are located in the states of São Paulo, Rio de Janeiro, Minas Gerais, Espirito Santo and Pará. Other places scattered throughout Brazil also served as hostels and are located in some cities that were on the way of the immigrants to their place of work.
Other sources of information that help to form a very precise genealogy are the lists of landing of ships in the Brazilian ports that is maintained by the National Archives (login is necessary). The search must be conducted with patience since there are thousands of lists of arrivals from diverse places of the world in the Port from Rio de Janeiro.
A very interesting database worth a query is the National Library archive which has over 9 billion scans of newspapers and magazines covering more than 100 years. This survey can lead to locating people based on newspapers they might have been mentioned in. It is common in Brazil for families to publicize events or facts in newspapers. Choose your search by LOCAL and then choose the state where your research should be made. Recall that the result will search for the exact term, thus, as some Portuguese and Italian surnames are toponymic, (that is, they are related to geographical origin), the results can be many, and will need to be sorted through to see if they are applicable.
Despite the difficulties with Brazilian research and tracking down sources, with enough effort and patience it can be very rewarding. It is gratifying, for example, to discover the profession of an ancestor in the Laemmert Yearbook which was published between 1840 and 1949 in the form of a telephone directory showing all people and their professions by City and State. Making a thorough search of all available sources can provide you with details and information about your ancestors that you might not have ever thought possible.
Whether your goal is to learn more about your ancestry or just find documents for dual citizenship, Legacy Tree Genealogists can help. We know where to look and what to look for, and have agents available to search onsite as well. Contact us today to discuss your research goal and get started.
[i] Slavery History in Brazil – https://goo.gl/PLhtMo
[ii] IBGE – Instituto Nacional de Geografia e Estatística – https://goo.gl/jEovLG
[iii] Because we do not have African surnames –  https://goo.gl/Xa6uLg
[iv] immigration in Brazil – https://goo.gl/CDC3ds
[v] Immigration in Brazil – Historical series- IBGE – https://goo.gl/4ZmjXv