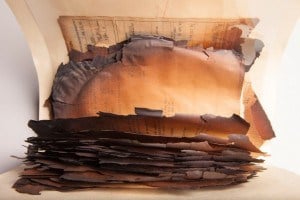 From a vague recollection and tattered photograph, our genealogists were able to piece together the details and help our client access key military records for her father.
On 12 July 1973 a cataclysmic fire at the National Personnel Records Center destroyed between 16 and 18 million records, including 80% of the records of World War II soldiers. When a client asked us to help her locate information regarding her father, Danny*, we knew that this would require some creative research. The client had very little information for us to work from: a 25-year-old recollection that someone at her father's funeral told her that Danny had earned the Bronze Star, an undated photograph of Danny receiving some sort of commendation, and the name of the unit with which Danny served as an airplane mechanic during World War II.
We began our research by closely examining the photograph the client had shared, hoping to determine the location or date of the photograph, or perhaps to identify the medal being pinned to Danny's jacket. Unfortunately, there were no signs, banners, or other readily identifiable words in the photograph, and the hand of the officer pinning the medal to Danny's jacket obscured all but the smallest gleam of metal. We did note that the stripes on Danny's shoulders indicated that he was a sergeant.
We obtained a transcribed copy of Danny's enlistment records which provided us with his serial number as well as his date and place of enlistment. This record also noted that Danny had been an aircraft repairman prior to enlisting.
Our next task was to learn as much as possible regarding Danny's unit. Our search yielded a valuable surprise: an entire website devoted to preserving the memories and history of this unit. This website had the names of all of the soldiers who served in the unit and a gallery of photographs belonging to the association and donated by its members. We discovered Danny listed with his two different service squadrons. We also located a photograph showing Danny with several other repairmen in front of a building on the base.
We contacted the association in an effort to identify the officer in the client's photograph and hoping to learn more about Danny's service. A series of emails were exchanged, resulting in a significant accumulation of information: Danny's military rank, a new photograph of Danny from the medal ceremony, the identity of the officer who presented him with his medal, and a copy of the page from his unit's history which noted that Danny received the Bronze Star for Meritorious Service on 2 October 1944. This page from the history quoted the official commendation detailing Danny's special service: the creation of a machine for testing airplane equipment. A final page from the unit history revealed a second commendation for Danny regarding an important "fix" he affected for some of the fighter planes under his charge.
Armed with this additional information, we were also able to provide the client with sufficient information to complete the Form 180 (Request Pertaining to Military Records). Using information already known to the client, the information we found in Danny's enlistment record, and the facts provided by his unit's association, all of the key questions on this form could be answered. These included Danny's name, his service number, the branch of service and dates of his service, his last unit of assignment, and the places of his enlistment and discharge.
Although the 1973 fire destroyed many World War II servicemen's records, there are often ways to find information outside of the National Archives. Begin with the traditional sources for military records and documents, but don't overlook the organizations designed to preserve the memories and histories of those men and women.
Throughout history millions of men and women have served our country in various conflicts both at home and abroad. Chances are that you have at least one ancestor who can be numbered in this group, and our experts can help you learn details about their service. Whether your ancestors served in the military or not, we'll help you discover and preserve your family stories. Contact us today for a free consultation.
 *not his real name, changed for privacy.