Michelle Carroll uses a combination of genetic genealogy and traditional research to help clients break through genealogy brick walls. In addition to holding a certificate in genealogical research from Boston University, her diverse background has resulted in a breadth of genealogical knowledge including Cherokee, African American, French Canadian/Acadian, and Norwegian ancestry.
What got you interested in genealogy?
I became interested in genealogy when I was in grade school and built my first family tree. I have been researching on a more serious level for more than 15 years. Helping people solve their family questions and mysteries is one of my favorite things to do.
What specifically interested you about Native American research?
Learning about my Cherokee heritage has been one of the most rewarding parts of my genealogical journey. I was lucky to grow up in a town with my maternal and paternal grandparents around me. The stories they told me about their lives and about their grandparents fascinated me – and I wanted to know more.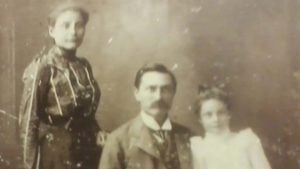 My grandfather was part Cherokee, and his mother was on the Dawes Rolls, which is required for membership in the Cherokee Nation, one of the three federally recognized Cherokee tribes –the Cherokee Nation of Oklahoma, Eastern Band of Cherokee (NC), and United Keetoowah Band of Cherokee Indians (OK).
His family took part in the Trail of Tears migration in the 1830s when members of the Five Civilized tribes were forced to leave their homes and were sent to march to "lands in the west" called Indian Territory. The Five Civilized Tribes are made up of Cherokees, Creeks, Choctaws, Chickasaws, and Seminoles. Tracing the Cherokee rolls beyond the Trail of Tears and learning about the location my family lived, which was near the North Carolina and Georgia border, was really exciting to me, too. I'd love to go visit that area someday.
My grandfather's cousin is a published Cherokee author. Reading the books that she wrote when I was growing up was so much fun. Her name is Joyce Sequichie Hifler and one of my favorite books she authored, When the Night Bird Sings, describes their time growing up in Oklahoma, how they were raised, what was important to the family, and how they interacted with nature.
What are some challenges with Cherokee heritage research?
One of the biggest challenges I've found is when the Cherokee came to Indian Territory in current-day Oklahoma, if the U.S. government couldn't pronounce Indian names when documenting them, they often translated or changed their names to English equivalents. (It is important to note that the Cherokees did not have a written language until 1821 and didn't keep written records of deaths or marriages until after that time.) Some of my ancestors have had more than one name change during their lifetime, which makes it difficult to trace a family through the records.
In 1835, representatives of the Cherokee nation negotiated the Treaty of New Echota with the U.S. government, which traded all Cherokee land east of the Mississippi for $5 million, relocation assistance, and compensation for lost property. In 1906, the U.S. Court of Claims settled a lawsuit between the Eastern Cherokee and the United States resulting in a $1 million award. To distribute the money to individuals, an application process was created and overseen by Guion Miller. Unfortunately, people falsely tried to apply for reparations, and the government needed to be sure compensation went to actual tribe members. Over two-thirds of the more than 45,000 applications were rejected because the applicants were not on the roll that was needed to prove that they deserved the payout.
However, for people today that are researching their Cherokee ancestors, the rejected applications are still full of great genealogical information. Just because an application was rejected doesn't mean that the family was not Cherokee. It may mean that their ancestors simply weren't on the rolls, whether they intentionally tried to avoid putting their names on the rolls or whether they just got missed.
Can you describe a brick wall you have overcome?
One recent success was when I explored a genealogical brick wall of a Native American client. I found an interview at a local repository that was done by an amateur historian that lived in the early 1900s. This man was interested in local tribes and interviewed members, collected photos, and wrote down the histories that these different tribes orally presented to him. He ended up with a large collection that was put into an archive at a local university.
The client was able to listen to an audio recording of the son of his ancestor, who talked about their family, traditions, the way that they caught fish, and how they prepared food. He learned so much about his history and how his culture was presented.
Examples like this are why it's important to look at local universities and archives. They usually have lists online that can help you find out what the different collections include (even if not all of it is available online). You might have to call the library or university and have someone help you get the information. It's worth the extra effort to find those gems that really help you in your research.
What suggestions do you have for people researching their Cherokee ancestry?
Although there are unique challenges associated with Cherokee research, finding a family connection is an achievable goal with a good research plan and an understanding of available records. I suggest reading our previous post on the basics of researching Cherokee Ancestry. 
Then read on to learn more about how to approach your research project, the limitations of DNA in Native American research, tribal citizenship, and the use of Cherokee rolls.
If you are interested in finding out more about your Native American heritage, I encourage you to do some research, look at the records, and start to look into your grandparents and your great-grandparents. Start to trace where they lived, when they were born, when they died, and trace their families.
And just like any genealogy research, one of the most important things you can do to start with is to really understand all of the records that are available and then try to figure out which ones would be the most useful to research the next generation of your family.
If you're just getting started in Cherokee research, I recommend the books Cherokee Connections by Myra Vanderpool Gormley and Cherokee Proud by Tony Mack McClure. Both are older books but they can help you to understand how to start, what to look for, how to trace your family, and most importantly, the records are primarily traced through Cherokee rolls.
How can using a professional genealogist help someone who would like to learn more about their family's Cherokee heritage?
I was impressed when I first started working for Legacy Tree genealogists at the knowledge of the people that I work with, and the fact that we have researchers all over the country and worldwide. We can find information that can be challenging for the novice.
No matter where your research takes you, we're here to help you. In locations around the world, we can provide onsite research and we have connections with a lot of the big repositories and are able to pull files quickly that will help you get to the next step in your research.
Although researching Native American roots can be challenging, the connections you make with relatives and the stories you learn about your family make it worthwhile. Consider allowing Legacy Tree Genealogist's team of expert genealogists to help you accomplish your research goals! Contact us today for a free consultation and learn what our experts can do for you.