Genealogy Activities to Enjoy at Home
Enjoying a quiet day at home? Spend the day having fun while finding your ancestors. 
Enjoy this list of genealogy-focused rainy day activities. 
When you need a break from the hustle and bustle, a relaxing day at home is a great time to focus on researching the ancestors that have come before us. Learning about their lives and the struggles they endured can provide perspective, hope, and appreciation for the journey-takers that helped write the pages of our own story.
Not sure where to begin? We've created a fun printable Genealogy Bingo game to help get you started. Carpe diem and use your down time or a rainy day to make some serious progress on your personal family history.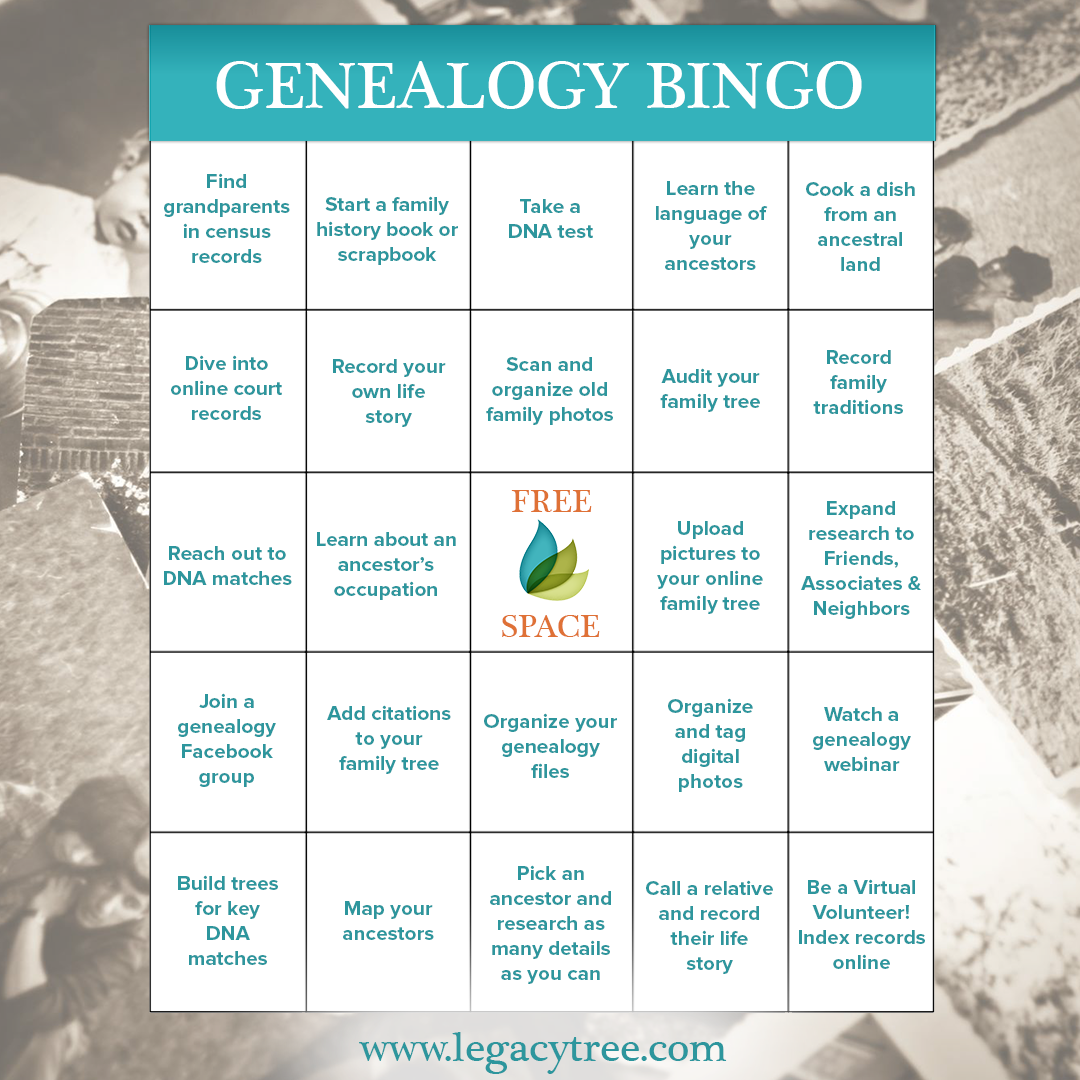 Find grandparents in census records. Maybe you "know" they were living in a specific location, but can't find them. Now's the time to explore deep search techniques if you haven't already, such as searching with wildcards, searching only by surname or first name, searching by combinations of family members, or searching similar-sounding names. Consider a page-by-page review of enumeration districts or counties. Or try the opposite approach and search more broadly—maybe that Charles in Wisconsin is actually yours, even though he was "supposed" to be in Illinois. Found your grandparents already? Move back a generation!
Start a family history book or scrapbook. Online services such as Snapfish, Shutterfly, and Mixbook make it easy to upload photos and arrange them with text. Start small by picking a small family group or an individual, or consider focusing on a theme or event, such as holidays or family vacations.
Take a DNA test. Add DNA evidence to your documentary research, or consider transferring your test results to a different company to find new matches and avenues for research.
Learn the language of your ancestors. Duolingo and Memrise are free options for language learning, online or via an app. Some public libraries provide cardholder access to language-learning programs, also.
Cook a dish from an ancestral land. Teach your kids a family recipe, or research traditional menus from an ancestor's homeland. Your library's ebook collection may have cookbooks or other resources about these traditions in countries around the world.
Dive into online court records. Now's the time to examine those lesser-used ledgers for ancestral clues. Learn more about the record types, why they would have been created and by whom, and seek mention of your family within them. Although many have been digitized, they've not always been indexed, and can require a patient manual search.
Record your own life story. Genealogists often neglect the stories about themselves. Beyond recording your own responses to living through this historic time, consider writing about your childhood, your school days, or what your life was like as a young adult. As well, what do you remember about your parents, grandparents, and other family members?
Scan and organize old family photos. Take the opportunity not just to scan your photos but to organize them and to identify people, events, and locations. If you don't already have a scanner but do have a cell phone with a camera, look for mobile scanning apps. Some will not just scan your photo, but will upload it to cloud storage. Many offer a variety of photo editing and tagging tools.
Audit your family tree. Review and remove duplicates and fix errors and typos in names, dates, and relationships. Make note of gaps and conflicts that need resolving. You may find yourself creating new research questions and plans as a result of this review.
Record family traditions. We often think about memorable holiday traditions, but what else does the family "always" do, make, or say? Do you go to the lake in August? Do all the infants in the family wear the same christening gown? When did that tradition start, and why? Why is it important to your family?
Reach out to DNA matches. Whether it's contacting recently added DNA matches or those more distant matches you've just not prioritized yet, you never know what you might learn in making that connection.
Learn about an ancestor's occupation. Leslie Albrecht Huber's article for the FamilySearch blog offers some great ideas to get started https://www.familysearch.org/blog/en/occupations-research/.
Once you've learned about that occupation, search for record collections that might tell you more. Don't forget about the collections of local and state libraries, archives, and societies, which may include very specific information about an ancestor's employer or his or her line of work.
Tackle a Genealogy "Brick Wall" with the help of an expert. We all have them. Those genealogy "brick walls" we just can't seem to overcome. When you've tried every trick in the book and still can't seem to make progress, what's a savvy DIYer to do? Before you pull your hair out or throw in the towel, consider scheduling a Genealogist-on-Demand™ Virtual Consultation. Each 45-minute consultation gives you one-on-one access to one of our experts that specialize in an area of research around the globe, or a genetic genealogist that can walk you through your DNA results. Get answers to your questions in real-time, from the comfort of your home. All you need is a computer and Internet connection!
Upload pictures to your online family tree. This provides another method of backup storage for you, but it also can be a lure for more cousins when they see an image of a familiar face in their searches.
Expand research to Friends, Associates, and Neighbors. You might be familiar with the FAN Club research approach coined by Elizabeth Shown Mills for difficult or brick wall problems, but what about for those ancestors about whom you already know "everything"?
Join a genealogy Facebook group. There are Facebook discussion groups for nearly any genealogical interest, location, and skill level, providing an excellent opportunity to stay social and expand your genealogical knowledge.
Add citations to your family tree. It may not be the most exciting aspect of genealogy, but it's critical in supporting your work and helping others understand your information.
Organize your genealogy files. Remember that organizing digital files is as important as organizing the paper ones!
Organize and tag digital photos. So many of use our phones as cameras, but we're not always great about making sure those photos are backed up to another storage source, organized, and labeled.
Watch a genealogy webinar. Many organizations are creating new content or making their existing content available for free. Thomas MacEntee's list is one place to start: https://abundantgenealogy.com/free-genealogy-webinars-available-during-covid-19-pandemic
Build trees for key DNA matches. You don't have to wait for a response to your message to start working out what common ancestor(s) you and a DNA match have in common.
Map your ancestors. Track migration and learn more about each of the stops along the way, and how your ancestors may have made that journey. And just where is that ancestral home town? You might even be able to use Google Street View to virtually tour the location!
Pick an ancestor and research as many details as you can. Go beyond vital records and dig as deep as you can to learn more. Newspapers are one good option, as they can be a great source of information about everyday life.
Call a relative and record their life story. What questions have you always wanted to ask? What do you most want to know? Think about questions regarding everyday life as well as milestone events. Check out our tips on how to conduct a family history interview.
Be a Virtual Volunteer! Index or transcribe records online, or contribute to other online projects. FamilySearch's indexing program is probably the most well known, but other libraries, archives, and organizations also have projects that use volunteers. ConferenceKeeper has a good list from which to choose: https://conferencekeeper.org/volunteer/ And don't forget to reach out to your local or state society!
What genealogy activities would you add to our list?
The experts at Legacy Tree Genealogists are here to help you connect with your ancestors and preserve your legacy for generations to come. Get started today by requesting your free quote.