Digging for Deaths: Understanding the Census Mortality Schedule
This is the first article in a series meant to introduce mortality schedules and the information contained within them. The follow-up article will include examples of interesting tidbits and intriguing stories that these records have helped to uncover.  
Across most of the United States, consistent, statewide registration of vital events, such as births, deaths, and marriages, did not begin until the twentieth century. For genealogists, this creates a gap that is sometimes difficult to fill. Mortality schedules, although limited in scope, can, on occasion, help address the shortfall and build crucial contextual understanding.  
How were mortality schedules developed? 
Vital registration began in England and Wales on 1 July 1837. Parishioners reported births, marriages, and deaths to a network of local registrars based on the parishes created under the Poor Law Act of 1834. Previously, the Church of England was required to keep similar records dating back as far as 1538. However, the cholera epidemic of 1831 and 1832, which killed over 40,000 people across Great Britain, highlighted the difficulty of making important statistical observations without a centralized collection point for records.  
Massachusetts legislator—and passionate genealogist—Lemuel Shattuck recognized the value of the new English law. He was vital in implementing similar legislation in Massachusetts, beginning in 1842. Shattuck's subsequent design of the revolutionary 1845 Census of Boston, which expanded the scope of information collected, led to his recruitment to the team developing the 1850 U.S. Federal Census. Under Shattuck's guidance, the first census mortality schedule was created.  
Enumerators collected the name of every person who had died during the twelve months preceding the official census date of 1 June 1850, along with other information such as age, gender, marital status, place of birth, occupation, and cause of death. The information gathered varied by year, with additions such as notes giving the details of accidental or tragic deaths and comments on the diseases prevailing in the area.  
Shattuck, understandably, doubted the efficiency of this approach. According to U.S. Public Health Service estimates, only about 60% of deaths were reported in early mortality schedules. However, spotty information was better than no information at all. Outside of New England, few localities recorded valuable data connected to deaths.
When were mortality schedules used? 
All federal censuses implemented mortality schedules between 1850 and 1900. Beginning in 1880, cities and states that adopted a standardized death certificate and reached 90% compliance in recording could join the national death registration area. Mortality schedules were no longer mandatory in these areas.  
In 1880, for example, the death registration area included only two states: Massachusetts and New Jersey. By 1900, it had expanded to incorporate ten states, the District of Columbia, and many large cities located in non-registration states, representing approximately 40 percent of the population of the continental U.S.  
By 1902, most states had implemented vital records laws of some sort. The mortality schedules were then fully phased out as The Census Bureau was, in that year, authorized to collect copies of records filed in vital registration offices from states and cities not already included in the death registration area. This development does not, unfortunately, mean that records were complete after this date. It wasn't until 1933 that country-wide death statistics were considered reliable.  
Basic information in the mortality schedules 
An average entry in the 1860 mortality schedule will include important details about the decedent. For example, Henry Deem, a 76-year-old farmer, died in Wayne Township, Montgomery County, Ohio, in January 1860.  

His entry in the 1860 mortality schedule tells us Henry was a married man born in Virginia. His cause of death was a ruptured hernia, which he had suffered for four years.  
Another entry on the same census page for 38-year-old Molly Kay informs us that she was a single woman, an Ohio native who died of epilepsy in May 1860. She had experienced the symptoms of her final illness for four months. However, a note at the bottom of the page provides additional detail on Molly's life. Epilepsy was not her only medical concern. Molly had also suffered from a bone disease, resulting in forty broken bones over her lifetime. According to the informant, she "was always helpless."  
If Molly's family had not passed down her story, no one might ever know what she experienced without this crucial record.  
The names of small children, who might otherwise become lost to time, also often emerge in mortality schedules. Fifteen of the thirty-two occupied lines on this census page list the details of children under the age of ten who appear in no other census record:  
1-month-old Sarah Jane Dilly, who died in May 1860, having been ill for only one hour 

 

3-year-old Fred Flera, 6-year-old Eliza Gondert, and likely sibling pairs Jac and Ellin Anderson, ages 4 and 2, and John and Eli Miller, 5 and 3, all of whom died of putrid sore throat 

 

M. Belle Smith, 6 months, and L. H. Baker, 1, victims of whooping cough 

 

C. Wandel, a 5-year-old girl who, died of inflammation of the brain 

 

5-month-old Theodore Cook, who had suffered flesh decay for his entire life 

 

J. T. Scott, 1, scalded with coffee 

 

1-year-old Hannah Hoover, whose cause of death was unknown 

 

Anno Snyder, 1, killed by an inflammation of the bowels 

 

3-year-old Orlando Smith, who died of a sinking chill 

 
Death records for Montgomery County, Ohio, where all these children died, do not begin until 1867. The census mortality schedule may be the only source of information on their deaths.  
Where can I access the records? 
Census mortality schedules for most years are available for researchers today, with two prominent exceptions: mortality schedules created in 1890 were burned alongside that year's census records, and nearly all of the schedules created in 1900 were destroyed by Congressional order after they had already collected statistics.  
The remaining schedules are available online at both Ancestry and FamilySearch. Ancestry is simpler to navigate. All records appear in a single collection, organized by year, state, and county (https://www.ancestry.com/search/collections/8756). At FamilySearch, the user searches the catalog for individual record sets, often organized by state. Filters such as author name (Census Office) and keyword (mortality) facilitate the search.  
The extra time spent locating records at FamilySearch reaps surprising rewards. Not all counties are filmed in their entirety in the Ancestry collection. Frequently, the missing pages contain only the marshal's oath or statistical calculations. However, in some cases, entire pages of names have been omitted. For example, in a study of Ohio's 1850 mortality schedules, eight counties—Hamilton, Hancock, Hardin, Harrison, Henry, Highland, Hocking, and Holmes—are missing important data. The records at FamilySearch did not encounter this problem.  
Both record sets occasionally include miscategorized images, most often when combined records of one township with another occurred. If you expect to find an individual in the mortality schedules, be sure your search is complete – browse the records for the appropriate county in case of spelling or transcription errors, and examine the records of localities both geographically and alphabetically proximate.  
Sources for more information
The Census Bureau has digitized copies of statistical abstracts for each census year. You can find them at https://www.census.gov/library/publications.html. For ease of access, filter by topic (health, mortality) and sort by oldest to newest.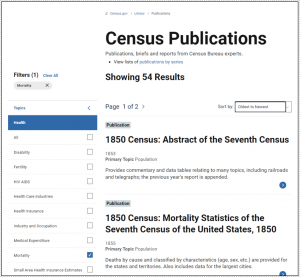 Here, you can find information such as: