Setting the Record Straight: 6 Common Myths About Hiring a Professional Genealogist
One of our genealogists breaks down some of the myths about genealogical research and provides valuable insight into the process of hiring a professional. This article may answer some of the questions you have about hiring a genealogist to research your family's history.
As professional genealogists, genealogy is our passion as much as it is our profession. We love nothing more than to sink our teeth into a juicy ancestral mystery, gather up all available evidence, and piece together the truth, however surprising (or mundane) the truth might be.
We understand that when you hire a professional genealogist, you are placing your hopes and dreams of discovering your heritage in our hands. Connecting with your ancestors is intensely personal and meaningful, and there are strong emotions involved for you and for us. We take the trust you place in us to discover your personal family history very seriously and are committed to providing each client with the exceptional research experience that has made Legacy Tree the world's highest-rated genealogy research firm. Part of creating an exceptional research experience is managing client expectations. To that end, I'd like to share 6 common "myths" we've heard from clients—and set the record straight on what professional genealogists can and can't do.
Myth #1: "You have access to records that I don't."
YES – We have subscriptions to all the major (and minor) genealogical repositories on the internet. These include MyHeritage, Ancestry, FamilySearch (free), Findmypast, Fold3, American Ancestors, Newspapers.com, and many more. Just like many of you, we rely on these online archives to efficiently gather primary original records (birth, marriage, death, census, social security, naturalization, immigration, etc.) about your ancestors. If you would rather not pay for so many subscriptions on your own, then YES, we have access to records that you don't. We also team up with onsite agents as needed to access additional records.
NO – We do not have access to an exclusive database with "all the correct answers" that you don't have access to. Such a database does not exist. The closest thing to it exists in the form of compiled family trees such as the tree at FamilySearch.org, which is free to the public. This is a crowd-sourced database that may provide a general consensus of what is known or assumed about a particular ancestor. However, there are many mistakes perpetuated by this tree. It is only as accurate as each individual record that is attached to each ancestor. We may start there, but we must follow up by making sure each fact is supported by one or more documents. This means researching each ancestor one record at a time rather than quickly assimilating an entire line or an entire seven-generation tree.
---
There is no exclusive database with "all the correct answers."
---
YES – We are headquartered near the famous Family History Library, housing the most massive collection of genealogical records in the world gathered by the Church of Jesus Christ of Latter-day Saints (often called the "Mormon Church"). Although more and more of the resources from this repository are being digitized, indexed, and made freely available at FamilySearch.org, there are still many microfilms that can only be accessed in person at the brick-and-mortar library in Salt Lake City, Utah, USA (as indicated in the free online catalog). If you would rather not come to the library in person, then YES, we have access to records that you don't. But…
NO – The offline microfilms at the Family History Library do not hold all the answers, including your own accurate family tree. They consist of the same types of records commonly found on major genealogical websites and must be researched one by one, focusing on one individual or nuclear family at a time.
YES – We have a network of on-the-ground genealogists all over the world who can visit brick-and-mortar archives for us. Many archives around the world are in the process of digitizing their records and making them available on the internet. We use your project time most effectively by first assessing what is available online, then confirming what is only available at an archive, and only then arranging for a researcher to visit that archive. This initial assessment process does take project time, but it is a necessary part of effective research.
NO – We do not have special privileges for accessing government records from civil registration offices. In many cases, vital records for recently deceased people (usually within the last 50–100 years or so) are restricted by privacy laws and may only be requested by close relatives. Sometimes, having you sign a power of attorney granting us permission to access records on your behalf will meet this requirement.
Myth #2: "I have put together a big family tree based on other family trees I found online."
"I have put together a big family tree based on other family trees I found online. You should be able to quickly verify the accuracy of my tree and recognize/fix the mistakes."
YES – We, too, could quickly assess other family trees online and compare your particular ancestral lines to theirs. However, a family tree is only as accurate as each individual primary record attached to it, and (perhaps even more importantly) whether proper analysis of those records has been performed. Although there are some well-researched, sourced, and trustworthy family trees out there, the vast majority of them tend to be unsourced and based on assumptions, likelihoods, and family stories. These types of trees are anathema to professional genealogists because it could take far more time to untangle their messes than it would to create an accurate, sourced tree from scratch. This brings us back to …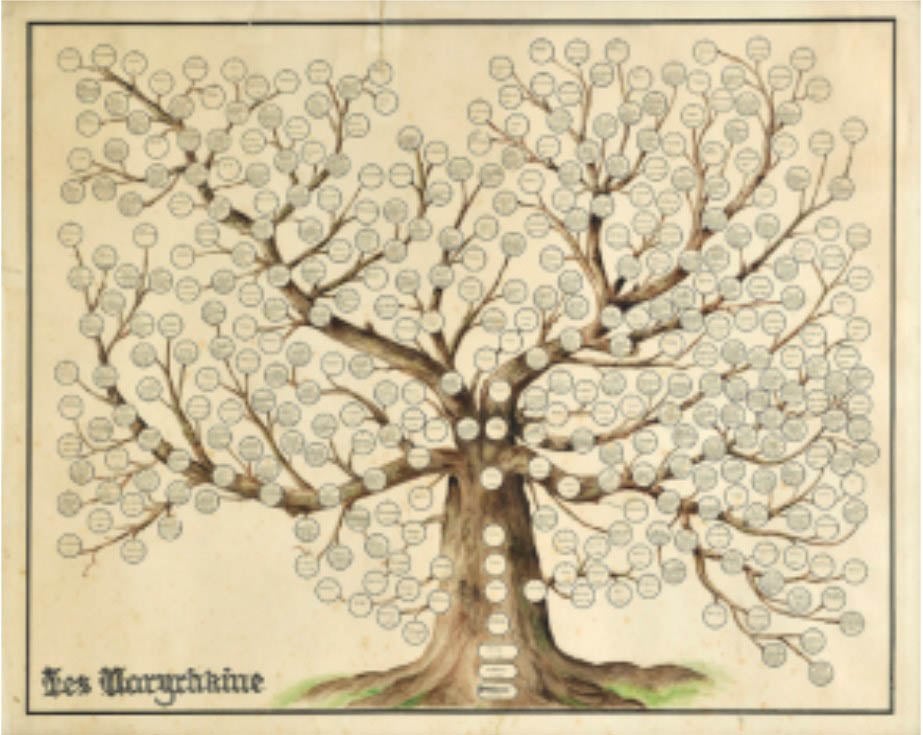 NO – We don't have an exclusive, authoritative "master family tree" that has been fully researched and certified to be accurate, which we might use to quickly validate your own tree. We are duty-bound to follow the Genealogical Proof Standard, which requires that we search out and find at least two primary sources if possible for each vital event in each ancestor's life (birth/marriage/death). Multiply this process by the potentially hundreds of direct-line ancestors in your tree, and you will realize how much time it could take to verify it, or to redo it if we find mistakes. If you have a large family tree it is best to have a professional focus on only one line at a time, starting with a specific ancestor and working back as far as available records allow in the allotted time.
Myth #3: "You are professionals, so you should be able to work much faster than I can."
YES – We are accustomed to this work. We know where to look for a particular kind of record and quickly glean the important genealogical details from it. We know how to analyze and evaluate the genealogical data to recognize clues that will point us in the right direction to find additional records. We seek out online sources first in order to use your project time most efficiently. On the other hand …
NO – While we do guarantee efficient and effective use of your valuable project time, and we love to find as much information as is humanly possible, we can never guarantee what or how much will be found in the course of our research. We may encounter challenges such as missing records (destroyed or never created in the first place), contradictory evidence which must be sorted out, and surprising results which must be double-checked or which may require us to go back to square one. These scenarios happen all the time, often because most people hire us to work on tough problems. Even professional genealogists need time to break through brick walls, especially if you have been working on yours for thirty years. If we don't achieve a breakthrough within the allotted project time, we hope our professional perspective will help you to recognize new leads and start on a more accurate path toward achieving your goal. Our reports always include specific recommendations for future research, whether you pursue them yourself or we do it for you in a new project.
Myth #4: "You are professionals so you are obligated to find the records I cannot find." 
YES – Perhaps there is a clue you missed in your own research that will lead us to a place you have not looked for a particular record. Perhaps you have not invested the time to study all of your ancestor's friends, associates, and neighbors to gather enough circumstantial evidence to adequately link an ancestor to the previous generation. Given enough time, we may be able to successfully accomplish these goals. But … 
---
Given enough time, we may be able to successfully accomplish these goals.
---
NO – There is a possibility that the record or DNA match we need to prove a genealogical connection no longer exists or was never created in the first place. Despite our greatest wishes as professional genealogists, we cannot will a record or a helpful DNA match into existence. We can and do take the time to "leave no stone unturned" in our search for evidence, but when our allotted time is up, we must acknowledge the results of our search may be "nil," keeping in mind that even from a negative search we still learn something valuable.  Remember, you have paid us for our time and skill in searching, not for a guaranteed outcome. 
Myth #5: "DNA results are guaranteed to reveal my unknown ancestor." 
YES – DNA results are an incredibly valuable tool in any genealogist's toolbox. They can help to bridge record gaps and reveal biological truths that documents and family stories have obscured. However, the key word here is "can;" successful breakthroughs always depend on the number and quality of matches (cousins who share a portion of your DNA) you have on the line of interest. But keep in mind … 
NO – If you don't have enough close matches on the relevant lines, you can choose to wait for them to show up on their own as more people test, or you can find and recruit likely matches by researching the descendants of key ancestors. Our DNA research team is very adept at searching out candidate testers to help prove the identity of your unknown ancestor. But be mindful—this process takes time, first to do the descendancy research and recruit testers, and then to wait for their test results to be posted (typically six to eight weeks after samples are sent in). Even then, theories may be proven wrong and we may need to move to Plan B. Also remember that traditional document research is required to support and explain DNA evidence. 
Myth #6: "I'll receive frequent updates from my researcher as discoveries are made." 
This is perhaps one of the most difficult myths to resolve when it comes to working with a professional genealogist. We understand—you have paid good money to have professional genealogists research your family tree, and you want to be as involved in the process as possible!  
The time you purchase is extremely valuable and we are committed to using it in the most efficient and effective way possible. This means that we strive to spend the majority of project time researching and writing, citing and documenting the professional report that you will receive as the final deliverable. Especially with our small projects, taking project time to give you frequent updates is not practical; in fact, there is a risk that conclusions may change as research progresses and is reviewed by multiple genealogists.  
NO – As much as you may enjoy the idea of collaborating with us, simultaneously researching the same ancestors you have paid us to research creates a great risk that we will simultaneously make the same discoveries as you. Even if you beat us to it, the new information you send in the middle of a project may require us to spend extra time evaluating it, possibly dismissing it, or possibly changing the direction of our research. This is best done at the beginning of a project, which is why we ask that you provide all background information before research begins.  Also remember that traditional document research is often required. 
YES – With all of this said, we do often reach out to clients during the research process if an update is needed to make a certain decision, or if we need clarification that only you can provide. DNA projects tend to be more interactive because we may need you to identify or communicate with close matches. Large projects (75-100 hours) do allow for more frequent midpoint communication. Every project is different, but we hope you trust that your research is in good hands even if you haven't heard from us in a while. 
Is Hiring a Professional Right for You?
We love building beautifully sourced family trees. We love to make discoveries and help you learn about your ancestors. We really love happy clients and will go above and beyond to ensure we have considered every angle of a tough problem. You can always count on us to give each research project our very best effort, leaving no stone unturned in the quest to find answers for our clients.
We hope debunking these common client myths will help you feel empowered to make the determination if hiring a professional genealogist is right for you.  If it is right for you, contact us!