Voter Registration: Another Useful Tool for Your Genealogy Toolbox
An often overlooked resource in genealogy are voter registration records. We'll show you where to find and use these helpful records in your family history.
Genealogists have many resources available to them to aid in their research. Census records, church records, city directories, land records, and probate records are just a few of the more commonly used resources. Many of them are available online, thanks to web sites such as MyHeritage, FamilySearch, and Ancestry, making research possible from the comfort of one's home. However, so many records are available online that it can be difficult to decide what records to search when researching one's ancestors. An often overlooked resource in genealogy is that of voter registration records.
Voter registration records, like city directories, list an ancestor's place of residence and the exact years he or she resided there. Naturalization information and the estimated year of immigration can sometimes also be found on an ancestor's voter registration, along with name, birth date and place, address, years at that address, and Social Security number. Information such as political party and occupation may also be listed, giving one a glimpse into an ancestor's life. Voter registration records can be helpful in tracking an ancestor between censuses, proving citizenship, identifying other family members, and in leading to research in other records by providing previously unknown details.
I thought I knew a lot about my great-great-grandmother because of the extensive research I had done in all the usual genealogy records, so when I looked at her voter registration records in California, I didn't really expect to see anything new. I learned she was a Democrat and a housewife while married to my great-great-grandfather. That wasn't terribly surprising. It was during the Great Depression and the family had just moved to California. However, the year after my great-great-grandfather died, she was listed as a Republican and a dressmaker. I never knew she was a dressmaker, and I thought it interesting that she changed political affiliation after her husband died. She remained a Republican for the rest of her life. If I hadn't looked at her voter registration records, I would never have known she worked as a dressmaker and gotten this glimpse into her life.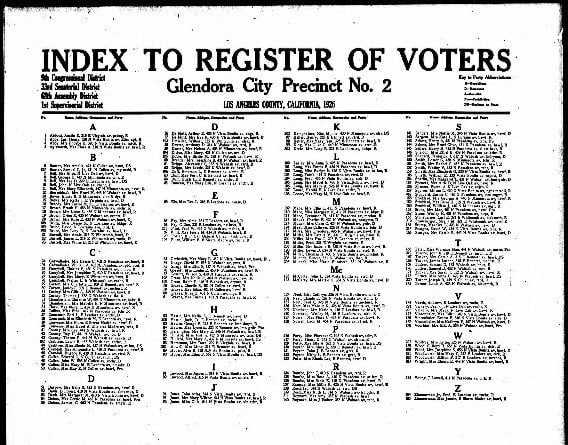 Like other genealogical records, voter registration records are only as good as their availability.  While some voter registration records, like the California Great Registers, are online, most are not. A good place to start is to look for information about voter registration records that are available is the FamilySearch Wiki. The wiki has links to a number of state-specific articles about voter registration. Cyndi's List is another great source for voter registration availability. Searching the catalogs at online genealogical sites such as MyHeritage, FamilySearch, and Ancestry would also be a good way to determine the availability of voting registration records. And since voter registrations are kept at the county level, be sure to check with the county your ancestor lived in. City, county, and state archives along with local historical and genealogical societies may also have voter information. It's important to remember that while today every citizen of the United States can register to vote, that wasn't always the case. In the early days of our country, only white male landowners over the age of 21 could vote. The Fifteenth Amendment, in 1870, allowed all male citizens regardless of race or color the right to vote, and it wasn't until 1920 and the passing of the Nineteenth Amendment that women could vote. These are important bits of history to know when searching for possible voter registrations. Read our article about the importance of Using Historical Context to Learn About an Ancestor.
Finally, don't forget to look for the original record.  Many of the available records online are indexes or compiled records that list voters alphabetically. The original records list the voters in the order they registered. Since family members often registered to vote together, the original records would be the place to find family members with different surnames.
Voter registration may not be the first tool out of a genealogist's toolbox, but it is one that shouldn't be overlooked. There is so much information available that can help supplement previous research and give direction to additional research. We can also learn a little bit more about our ancestors and who they were.
Our worldwide team is skilled at utilizing a plethora of genealogical tools to help our clients get the fullest possible insight into the lives of their ancestors. Contact us today for a free quote and to let us know what our experts can do for you.