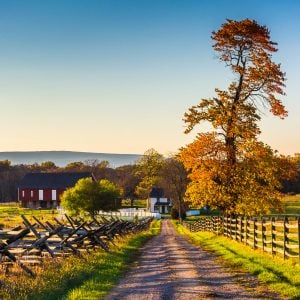 A family tree has many branches and researching ancestors can be an ongoing process. In fact, nearly half of our clients order additional genealogy research projects to answer more questions about their family history. One client, Norman E. "Ned" Donoghue, II, embarked on a quest to trace his ancestry half a century ago and has enjoyed learning more about his family's past. When he wanted to extend his ancestry beyond his own available resources, he reached out to Legacy Tree Genealogists and has since allowed us to complete nearly 20 genealogy research projects for him. Here, Ned shares his personal journey.
This article is written by Norman E. "Ned" Donoghue, II
Throughout my life, I've traveled far and wide to Europe, Central America, Africa (Morocco), many Caribbean and European islands, and around the United States. I have particularly sought to learn about the lives and struggles, triumphs, and challenges of my mother's Brumbaugh family and my father's Donoghue family ancestors. But in recent years when international travel has been somewhat limited, I have done a deep dive into records online as well as through various family documents, correspondence, and photographs that have been very carefully kept, passed down, and preserved for more than two centuries.
In all, after more than 50 years of researching on my own, I began to extend my research even further through the services of the very excellent professional genealogists at Legacy Tree Genealogists, based in Salt Lake City, Utah. They have more experience and resources than I have at my disposal and have enabled me to extend my research through remote and onsite services.
Through this special digital lens, I was able to revisit central moments in the history of those family members who came before me. This is being currently pursued with respect to my father's Donoghue ancestors to break through the "brick wall" of the original Dennis Donoghue, a "sailor lost at sea," before his widow Ellen's 1833 immigration from England through New York to Philadelphia. We've even spent hours on DNA projects in hopes of finding the best way to break through.
Below are some of the milestones on my journey, aided immeasurably by the generous sharing of my equally history-conscious cousin David Christian Sinding, who shared family artifacts, paperwork, and insight. Our journey together during the last several years has broadened and deepened our personal relationship and the scope of family inquiry and understanding.
My Mother's Brumbaugh Family
I have read my 101-year-old grandmother's final letter about her life, recalling darning stockings and riding in a surrey pulled by a horse named Dexter as a youth. I preserved letters she occasionally sent to me.
____________________________________
"My sister and I had to darn the stockings. We wore long cotton ones, white or black and sometimes the holes were quite big….We had a horse and cow and chickens. Every Sunday we would all go to church and S.S. [Sunday School] in a surrey with old Dexter the horse."
~ Peggy Valentine Brumbaugh (1892-1993)
____________________________________
I read Sterling Galt Valentine's last letter he sent to my grandmother in 1924. I followed his handicapped son's career through three marriages and innumerable odd jobs. I traced the career of his younger sister Adele who, after graduating 2nd in her class in 1915, died of a heart problem at 22. My grandmother helped lift her from the coffin to dress her for eternity. I traced my great-grandmother's 1920 chart of her carefully researched family trees.
I discovered the farm on the Monocacy River in Maryland, owned once by our 4th great-grandfather, George Valentine, a German immigrant in 1749. I attended two Valentine family reunions in 2010 and 2011 and discovered that our 2nd great-grandfather, Milton Valentine, went from farm boy to beloved college president who recited poetry in his speeches. I discovered his diary entry for the day of his 1852 wedding to Maggie Galt when he wrote, "Best days' work I ever did." I also found that his father-in-law, Sterling Galt, a farmer and civic stalwart and father of seven successful children, died peacefully in his daughter's and son-in-law's parlor in his 85th year. Together with Milton's children, the Valentines were the mainstays of the Gettysburg, Pennsylvania community for more than 100 years, from 1846 to 1947.
I rescued from obscurity my mother's 1750 German immigrant 3rd great-grandfather Johann Jacob Brumbach and chronicled on my website his rise as a farmer and distiller with seven children. He owned a dozen farms on 3500 acres on the Maryland and Pennsylvania frontiers by the time of his death in 1799. I even found the inventory of his estate and calculated how much whiskey was consumed during the family's public auction in 1799.
I also found his correspondence with a Quaker merchant prince, Henry Drinker, who was exiled to Virginia because he refused to participate in the military during the Revolutionary War. (The Continental Congress had many Quakers exiled to Virginia in 1777 in fear they were disloyal to the new United States government and were possibly spying for the British. Those exiled were promised freedom if they swore loyalty to the new government, but many of them refused.)
One of Brumbach's son's names was in Elizabeth Drinker's famous diary of 50 years (vol. 3: 1667; August 23, 1803); he had been invited into the Drinkers' home for breakfast and to pay off the mortgage.
I discovered the five generations of family members who belonged to the Old Deep Run Mennonite Church and found that, although my great-grandmother Lizzie Moyer married outside her faith, they did not shun her.
I traced Simon Brumbaugh from an upstate schoolteacher to a country doctor in the 1880s in Pipersville Village, where he raised his family and gifted the village land and a building for use as a chapel (now a library) and also his home in Philadelphia.
My great-great-grandfather, Reverend William Hambleton Elliott, was an orphaned farm boy on pre-Civil War Kent Island, who became a bishop of the Philadelphia Conference of the Methodist Episcopal Church at its height in the late 19th century. His family's land is now part of today's Inn at Perry Cabin in St. Michael's, Maryland.
____________________________________
I followed widower Rev. Elliott's 1857 correspondence to the object of his desire, Catharine, the woman he would soon marry, and the intimate letters home he sent to her over the years. "My heart is at home while my duty keeps my person here," he wrote from a clergy conference in Easton, Pennsylvania.
~ Rev. Wm Hambleton Elliott (1815-1893)
____________________________________
I discovered and reconstructed the tragic life of Lillie Hentz, the beautiful blonde daughter of J. Henry Hentz, the 1880s millionaire wine importer, and the brother of great-grandmother Catharine Hentz Elliott. I read with great interest Catharine Hentz Elliott's 1852-1870 and 1880-1889 books of her daily life (up to the five last days of her life) as she nursed her daughter, our Aunt Kate, sick with typhoid fever until Catharine herself succumbed from a related disease.
____________________________________
"Catharine Hentz Elliott, wife of 'One of Philadelphia's senior Methodist ministers… died at age 69 while waiting on a daughter dangerously ill with typhoid fever, was suddenly stricken down by an attack of typhoid pneumonia, and … yielded to death … after a few days' illness.'"
~ Catharine Hentz Elliott (1820-1889)
____________________________________
I read my great-grandaunt Kate Elliott's 1880 diary of her European trip (including her spotting the Princess of Monaco in St. Peter's Basilica in Vatican City) as well as the more somber 1944-1945 diaries of her last years, having never married but eagerly corresponded with a dozen nephews and nieces, and grandkids.
I read the letters sisters Kate and Adele Elliott received from their friend Edith Bolling Galt Wilson (2nd wife to U.S. President Woodrow Wilson) and put together an essay about the way the Elliotts and the Valentines had come to know Edith through her first husband, Norman Galt, a cousin of Maggie Galt Valentine. They were roommates in the 1880s at the Valentines' home at Gettysburg College.
____________________________________
"Your praise of Mr. Wilson finds a straight road to my heart, and I hope you will give me the pleasure someday of having you meet him."
~Mrs. Woodrow Wilson in her 1915 letter to Adele and Sterling
____________________________________
I read in the library at Westminster Seminary the doctoral dissertation on my grandfather Brumbaugh's fight within the Presbyterian Church (USA) – which caused the division of that church in 1935 – and how he founded his own Bible Presbyterian Church.
My grandmother and grandfather Brumbaugh, while in college in Gettysburg, had eloped to marry in a United Methodist Church in Wilmington, Delaware in 1911. I learned that fellow students serenaded them under their window when they returned to college. My grandfather was a popular and celebrated athlete and scholar, and my grandmother was a beautiful and accomplished soprano.
My Father's Donoghue Family
I found and preserved the 1852 cemetery deed for a plot at Old St. Michael's Roman Catholic Church in Northern Liberties, Philadelphia, and visited her sunken, unmarked grave site there with my family. I rescued and preserved the tin types of my four generations of Donoghue tinsmiths that were documented in censuses.
I also found the professionally photographed image of my great-grandfather Donoghue's Tinsmith Shop in 1889, gleaming with the finest wares of his day in Christiana, Pennsylvania (population 500). There was a handsome photo of my great-grandfather William Watters, an immigrant mining engineer from England, working the nickel mines in Lancaster County of a leading Quaker industrialist of his day, Joseph Wharton.
Among the many discoveries was also the story of 1860 immigrants from Germany, Johan Stern and Theresa Müller, parents of my grandmother Donoghue. I also commissioned research that took the Stern and Müller history back to the 17th century.
I read newspapers.com records of my Donoghue ancestors in Lancaster in the late 19th and early 20th century in Christiana. I found my grandfather William Donoghue's professional photo from about 1925 in his East End Hardware store, showing the items he offered for sale to the community from 1922 to 1947.
I traced four generations of Donoghue tinsmiths (1834-1947) in an essay to be published in the summer of 2022 on the O'Donoghue Society in London website, and I traced the rise into the upper-middle class of the Donoghue women (1834-1975) in another essay.
I traced the amazing "Horatio Alger"-kind of rise of my father Norman from business success to being a great dad. I preserved his photo album from 1913 to 1915 (both early office and photos) and gave a copy to the National Iron & Steel Heritage Museum, which is now located in the very building where my father first worked himself up the ladder to serve as a chief cost accountant for Lukens Steel Company from 1913 to 1932.
I also preserved my mother's photo album of her youth in Coatesville and Tacoma in Pennsylvania and elsewhere as they moved. I preserved photos and wrote a story of our idyllic 18th-century fieldstone home "Three Corners" in rural Edge's Mill, Caln Township, near Downingtown. I also discovered that the home of my youth had been a milestone on the road back home to Philadelphia by the Quaker exiles of 1777-1778, about whom I wrote what I hope will be the definitive history, to be published in 2023.
No one can say I haven't traveled a great deal these past years and experienced all the joys and sorrows of family life. I was there for many of the peaks and valleys of lives well lived by people whose DNA I carry. It's been an unforgettable journey.
We would like to thank Norman E. "Ned" Donoghue, II for allowing us to share his journey. Ned's story is a great example of how our life's journey can take us around the world and into the past, without having to leave home. Whether you are an experienced researcher in genealogy or a complete beginner, we can help you. If you would like to experience your family's past in more depth, contact us for a free quote on family history research. If you are planning a heritage tour, whether with a travel agency or on your own, hire our genealogists to discover the details of your family's history before you go.
Look for Donoghue's nonfiction book, The Quaker Exile from Revolutionary Philadelphia, 1777-1778,  forthcoming in 2023 from The Pennsylvania State University Press. Persons descended from Quakers and others in southeastern Pennsylvania in those years may be especially interested in the first monograph book on this fascinating and long under-reported episode in history.