What untold immigration stories are waiting to be discovered in your family history? We share the story of Japanese immigrant, Seito Saibara.
The history of America is an interlacing web of immigration stories from all over the world, many still untold. Every pioneer, either celebrated in life or silent to the grave, has a story worth telling—you just need to know how to go about telling it!
Such is the case with Japanese immigrant, Seito Saibara, a name largely unknown outside of the Japanse-American community. His life reflects the pioneering aspirations that many of our immigrant ancestors also experienced. As our ancestors weaved their way into the American dream, Seito saw his opportunity in the rice industry of Texas. His narrative below is one of perseverance, economic opportunity, and determination.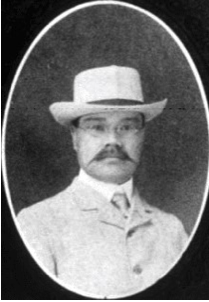 Seito Saibara
Seito's early life before coming to America isn't as well documented as would be preffered, but a study of Seito's diary by Kiyoko Kurosawa of Hitotsubashi University corroborated with other anecdotes left throughought history helps explain a number of key, important details. 
Born in about 1860, Seito Saibara was raised during a political revolution in Japan that saw the fall of the Samurai ruling class and the rise of a centralized, more westernized governing power. His interest in the Western world and a new structure of government was evidenced by his enrollment in an English school in 1877 and eventual practice of law in Kōchi in 1886. His career continued to progress as he moved to Osaka to be one of the members of the Osaka District Court, a position that eventually aided him in becoming a member of the Japanese National Diet (essentially the Japanese equivalent of Parliament) in 1898. While still serving in the Diet and living in Kobe, Seito converted to Christianity. Seito's religious conversion would lead him to becoming the President of Doshisha University, a Christian sponsored university, during the Summer of 1899.
Life in America
The more accessible paper trail of Seito's life started when he left his comfortable and successful life in Japan to visit America, later deciding to stay long term and attend the Hartford Theological Seminary in February of 1903. He then left Hartford for Houston, creating a Japanese Christian rice cultivation community in Webster, Texas in 1904. 
After arriving in Webster, he indicated in his diary that his wife Taiko and son Kiyoaki joined him later that same year. Seito and Taiko then returned to Japan in order to bring the rest of his family and other community members back with him. Seito, Taiko, Kiyoaki, Seito's father Masuya and mother-in-law Hide and others are found on a Canada to U.S. border crossing manifest indicating that they had arrived in Victoria from Kōchi en route to Webster on 24 May 1907. 

The 1910 census indicates that many members of this same travel party were still living with Seito and his family in his Webster colony by that time as well.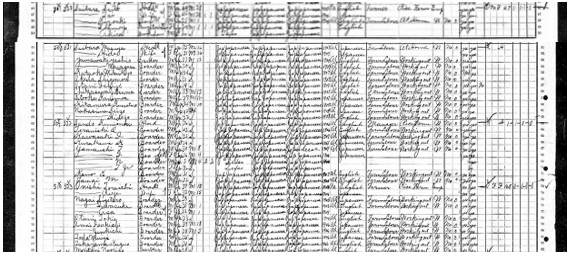 Aggregate census data of Texas as a whole also suggests that many other Japanese immigrants came to the state during the same time period, as there were only 13 Japanese people in Texas in 1900, but 340 Japanese people there by 1910. Harris County Texas was turning into a Japanese rice cultivation hub, and Seito was the face of it. 
With help from his son Kiyoaki, Seito attempted to subsequently expand his farms and nurseries outside of Webster in what seems to be a pattern of never wanting to stay in one place for too long. Kiyoaki took his family to New Mexico in order to start a nursery and farm there, while Seito opened up a nursery in Mobile, Alabama in 1920.  
Venturing Abroad
Despite two decades of success in America, Seito's prosperity took a turn for the worse when the Johnson-Reed Immigration Act of 1924 barred new Japanese immigrants from entering the country, indefinitely stalling Seito's main stream of new employees. This unfortunate setback may have frustrated his progress in America, but Seito's vision was too great to be halted for good. It is therefore most likely not a coincidence that he set his sights on a new location for cultivation: Brazil.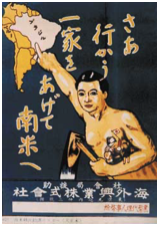 Seito heading to Brazil followed a trend of Japanese immigration into the country during this time. Brazil loosened immigration restrictions as the rest of the world was tightening them, making it a welcoming place for Seito's new venture. He didn't last long there, however, as he later returned to Asia in 1932, at which point his wife Taiko returned to Webster. He lived briefly in Formosa (modern day Taiwan), and then continued on to Tokyo, Japan, where he unfortunately fell very ill. He decided then to go back to Texas, leaving for Los Angeles via Kobe, Japan on 22 September 1937, arriving in the U.S. on 10 October of that same year.

Seito remained in Texas with his family for another year and a half before his passing on 11 April 1939 at the age of 78. His death was recognized not only locally by friends and family, but also by those in many other states, from Hawaii to Florida.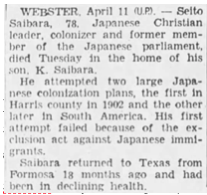 Seito's Legacy
Seito's legacy lived on long after he died. Not only did his son Kiyoaki continue the rice cultivation business for many years, but Seito and his family have also been memorialized both domestically and abroad. His life has been studied by scholars from Stephen F. Austin Universtiy in Texas to Hitotsubashi University in Japan. A historical marker now stands near where Seito's farm was, and his Japanese-American descendents have been featured in a publication by his Presidential Alma Mater Doshisha University. Seito was certainly a pioneer for both countries in life, but his memory has also served as a bond in death. 
Stories Worth Telling
One would think that a figure as prominent, influential, and downright interesting as Seito would be well-known, but unfortunately, this is not the case. However, his is certainly a story worth telling, and the same can be said for your ancestors!
Ideally, every immigrant ancestor's story is perfectly preserved in the wealth of records they've left behind, but more often than not (and much like Seito's case) greater historical context is needed in order to help fill in the blanks where vital records go silent. You may be surprised by the details reputable universities, historical societies, and religious institutions can provide by way of local histories and general narratives. It can be frustrating to realize that pieces of your ancestor's lives seem undocumented, but it can be helpful to instead view those instances as opportunities to better your ancestor's general time period, location, or historical trends as a whole. 
For instance, when it comes to immigrant ancestors, passenger lists and naturalization papers can often come to life when one searches the possible reasons people moved where they did and when they did. You may find patterns emerge when you compare your families known information to similar families that are better documented. Further benefits are gained when a search in the ancestral language is conducted to find out details from the perspective of the ancestral homeland. When direct evidence from original sources are hard to find or non-existent, techniques like these won't produce hard facts for each individual, but they may provide clues into possible ways of life and motivations, leading you one step closer to sharing those stories that are worth telling.
How did your ancestor contribute to the development of their community? Let Legacy Tree Genealogists and our team of researchers develop that story. No story is too small, and all ancestors mattered. Request your free quote today!
1. Kurosawa, Kiyoko. "Seito Saibara's Diary of Planting a Japanese Colony in Texas." Hitotsubashi Journal of Social Studies 2, no. 1. Aug 1, 1964: . http://hermes-ir.lib.hit-u.ac.jp. Accessed October 2020.
2. Hartford Courant Editors, "Will go to Texas. Hon. Seito Saibara of Japan will Grow Rice and Silk". 7 Aug 1903. Hartford Courant. DIgital Image, Newspapers.com. Accessed October 2020.
3. Glasrud, Bruce A. "Asians in Texas: An Overview, 1870-1990 " East Texas Historical Journal 39, no. 2 (2001). https://scholarworks.sfasu.edu. Accessed October 2020.
4. The Deming Headline Editors, "Experimental Farm and Nursery". 27 September 1912. The Deming Headline. DIgital Image, Newspapers.com. Accessed October 2020.
City of Mobile Alabama, City Directory, 1920, Mobile, Alabama. Digital image, Ancestry.com. Accessed October 2020.
5. Office Department of State, Foreign Service Institute, U.S. Department of State. "The Immigration Act of 1924 (The Johnson-Reed Act)". Milestones, 1921-1936. Online article, history.state.gov. Accessed October 2020.
6. Secretary of the Treasury of the United States, List of Alien Passengers Applying for Admission, "Tai Saibara", 10 July 1932, New Orleans, Louisiana. Digital Image, Ancestry.com. Accessed October 2020.
The Baltimore Sun Editors, "Former Japanese Diet Member Dies in Texas". 12 Apr 1939. The Baltimore Sun. DIgital Image, Newspapers.com. Accessed October 2020.
7. Tigner, J. Japanese Immigration into Latin America: A Survey. 1981, Journal of Interamerican Studies and World Affairs, 23(4), 457-482. doi:10.2307/165454. Accessed October 2020.
8. Tyler Morning Telegraph Editors, "…Lawmaker Dies in Texas". 12 Apr 1939. Tyler Morning Telegraph. DIgital Image, Newspapers.com. Accessed 20 March 2020; Also in Kurosawa, Kiyoko. "Seito Saibara's Diary of Planting a Japanese Colony in Texas." pg. 63. Accessed October 2020.
9. Secretary of the Treasury of the United States, List of Alien Passengers Applying for Admission, 10 Oct 1937, Los Angeles, CA. Digital Image, Ancestry.com. Accessed October 2020.
10. Texas Department of Health, "Standard Certificate of Death: Seito Saibara". Bureau of Vital Statistics, 11 April 1939. Harris, Texas. Digital Image, Ancestry.com. Accessed October 2020.
11. The Honolulu Advertiser Editors, "Saibara Dies". 12 Apr 1939. The Honolulu Advertiser. DIgital Image, Newspapers.com. Accessed October 2020.
The Palm Beach Post Editors, "Japanese Liberal Dead". 12 Apr 1939. The Palm Beach Post. DIgital Image, Newspapers.com. Accessed October 2020.
12. Kiyoaki Saibara, Petition for Naturalization. 30 Apr 1953. The National Archives at Fort Worth; Fort Worth, Texas; Record Group Title: Records of District Courts of the United States, 1685-2009; Pg. 108, No. 9241. Accessed on Ancestry.com. Digital image 666 of 1500. Accessed October 2020.