The Ancestry.com app We're Related has proven to be a fun novelty sort of parlor game. The app utilizes the information found in your Ancestry online family tree to look for similarly-named individuals in the family trees of various famous people: politicians, actors, musicians, and your Facebook friends.
Of course, most of the relations are very distant: 3rd cousins 8 times removed; 9th cousins 2 times removed, etc. Explaining how those relationships are determined is relatively simple. A common ancestor is the foundation for the relationship. Your generational distance from that common ancestor (grandchild? great-great-grandchild? great x9 grandchild?) and the other person's generational distance from that same ancestor is plotted on a chart, like the one below. Where the two lines intersect you see the term which defines your relationship. The further away you both are from the common ancestor the more distant the cousinship.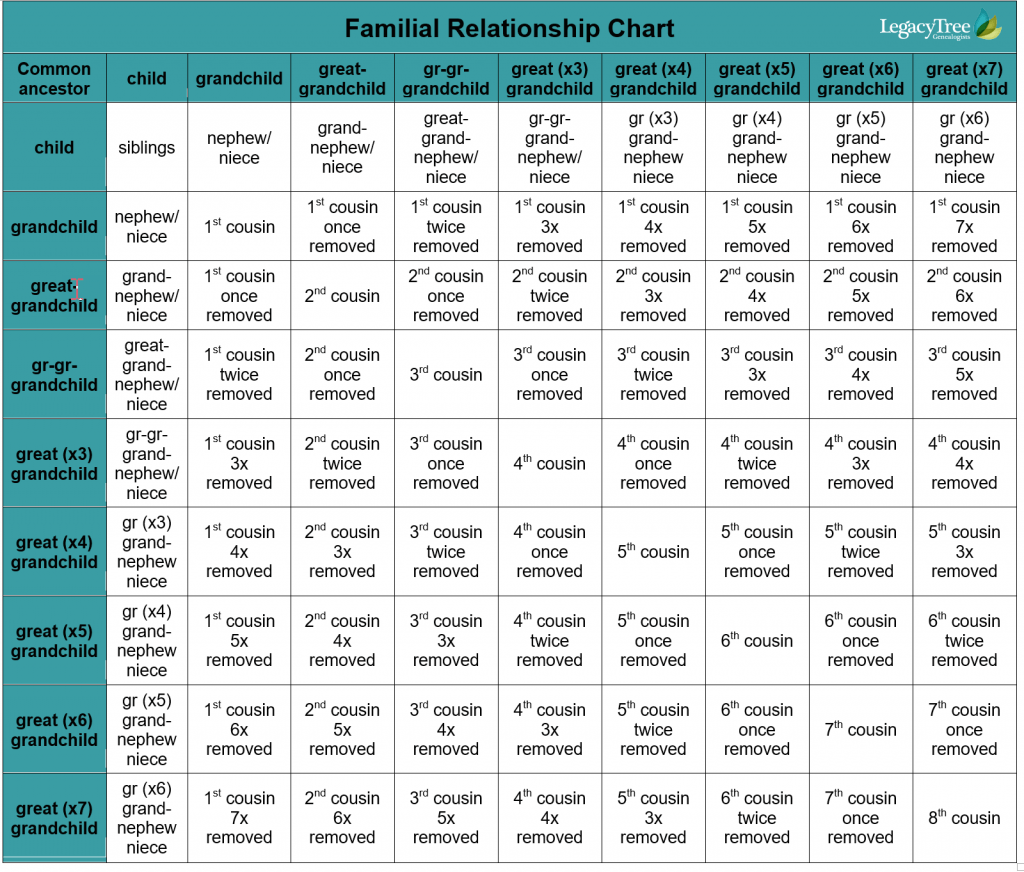 If you and your new famous relation are from different generations, the "removes" are added. "Once removed" simply means that one of you is a generation removed from the generation of the other. "Twice removed" means that you are on the same generational level as that person's grandparents or grandchildren. Generally, it can be assumed that there is a generational remove if there is an age gap of more than a few years between yourself and your match, though this is not always the case.
Once you get used to using the chart you can determine relationships with the greatest of ease. But when someone asked me if their 9th cousin was a closer relation than their 7th cousin 4 times removed, I had to admit that I wasn't sure.
In both cases, we are talking about consanguinity – the blood relationship between two people. The proximity or distance of the relationship is measured in degrees of separation between the two individuals. This relationship is most often of importance when sorting out an estate in an effort to determine which relatives are of the proper degree of consanguinity to be eligible legatees to the estate of the deceased, or in determining if your intended spouse is too closely related to you.
There is one degree of separation between you and your parents. There is also one degree of separation between you and your children. You are directly descended from your parents and your children are directly descended from you. Because you are not the direct descendant or direct ancestor of your siblings, but share one or both parents in common, there are two degrees of separation between you and your siblings. The chart below helps to explain the idea of degrees of separation.
NOTE: This chart applies to legal definitions of consanguinity rather than genetic definitions of consanguinity.
Consanguinity tells me that Helen Keller, my 6th cousin 5 times removed, is 19° of separation. There are more than six degrees between me and Kevin Bacon, who is my 8th cousin twice removed: 20° of separation. My closest famous relation is Abraham Lincoln, my 3rd cousin 5 times removed, with only 13° separating us.
The next time you are trying to explain how someone is related to you, use the Familial Relationship Chart to determine the precise relationship. And if you find yourself curious to know which relations are closer to you, use the Consanguinity Chart.
If you need help determining your common ancestor in order to determine your relationship to someone, or if you would like help extending your family lines, let Legacy Tree Genealogists provide the research and the extensions to your family tree. Contact us today for a free consultation.