RootsTech 2023 Recap: Uniting and Learning In Genealogy Family Research
It was surreal and wonderful to see everyone at RootsTech 2023 Genealogy Family Research in person again after a couple of years away during the pandemic. Legacy Tree Genealogists were happy to see old friends and make new ones as we all came together through our passion for genealogy research.
The theme of RootsTech 2023 was "Uniting." Genealogy research helps us unite our families past, present, and future. Through all the ups and downs of the never ending genealogy journey, it's reassuring to know we're not in it alone, and there are many people and resources that can help us discover who we are and where we came from. 
Legacy Tree Genealogists at RootsTech 2023: The Expo Hall 
Legacy Tree Genealogists were eager to be back at the conference, answering questions, sharing research tips, helping kids learn to write in old English, and greeting attendees who visited our booth in the Expo Hall. We were thrilled to meet so many new people with fascinating family histories.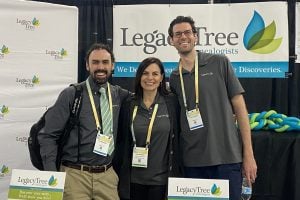 Legacy Tree Professional Genealogists: Paul Woodbury, Tani Anderson, and Ryan Rockwood
Genealogy Family Research For All
RootsTech offered hundreds of classes and learning opportunities both in-person and virtually. Over 440,000 people participated worldwide from 202 countries. Inspiring speakers in the main hall included Jordin Sparks, Sean Astin, and Me Ra Koh. Every speaker and teacher inspired us to continue working to discover and unite our families past, present, and future.
Steve Rockwood talked about connecting cousins and families worldwide, "All means all," he repeated. Jordin Sparks wants to be remembered for generations as the song lyrics say, "she's messy, but she's kind." Sean Astin recounted his time acting in The Lord of The Rings Trilogy and quoted his lines, "Those were the stories that meant something," to get the crowd in the mood for the importance of finding and preserving family stories. And Me Ra Koh talked about the power of family, "it's everything."
Legacy Tree Genealogists founder and CEO, Jessica Taylor, teaching attendees how to find
family members using the MyHeritage search engine
Helping Others On Their Genealogy Family Research Journey
The Legacy Tree Genealogists booth was busy as attendees came to ask our professional genealogists questions about their unique brick walls. There were people with families from all over the world–Latin America, the British Isles, Lebanon, Canada, Germany, Russia, France, Brazil, Japan, China, and many more. Our team was happily busy from one question to another. 
Throughout the conference, we hosted three LIVE Facebook Q&As that are available for you to now watch on demand:
Using DNA For Genealogy Research with Paul Woodbury
How To Create An Accurate Family Tree with Sherri Bennett
How To Hire A Genealogist with Carolyn Tolman
Heather Johnson interviews DNA professional genealogist
Paul Woodbury for LIVE Facebook Q&A
Other Legacy Tree team members were able to present various genealogy topics for the virtual attendees. Kelli Bergheimer presented on common DNA Misconceptions and Getting Organized Using Technology and a Research Report. 
On Family Discovery Day, we helped kids learn how to write in old English and provided a mad libs-like puzzle, Crack The Code!, to solve using their newfound knowledge. 
Other Highlights From RootsTech 2023
If you weren't able to visit us in person at RootsTech, and you'd like to schedule a consultation with one of our professional genealogists, you can schedule an appointment here.