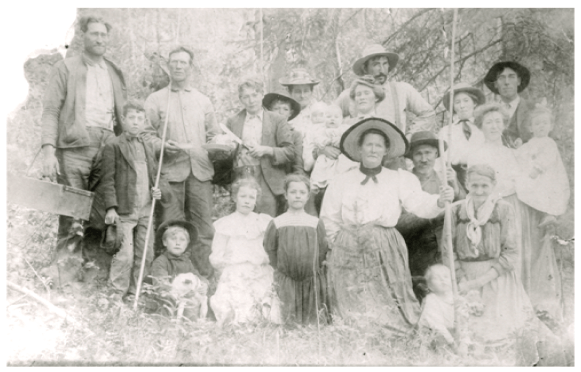 Photographs can be very interesting genealogical records, and we have been told are worth a thousand words. The picture above, taken sometime around 1908 at Warm River, Idaho, certainly tells something.  Of particular interest is a couple in the back corner. They were Zina Gunter and David Howell, and at this summer family gathering, were courting, and by winter would celebrate a Christmas Eve wedding.
In the 1910 census, we find Zina and David living as husband and wife. Of note, 22-year-old Zina had given birth to one child, who had died. When one visits the cemetery where Zina was buried, one notices four brilliant-white grave markers within close proximity to hers:

A close study of the grave markers reveals that four children were born to Zina and David between 1910 and 1914, and all four children died. Looking into the faces of that courting couple staring out from the photograph, one wonders how this couple coped during those four years and withstood such unspeakable losses.
By the 1940 census, David had died and Zina was a 52-year-old widow living with her seven sons and one daughter. Within her lifetime, Zina delivered 12 babies and buried four, and then her husband. While documentation certainly fills in essential details, a picture really is worth a thousand words.
Here are some ideas if you're looking for photos of your ancestors:
Connect with cousins. Old photos tend to get passed down through generations, and a branch of your family may have ended up with them.
Search family tree databases. Large databases of family trees, such as at Ancestry.com or FamilySearch.org, may have photos attached to ancestors.
Try a Google image search. Type the name of an ancestor into Google (surrounded by quote marks would be best), then click "Images."
Search county histories. These often included photos with biographies. Many of these exist for the late 1800s in the Midwest and are at the Family History Library or online.
Connect with a local historical or genealogical society. Many local societies house collections of old photographs for their town, and many are not online.
Search naturalization records. Beginning in the 1900s, you may find a photo here.
Search passports. If you're lucky enough to have an ancestor with a passport, a photo should be there.
Search criminal records. If your ancestor landed in the penitentiary, you may get lucky with a photo.
Though not a photograph, a physical description of an ancestor can often be found here:
World War I and World War II draft records
Passenger lists and naturalization records
Military records (pensions, etc.)
Some voter registration records
Subscribe for weekly posts